Street Food You Must Try When Traveling Abroad
Dieters and food lovers alike would anticipate traveling to new areas to appreciate new sights, sounds, and tastes. Food is a way to be educated about the culture, and a great medium to get to know locals more. Sure, heading out to touristy restaurants and grabbing a bite to eat at a fast-food joint might seem like a pretty neat idea, but it won't lead you to a new appreciation for gastronomy.  It doesn't really matter if you can't speak the language, as long as you can translate the flavors in every dish served to you, then you're good. The history of a place can also be tasted in the cuisine.
Furthermore, street food is not only an accessible and cheaper way to ease those hunger pangs, but it can also welcome you to a whole new universe of delicacies. Globetrotters can take themselves to new adventures to an edible degree. What seemed utterly gross and weird might be your new favorite thing to eat once you browse through street markets and pushcarts.
Anticucho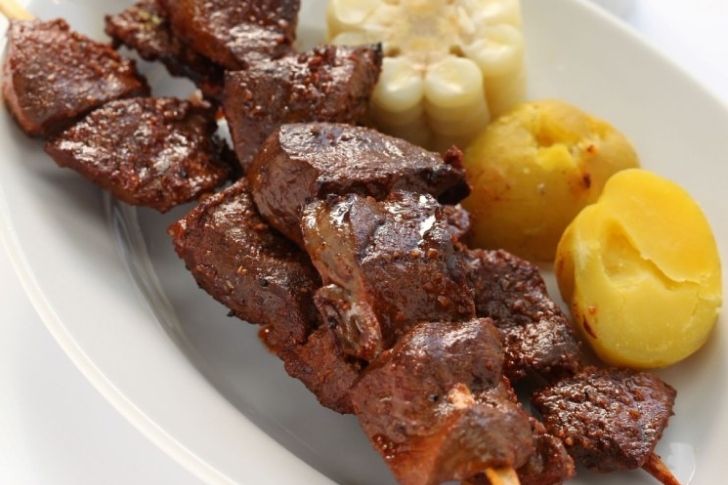 The anticucho is a lovable street food that can be likened to the popular kebab. It is often made prepared using beef heart, but it can also be made of other kinds of meat too. This dish is packed with various spices like cumin, ají pepper, and garlic. The anticuchos are also marinated in vinegar before being skewered and roasted. To assemble it, the pieces of meat are alternated with vegetables like onions, pepper, carrots, and mushrooms. The meaty dish is then seasoned with some salt, or given a splash of lemon juice or vinegar for that acidic kick. Anticuchos can be dipped in a traditional sauce consisting of cilantro, garlic, beer, vinegar, onion, and lemon juice. It also goes best with boiled potatoes or some bread on the side. We can credit Peru for coming up with this mouthwatering  dish.