25. Barry Manilow – $70,000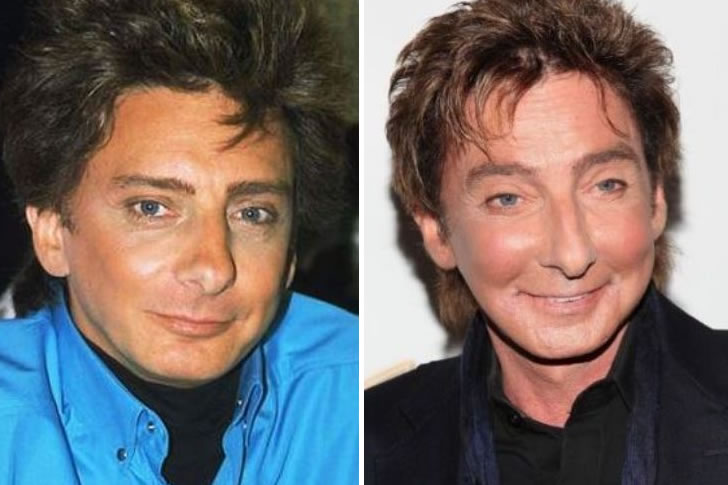 Back in the 1970s, Barry Manilow was one of the famous fellows who made that decade memorable. He is an American musician, singer, songwriter, actor, producer, and arranger whose career has lasted for more than five decades. Manilow is known for his viral hits like Mandy, Can't Smile Without You, Could It Be Magic, I Write the Songs, and Copacabana (At the Copa). Most stars at his age are trying to hide their real age by undergoing cosmetic operations, and he is no exception. With his fortune and investments, he can afford any treatment he wants.
Manilow has not confirmed if he had a facelift, but he admitted to having nose procedures. Regardless, we cannot deny the fact that he is among the greatest singers in the world. For a total of 13 albums, six of them were already platinum-certified. While many critics do not like him, he remains to prove them wrong and just works hard instead.
26. Heidi Montag – $1 Million+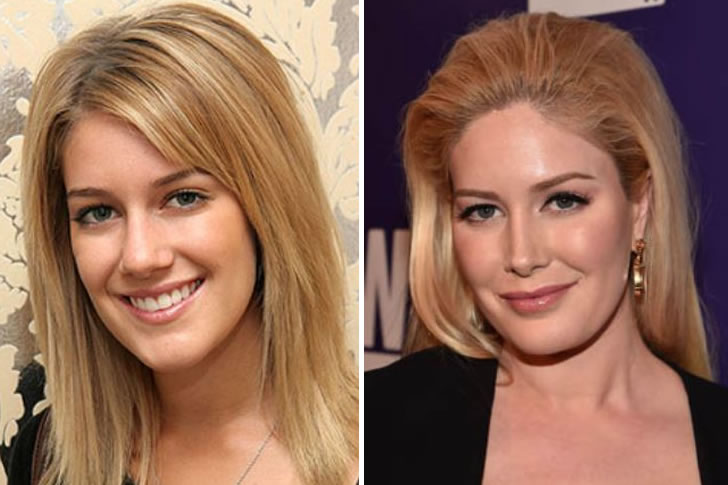 Former reality TV star Heidi Montag gained fame after she starred in MTV's The Hills. Like other celebrities, she never denied that she got an obsession with cosmetic surgery. She loves to fix any flaws, and that is totally okay. Montag is even more popular for getting body enhancements rather than starring in the show. The celebrity shared that she used over $1 million of her investment money to get cosmetic procedures. She has gotten nose jobs, brow lifts, and other enhancements.
Montag is happy with the results, but she is still planning to get more work done as she has more projects coming her way. She joined the British version of Celebrity Big Brother and has appeared on shows like How I Met Your Mother, Celebrity Family Feud, Famous Food, Laguna Beach: The Real Orange County, and The Hills: New Beginnings.
27. Cher – $750,000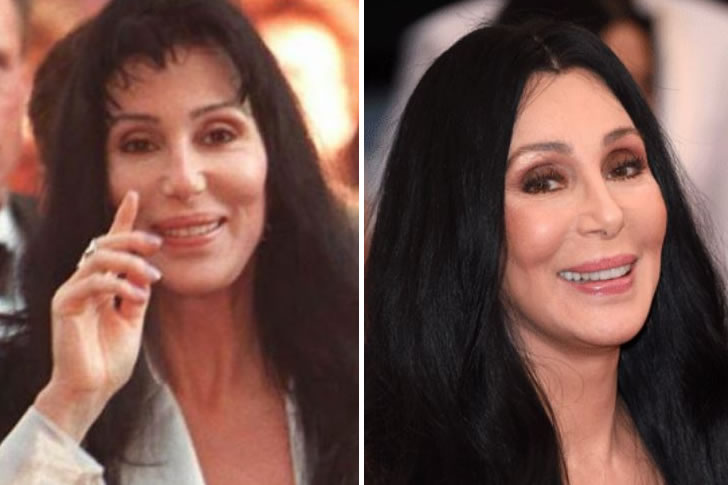 We all know Cher, the Goddess of Pop, as a hugely significant figure in the 1960s and 1970s. Alongside Sonny Bono, she experienced overnight music success, and she deserves it. Her well-remembered viral song, I Got You, Babe, made her even more famous. Apart from her successful music profession, she is a model and actress in her own right. Cher was never ashamed of admitting that she wants to stay young forever. To look good, she tried Botox injections, rhinoplasty, and eyelid alterations. The total cost is quite significant, but she is not having any problems thanks to her credit cards.
Many people praise Cher for her unique contralto singing voice as well as her versatility in different styles. Her six-decade-long career is filled with so much love and awards until today. Cher is named one of the world's best-selling musicians globally, and a few of her achievements include an Emmy Award, three Golden Globe Awards, a Grammy Award, and an Academy Award.
28. Megan Fox – $8,000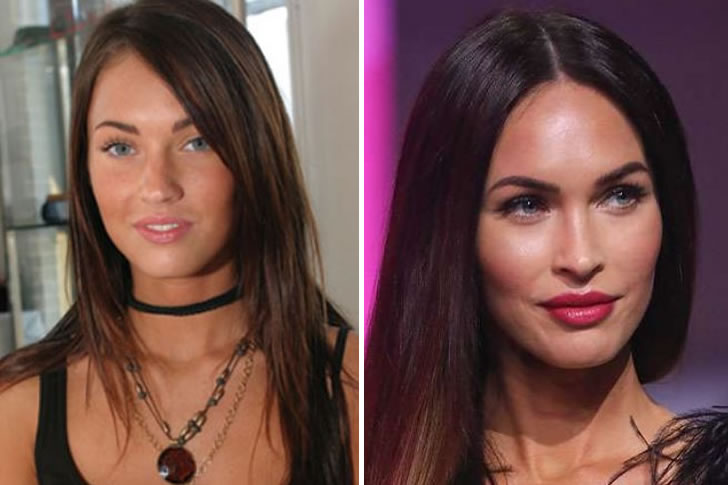 Megan Fox has earned many investments from her career as a model and actress. She made her first debut in the family film Holiday in the Sun. From that moment, her name blew up, and she got several supporting roles both in TV and film. She later scored a leading role in the sitcom Hope & Faith. Even before she got popular, Fox already appeared in the teen musical comedy Confessions of a Teenage Drama Queen.
There is no dull moment for her stunning beauty. She was always gorgeous, and even though she denied that she went through under the knife, it is quite obvious that she looks different. While people do not require her to admit anything, it seems that she has gotten lip and cheek fillers. It is her choice, and no matter what, Fox still exudes the same beauty and confidence she always carried as a young star.
29. Pamela Anderson – $10,500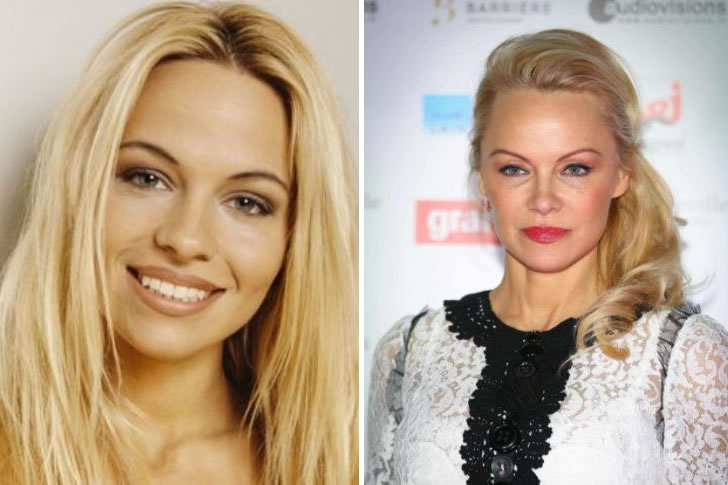 Pamela Anderson has been a household name since the 1990s. The model, author, actress, and television personality worked on TV series like Baywatch, Home Improvement, and V.I.P. For many, natural beauty is not immune to fine lines and wrinkles, which is why Anderson opted for enhancements to stop the aging process. She tightened her face and chose to have a youthful glow. With her successful acting career, she does not need any cash loans to fund her cosmetic enhancements.
Aside from her popular works on television, Anderson has starred in many films like Barb Wire, Blonde and Blonder, Raw Justice, and Superhero Movie. Moreover, she appeared on reality TV series like V.I.P. Brother, Dancing with the Stars, Danse avec les stars, and Dancing on Ice. in 1006, she was inducted into Canada's Walk of Fame for her performance in the sitcom Stacked. She has also published two novels and three autobiographies.
30. Lara Flynn Boyle – Unknown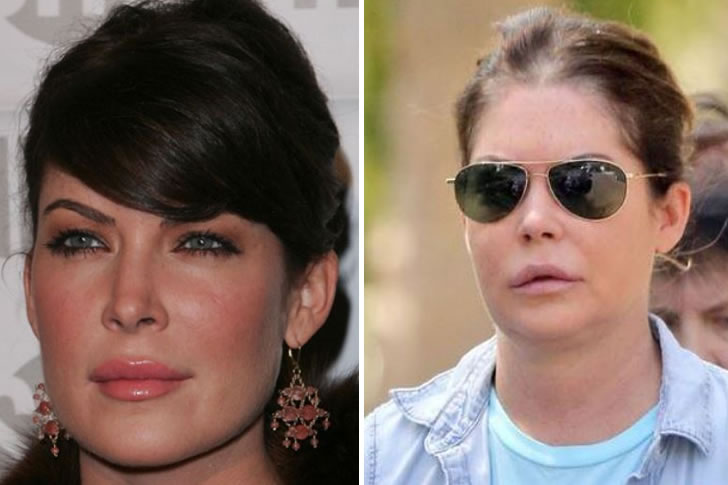 Lara Flynn Boyle is an actress who rose to prominence after her role as Donna Hayward in the television series Twin Peaks. She then got cast in Wayne's World and her career became successful. She also starred in various films like Happiness, Café Society, and Red Rock West. Boyle earned a prestigious Primetime Emmy Award nomination for her exceptional portrayal of Helen Gamble in The Practice. With her thriving profession, she managed to build her wealth and steer away from payday loans.
For her beauty to remain, she decided to get plastic surgery. She got facial fillers, a brow lift, lip augmentation, and rhinoplasty. Unfortunately, it was a total failure for her and made her look worse. It was not what she wanted, but she accepted it. Despite becoming unrecognizable, Boyle took it in stride and came out of the experience much stronger.
31. David Gest – $20,000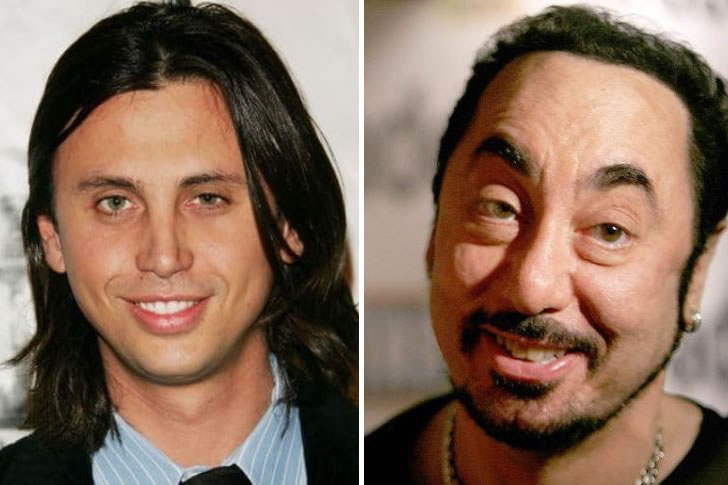 David Gest was not just a well-known comedian and entertainer, but he was also a television personality who was a contestant on the reality show Celebrity Big Brother. Aside from that, he made quite a lot of high-profile friends who helped him get a taste of what it was like to be in the limelight. One of them was Michael Jackson, whom he considered as his long-time friend. As a matter of fact, it was the singer who encouraged him to undergo cosmetic surgery so that he will always look his best.
He was also married to Liza Minelli. Although their relationship was short lived, Gest did not make too much fuss about it and remained down to earth through it all. He did later regret having to spend most of his investment money on altering his body, which he mentioned in interviews.
32. Meg Ryan – $12,000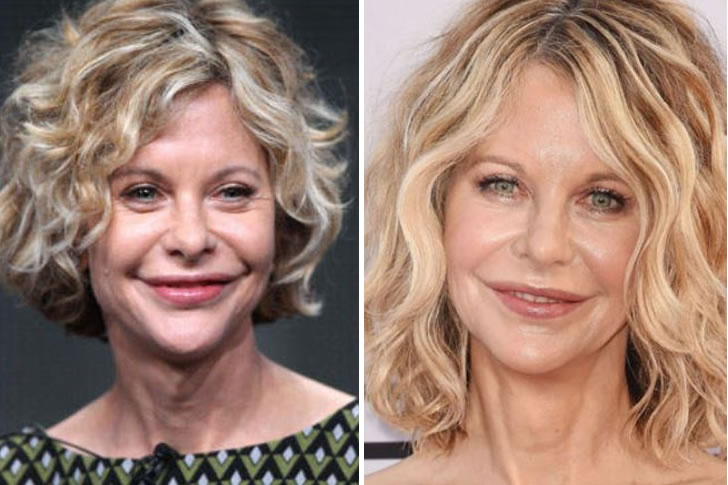 Meg Ryan was the darling of Hollywood during her heydays when she starred alongside Tom Hanks in Sleepless in Seattle and You've Got Mail. She is also known for the films When Harry Met Sally, City of Angels, French Kiss, and Kate and Leopold, to name a few. Of course, when our darling stars start to age, there is the fear of not aging gracefully, but Ryan seems to do just that, age gracefully. Today, the actress looks like she did in her prime, though many credit this to her cosmetic surgeries.
Ryan hasn't admitted to getting any fillers or Botox and there was no one stepping forward to lay these rumors to rest. So far, these are all speculations, but under the eyes of the experts, it seems that the actress has contacted some doctors to help her combat aging. When asked about her youthful appearance, the actress says she owes it to her diet and skincare regimen.
33. Jessica Simpson – $2,000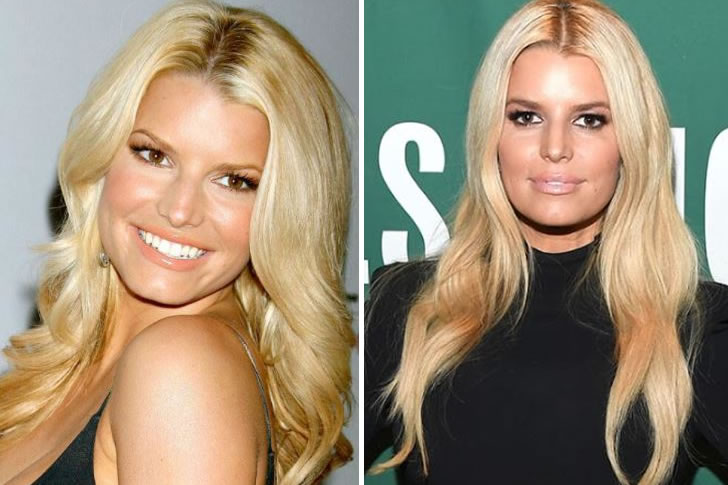 Jessica Simpson is known not just in the music industry but also in Hollywood as well. Her breakthrough was when she was signed by Tommy Mottola, who wanted the young singer to focus on having a wholesome image to counter that of Britney Spears. Simpson's debut single, I Wanna Love You Forever, reached the number three spot in the Billboard Hot 100. She also starred in a reality TV show with her then-husband, Nick Lachey.
Simpson was also one of the celebrities who used her investment money to get cosmetic surgery, starting with her lips. Later on, she got a tummy tuck, but it put her in the hospital after getting an infection. Simpson was quite frank about her experience in her autobiography. Hopefully, she has since bounced back from her ordeal as the singer turned actress is still a gorgeous beauty.
34. NeNe Leakes – $20,500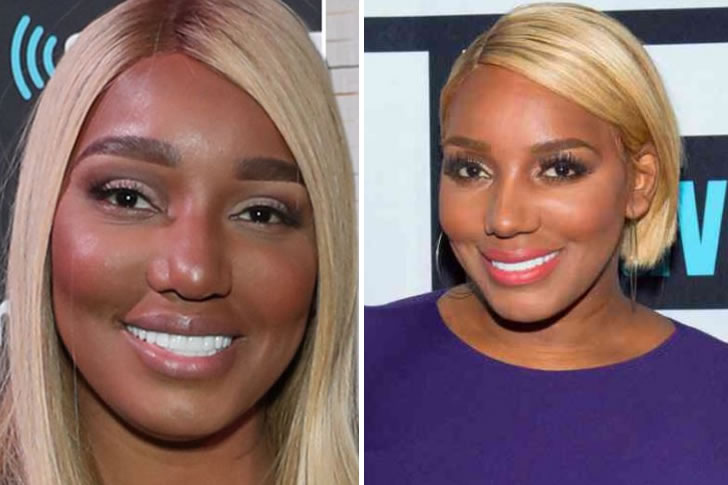 The Real Housewives of Atlanta star NeNe Leakes has grown a fan base due to her excellent sense of humor and honesty. She definitely isn't shy when it comes to talking about going under the knife, as she views her face and body as one of her biggest investments. She has been known to get breast augmentation, nose jobs, and even liposuction, but it seems that she wants more. In one interview in 2019, Leakes explained that she wouldn't mind doing her nose and her breasts again since she wants to look as young as she can be even as she continues aging.
Of course, there are some surgeries that she is quite adamant not to get. Leakes draws the line on getting a face lift for fear of how she would look after. She quipped that she had seen several photos of facelift fails and she didn't want it happening to her. In her interview, Leakes encouraged women to get some nips and tucks if they want to.
35. Denise Richards – $13,000

Denise Richards started out as a model who turned heads down the catwalk and eventually found herself becoming part of the Hollywood scene. Not only did she exhibit her acting skills in series and films like Married…with Children, Starship Troopers, Saved By The Bell, and Wild Things, but she stole the hearts of her audience too. She even caught the eye of actor Charlie Sheen, whom she married.
The Real Housewives of Beverly Hills star sparked rumors about getting Botox because of her youthful glow. She did admit getting one at some point, but she never went back. Richards also had a breast augmentation back in the day, but that's just about it. For the actress, she cites her skin care regimen for looking as good as she is today. Richards doesn't need to apply for any money loans for her cosmetic needs since she has her own line of skin care products that are helping her increase her net worth.
36. Janice Dickinson – $20,000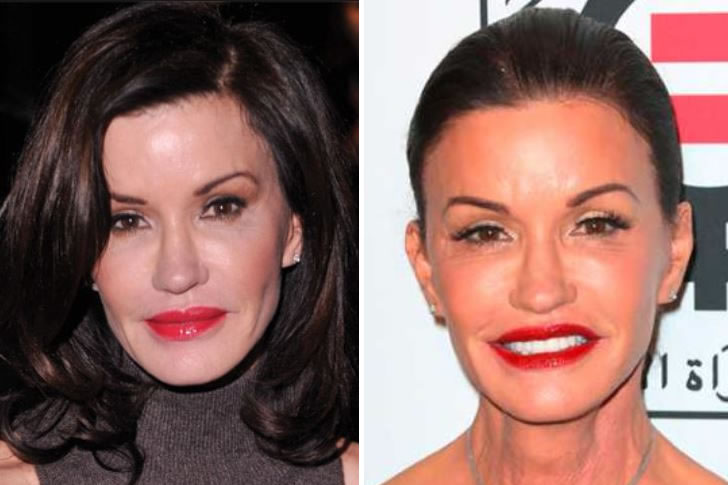 Janice Dickinson was quite the beauty back in the days as she was one of the top models during the '70s and '80s. As a matter of fact, she graced the cover of Vogue 37 times! No other model has reached that number yet, which proves that Dickinson was the It girl back then. She became the inspiration of fashion moguls like Calvin Klein, Versace, Valentino, you name it. However, as she aged, this young model's popularity started to take a dive as younger models appeared to take her place.
Dickinson has poured a significant amount of investment money into cosmetic surgery to maintain her youthful looks. Although many would say that getting facelifts help in keeping signs of aging at bay, this depends on the procedure too. Dickinson may have splurged on her body to achieve that younger looking skin, but sometimes you just need to know your limitations. She does have the confidence to pull off her looks which is one of the strengths of this supermodel.
37. Courtney Love – $10,000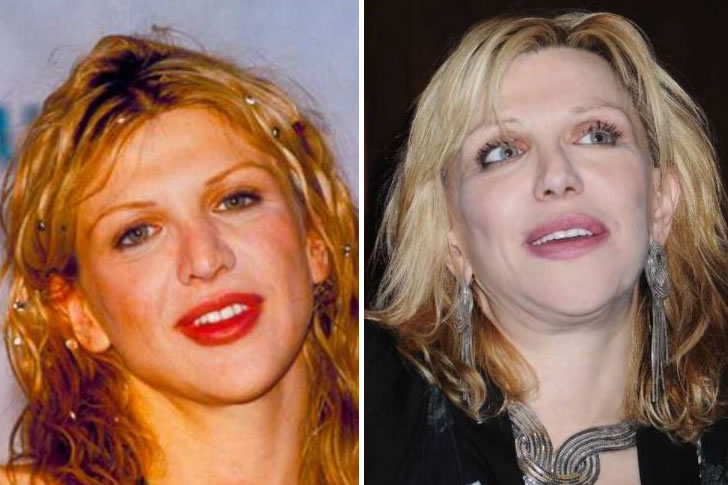 Courtney Love is known as the lead singer of the band, Hole, and was one of the hottest singers of her time. She was also known for being a wild child and became even more famous when she tied the knot with Kurt Cobain, the lead singer of Nirvana. It has been ages since people last saw Love, and when they did, they shared a few thoughts about her looks. The singer did admit that she got surgery when she was 35 years old after taking the advice of actress Goldie Hawn.
Courtney did not have to worry about applying for personal loans to achieve her new look since the singer and actress has earned through her music and acting stints. Among the surgeries she got were breast augmentations, rhinoplasty, and lip injections. She spent around $10,000 on herself for these surgeries. Fortunately, it doesn't look bad at all.
38. Tara Reid – $9,500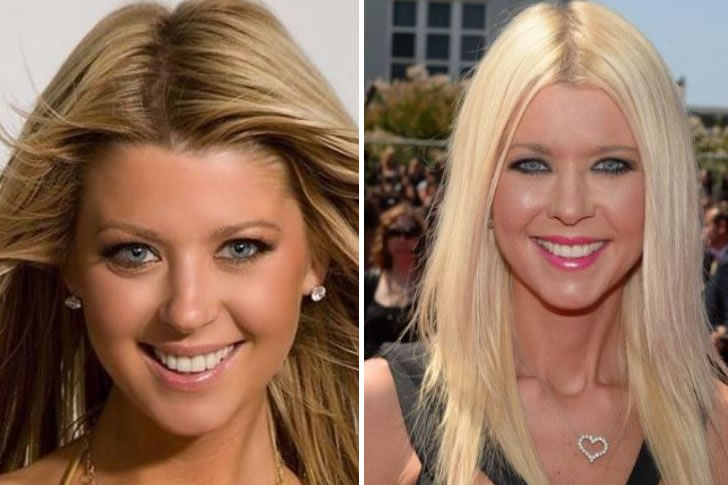 Tara Reid was dubbed as one of the It Girls during the 90s as the blonde beauty caught a lot of eyes when she snagged a role in The Big Lebowski. She followed this up with a role in another cult classic, American Pie. After that, her career just took off as one project after the next landed at her feet. Among these were Van Wilder, My Boss's Daughter, and Josie and the Pussycats. With the pressure of looking great while in Hollywood, Reid joined the club and got a plastic surgery using the money from her investments, which have contributed to her career getting derailed.
After getting breast augmentation, liposuction, and such, her career sputtered. No one ever thought that the actress could make a huge comeback when she starred in the B-movie, Sharknado. It was an instant hit for her and earned her more roles in the industry too. Though she still dreams of landing more serious roles, Reid has made it clear that she was way past the surgery incident and is ready to get back to building her career once more.
39. Kim Novak – $9,000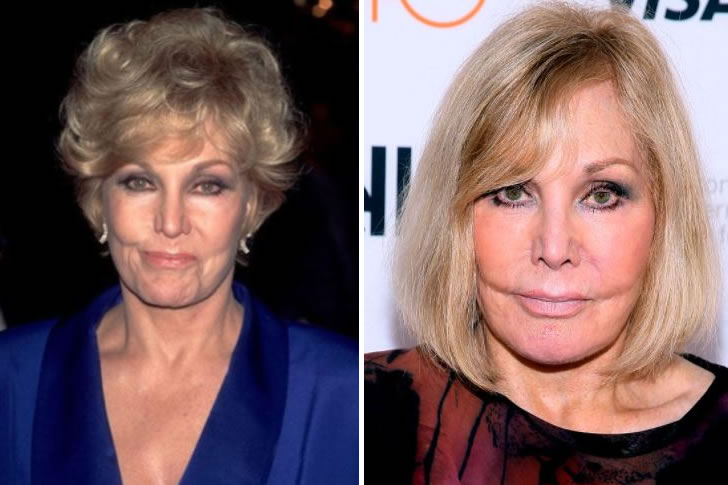 Kim Novak's natural beauty was something that the audience couldn't get enough of back in the days. She further sealed her popularity in Hollywood when she was cast in the classic movie Picnic. Other examples of her hit films include The Man With The Golden Arm and Vertigo. With all her earnings during her peak years, Novak chose to make investments on her body by getting cosmetic surgery. Though she did not appear in films anymore, she generated some buzz when she appeared in the Oscars looking quite different than before.
It seemed that Novak had undergone multiple surgeries, which included fat transfer surgery, chemical peels, and even lasers too. Her skin was tightly pulled back too to reduce the appearance of laugh and aging lines too. Well, she has the means to do so, and though many were shocked with her transformation, the actress just shrugs it off, enjoying her retirement in her ranch in Oregon with her veterinarian husband.
40. Trista Sutter – $11,000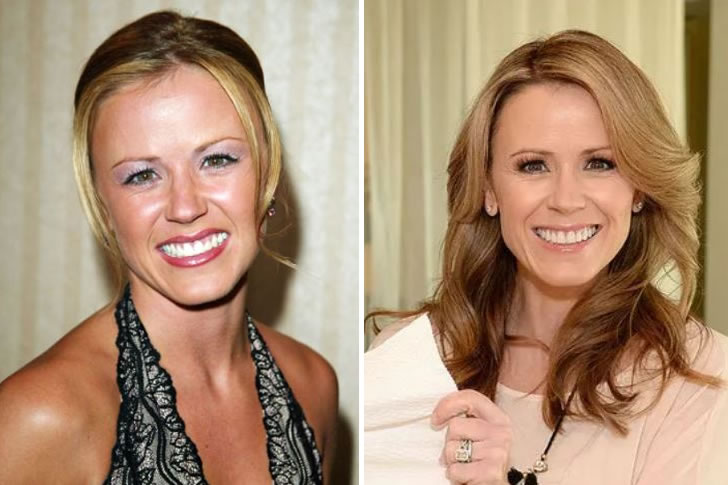 Trista Sutter won the hearts of the fans on the first season of The Bachelor, to the point where she also appeared in Big Brother and The Bachelorette. It was on The Bachelorette where she found her real-life partner, Ryan Sutter, whom she married and has two children with. This was the first time that ever happened in a TV show, and ABC later aired their wedding in a three-episode special that was watched by 26 million people.
After all the hubbub died down, Sutter decided to put some of her investment money towards improving herself aesthetically and physically. She said that she underwent breast augmentation and blepharoplasty. Though the procedures were spot on and she looked as good as ever, many weren't exactly happy that she chose this path. However, unlike other celebrities who suffered from botched surgeries, Sutter looks as beautiful as ever.
41. Iggy Azalea – $20,000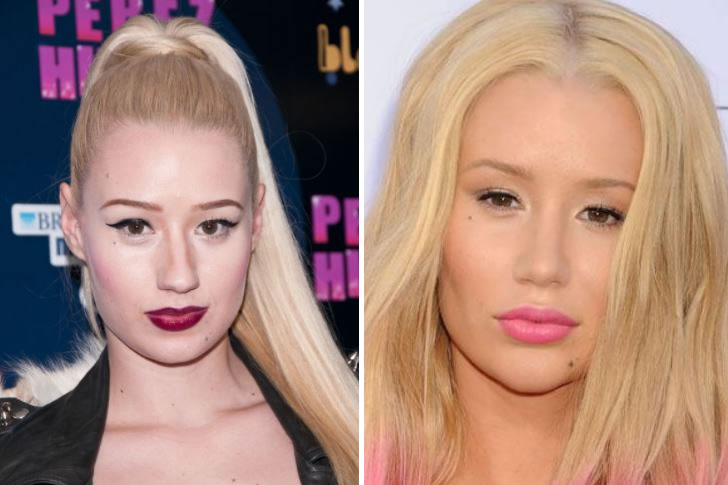 Considered as one of the best female rappers of her time, Iggy Azalea has carved a name for herself in the music industry. Though her career seems to be slowing down at the moment, the rapper doesn't seem to be stopping in improving herself, which includes undergoing surgery. She admitted that she got breast implants, which she had always wanted, and some rhinoplasty done. Some experts claimed that she even got a chin implant too though the singer did not confirm it.
What wowed everyone was her toned physique after giving birth. There were rumors that she used her investment money to achieve a sculpted body, but Azalea simply laughed them off. She said that her current physique was thanks to her eating right and exercise, which are both achievable for those who want to look as great as the singer.
42. Heather Locklear – $18,500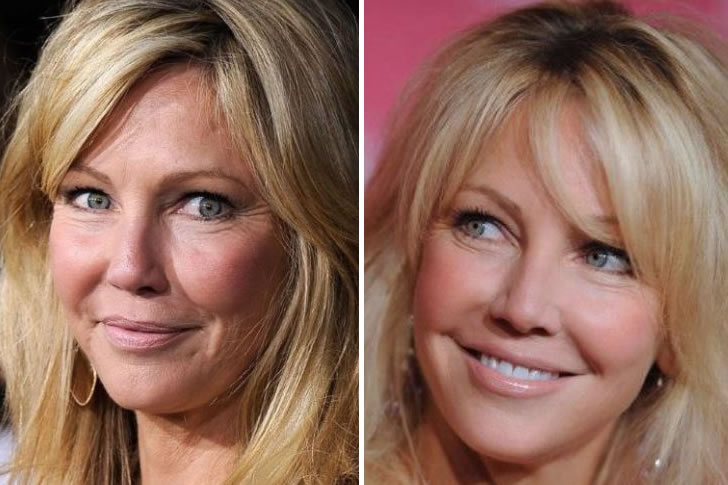 Heather Locklear began her career as a model during the 1980s, but it was just a short stint due to her bagging several acting projects on TV such as in Spin City, Dynasty, Melrose Place, T.J. Hooker, and Hot in Cleveland. Aside from stealing the hearts of her audience, Locklear also made headlines in tabloids because of her relationships with Tommy Lee, as well as Richie Sambora.
Locklear did not escape the trend of getting cosmetic surgeries which was all the rage in Hollywood. The only advantage for her was that she did not do anything drastic. She was quite candid about how she made herself look younger and more beautiful without having to ask for personal loans to fund her surgeries. What has she done to her body, you ask? Well, she got a facelift, some cheek implants, rhinoplasty, and even breast augmentation.
43. Kelly Rowland – $22,000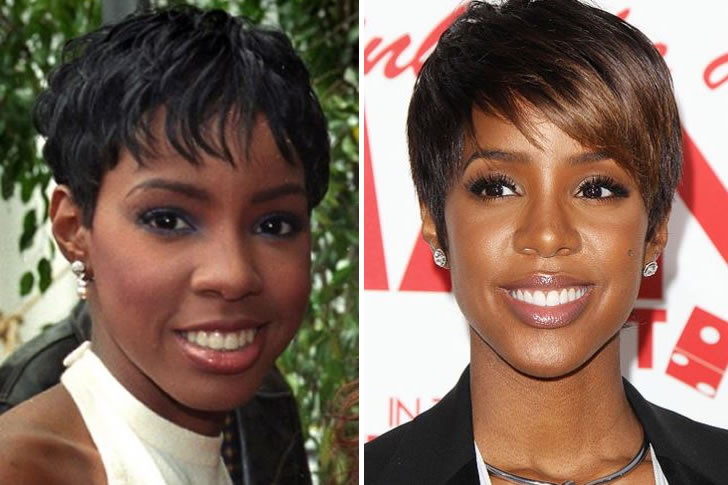 Some celebrities aren't keen on admitting that they got a nose job, breast implants, and the like, but Kelly Rowland is quite open about it. Known as a member of Destiny's Child, she spent money on a breast augmentation, which looked great on her body. Aside from that, Rowland also admitted that she got a nose job. She got these procedures without needing any personal loans as she has been earning good money as a singer.
When asked why she made changes to her body, Rowland admitted that she decided to get a rhinoplasty and breast augmentation solely for herself and not for someone else. She did caution those who will get implants to think twice, since it can have health consequences. Rowland's new look does fit her well and she loves every bit of her new self too which everyone can see by how she handles herself with confidence.
44. Kathie Lee – Unknown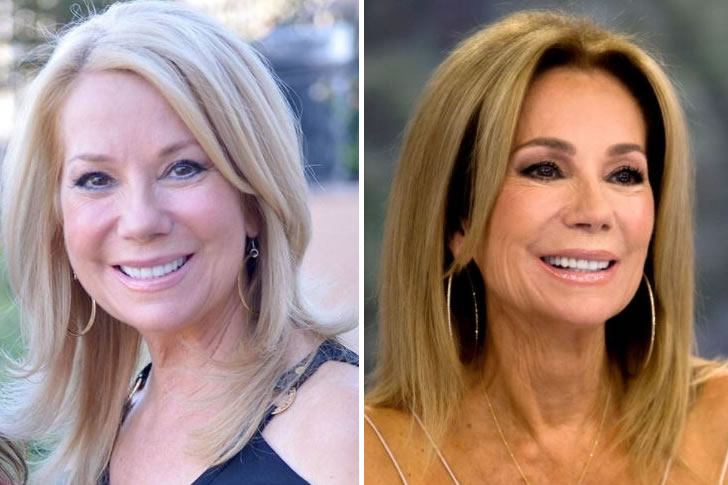 Kathie Lee of Live! With Regis and Kathie has always been quite open about the surgeries she had undergone to look her best. As a matter of fact, it is hard to say how much she had spent on improving herself physically, but she isn't one to shy away from the cameras about it. She even had one performed on her live on television. Talk about confidence!
So what kinds of treatments has she paid for with her investment money? For starters, she had Botox instead of facelifts since she was scared of the latter. It is believed that she had cheek augmentations and rhinoplasty as well, just to name a few. What's great about the whole beautifying process was that they all looked good on the television host. Though she hasn't disclosed how much she has spent on her looks, it seems that Kathie Lee isn't completely done yet with getting new surgeries.
45. Dianna Agron – $15,000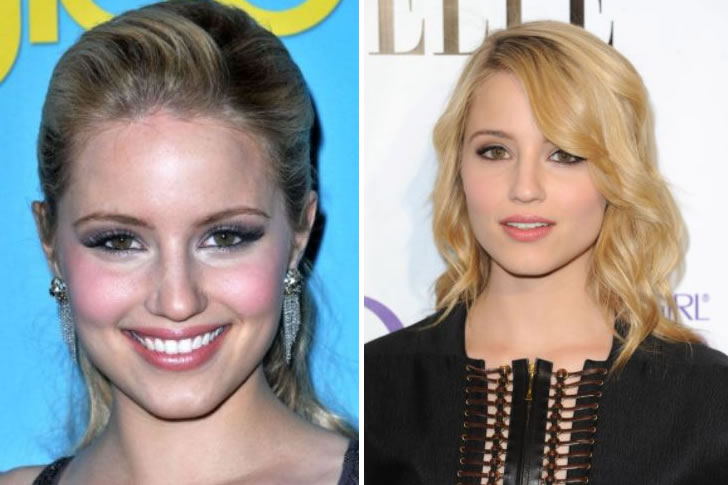 Dianna Agron has reached the high notes in her career when she became part of the hit TV series Glee. She played the role of Quinn Fabray, the mean cheerleader who becomes a member of the eponymous glee club. Glee was a massive hit not just in the US but also across the globe which helped the young actress earn big bucks. She also appeared on CSI: NY and Veronica Mars. Since the end of Glee in 2015, the talented singer and actress has taken on other projects. She also has her own website called You, Me, and Charlie.
With regards to getting surgery, Agron wasn't shy in admitting that she got two nose jobs. The first one was because she got into an accident where she broke her nose while she was dancing with friends. The second one may be of her own volition, which isn't a problem since she doesn't really need to apply for cash loans for the procedure.
46. Holly Madison – $32,000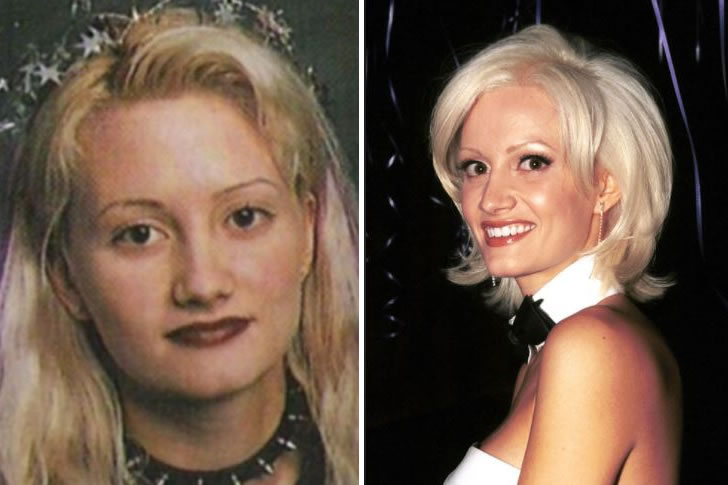 Blonde beauty Holly Madison found immense fame and fortune in the reality program The Girl Next Door. Her gorgeous looks and figure caught Hugh Hefner's eyes. Eventually, she became one of his girlfriends and went on to live in the infamous Playboy mansion. Following this, Madison became a prominent figure in the entertainment industry, appearing in several television shows such as Dancing with the Stars and her series Holly's World.
Madison's popularity must have come with tons of pressure as her every move was under the paparazzi's close view. Perhaps it was constant media scrutiny or a personal decision to look more youthful, but the TV personality decided to get some beauty-enhancing surgeries. In addition to breast augmentation, she reportedly made some changes in her face, specifically her nose. The now forty-one-year-old Madison made sure that the investments she made are worth each penny spent. Although it's bizarre to the common man, insuring body parts is actually a common practice among stars. In the former Playboy bunny's case, she got $1 million insurance for her breasts in 2011.
47. Kourtney Kardashian – $25,000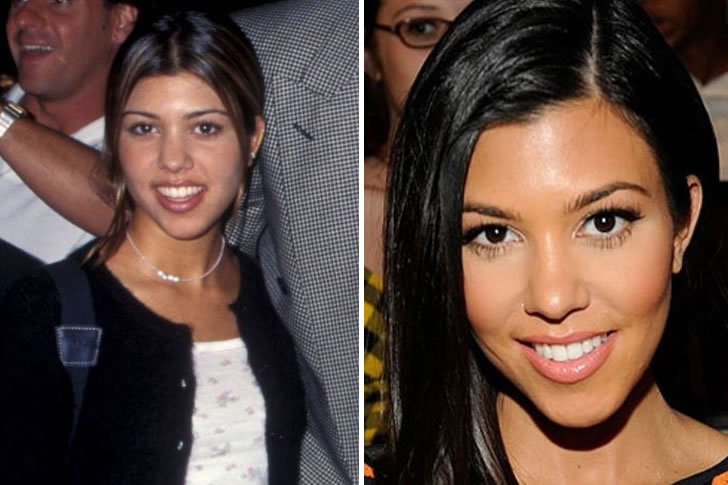 Kourtney Kardashian and her entire family reached international stardom back in 2007 with the reality television series Keeping Up with the Kardashians. She eventually starred with her sisters Kim and Khloe in the spin-off shows Kourtney and Kim Take New York and Kourtney and Khloe Take Miami. The forty-one-year-old socialite is the eldest of Kris Jenner and Rob Kardashian's bunch. She does modeling and product endorsements for various brands, including Coca-Cola. Additionally, she poured several investments into other endeavors, specifically in the line of fashion. Her popularity continues to rise up to date, and the pressure to always look good has eventually caught up with her.
Kourtney admittedly got herself a breast augmentation procedure back when she was in college. Her new assets further added to her gorgeous looks. However, in 2011, the television personality openly shared her regrets about having had the surgery. Kourtney realized that she was made to look a certain way before, and now, she is considering having the implants removed.
48. Victoria Beckham – $13,000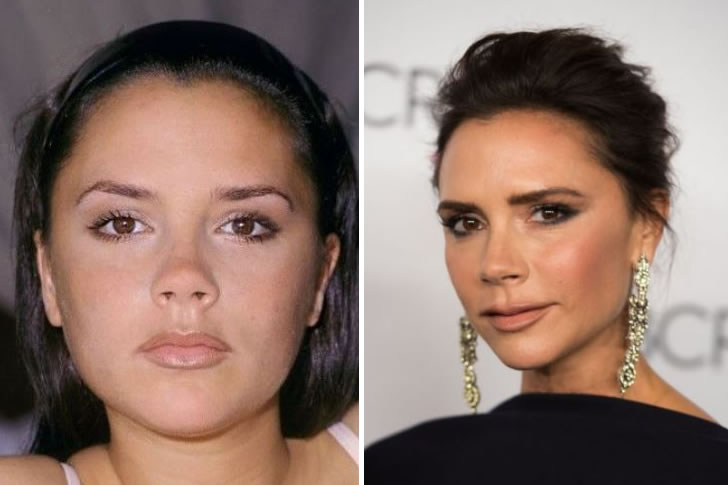 Teenage girls in the '90s spent years singing to the hits of the Spice Girls. The five members of the girl group each sported their personas, but none seemed more sophisticated as Victoria Beckham. Aptly nicknamed Posh Spice, she was regarded as the epitome of elegance. Victoria had all eyes on her when she married football heartthrob David Beckham in 1999, and their status as the ultimate power couple has been undisputed since then.
After her Spice Girl days, Victoria evolved into a worldwide fashion icon, with almost every woman on the planet pegging her as the model for perfection. As with most celebrities, the pressure to battle time and change resulted in a few modifications to her body to keep up with her image. She admitted to having breast augmentation surgery to fit her frame a bit more evenly to a certain degree. The surgery reportedly set her back $13,000, which seems to be a reasonable price if you're that close to perfection, to begin with.
49. Ashlee Simpson – $1,300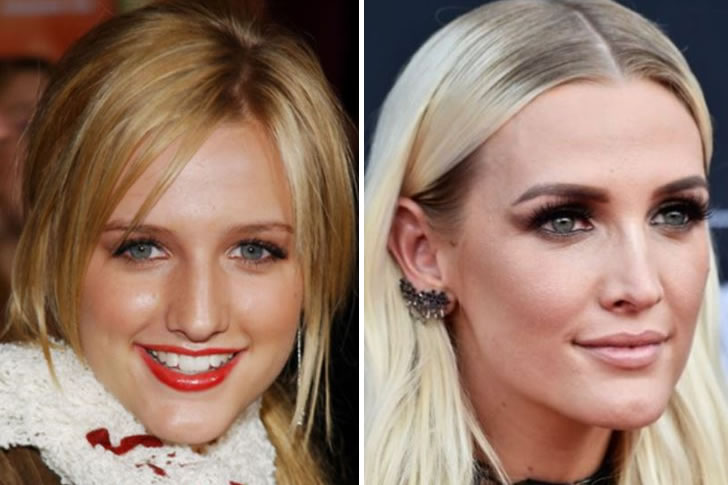 Ashlee Simpson found fame at an early age. She started her career as a back-up dancer for her older sister Jessica. Later on, Ashlee ventured into acting and starred in several television shows, including 7th Heaven as Cecilia Smith. She even had her very own reality television series, The Ashlee Simpson Show. However, her most notable credits were in the music industry. At twenty years old, she released her debut album in 2004 entitled Autobiography. Ashlee's rising popularity came with adoring fans and paparazzi. Ashlee is known for her charming and cute looks before rumors of beauty enhancements emerged.
The thirty-six-year-old Ashlee has not openly admitted having gone under the plastic surgeon's knife. Although, she expressed her opinions on the topic by saying that it is a personal choice. According to various sources, she reportedly underwent rhinoplasty through the years.
50. Clay Aiken – $11,000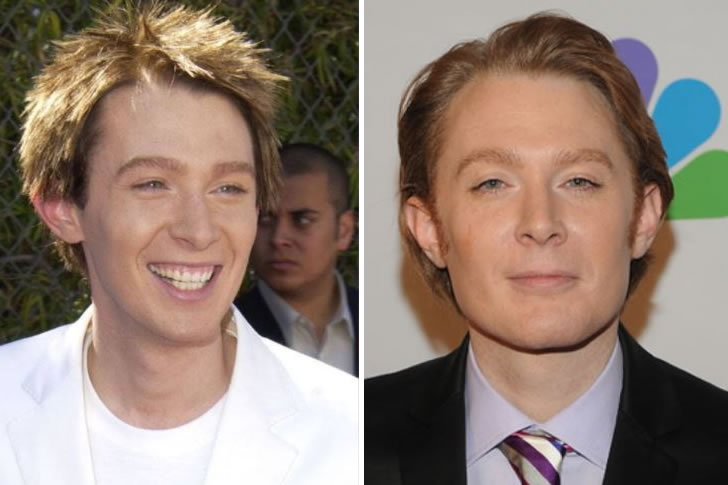 Plastic surgery has been considered taboo for quite some time, especially in the entertainment industry. Some celebrities who have had beauty enhancement procedures even try their hardest to avoid the topic during interviews. However, the case is not the same with American Idol alum Clay Aiken. The forty-two-year-old singer openly admits having gone under the cosmetic knife. After his stint in the television singing contest, he moved to his next show, Celebrity Apprentice. Fans were surprised to see a different-looking Aiken in the show's promotional posts.
It turns out that it was more than just an investment in the musician's good looks. Aiken had surgery on his jaw to treat his temporomandibular joint disorder. He said in an interview, "…I had them suck the fat out of my chin while they were in there." It seems like he hit two birds with one stone on this one.
51. Gwyneth Paltrow – $1,500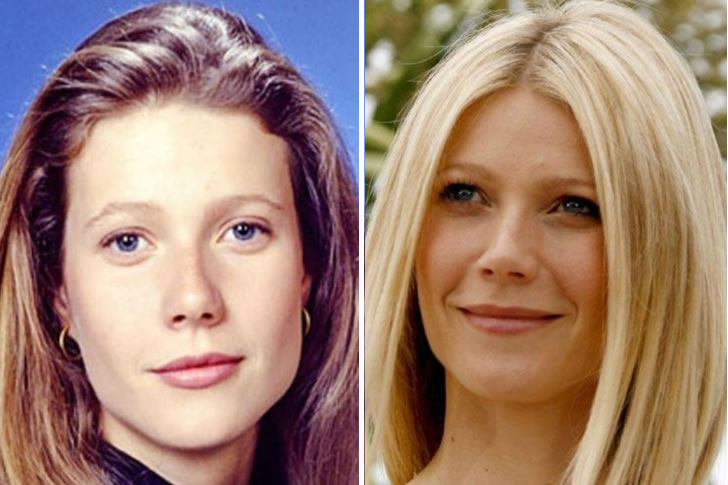 Gwyneth Paltrow is indeed one of the entertainment industry's most beautiful stars. Combined with her slender physique and sultry eyes, the 1998's Shakespeare in Love actress has captivated audiences ever since. She gained prominence from her credit roles in films like The Talented Mr. Ripley, The Royal Tenenbaums, and Iron Man. Beyond the world of acting, Paltrow highlighted her gorgeous features as a model for several brands such as Coach, Frederique Constant, and Juice Beauty. On the side, she is the founder of the lifestyle brand Goop. However, despite having her natural looks, Paltrow was not immune to the power of beauty enhancement. She admittedly tried various ways to maintain her youthful look.
Among the list of procedures she had were Thermage skin tightening, chemical peels, laser, microdermabrasion, and the infamous Botox. She reportedly regretted getting Botox injections, which might be the reason why she opted for the less invasive alternative, Xeomin.
52. Britney Spears – Unknown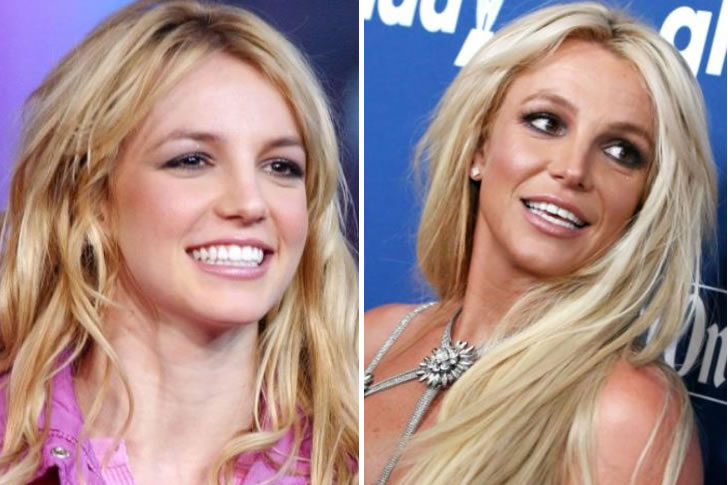 Britney Spears is given credit for pulling off the sexy schoolgirl look and turning it into a cultural icon. Dubbed as The Princess of Pop in the late 90s, Britney sang and danced her way into almost every teenage girl's bedroom poster. She topped the charts with her debut album Baby One More Time, followed by her second album Oops!… I did it again. Her success carried on to the early 2000s, with her music and image maturing along with her.
Britney's career was subject to a ton of pressure and controversy. Many questioned if her amazing physique was the result of plastic surgery like most of her peers back then. However, it comes as a complimentary surprise that not a single scalpel was responsible for it. She has admitted to having a simple lip injection for enhancement, but everything else is au naturel.
53. Christopher Maloney – $92,000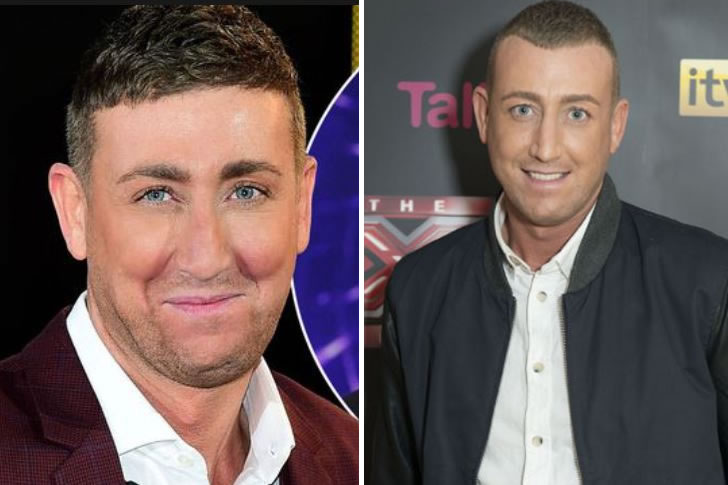 Christopher Maloney is an English singer best known for his participation in the television show The X Factor. He placed third back in 2012 and was heavily associated with the show until 2013. After his stint on the show, he made a successful career as a solo musician. Besides, he made headlines for his plastic surgery expenses in 2015.
His first notable procedure included a nose job, hair transplant, eye lift, and teeth veneers. His second surgery was done in Poland back in 2017, and he reported to have spent £100,000 ($138,000) for it. He did another round of enhancements in 2018 for his nose, costing around £500 ($691). Overall, he spent an estimated £115,000 ($160,000) of investment money for all the procedures he had. He stated that it was his anxiety that prompted him to make body modifications. All in all, Maloney seems to be happy about the results.
54. Ciara – Unknown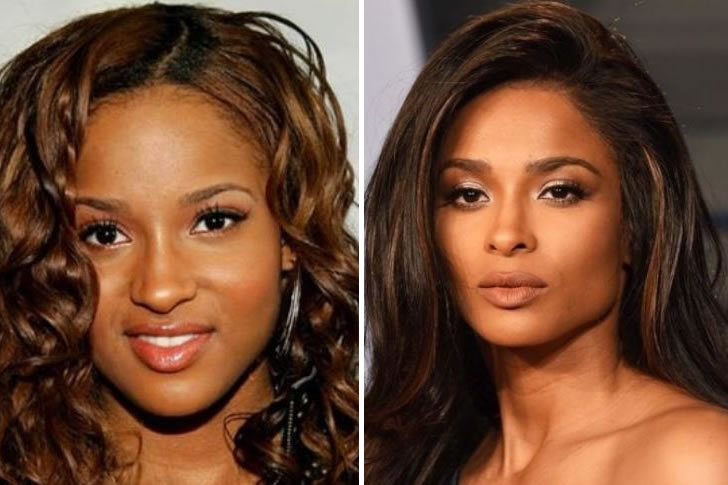 Ciara is best known for her songs Love Sex Magic, Dance Like We're Making Love, and Can't Leave 'em Alone. She rose to fame when she released her debut single, Goodies, back in 2004. The song achieved top place in sales and led to her being dubbed as the Princess of Crunk&B. Aside from that, she made various collaborations over the years with fellow musicians such as Rihanna, Chris Brown, Akon, and Petey Pablo. Already beautiful and gorgeous with a near-spotless figure, it came as a surprise to her fans that she decided to undergo plastic surgery.
Her reported enhancement procedures included a rhinoplasty, breast implant surgery, and Botox injection. Unlike other celebrities that fervently denied having surgery when asked about it, Ciara had neither confirmed nor denied that she had one. Regardless, she managed to maintain her gorgeous looks, which made her endearing and charming to many of her fans. Nevertheless, whether she made investments in her physical appearance or not, it doesn't make her less of a human being, right?
55. Khloe Kardashian – Unknown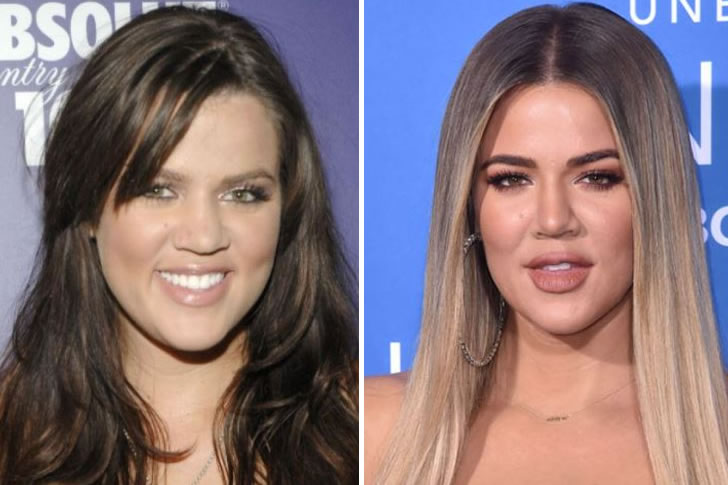 Khloe Kardashian has followed some of the footsteps of her sisters Kourtney and Kim to beautify themselves. She recently surprised fans with her completely different look in 2020. Lots of fans speculated that she had plastic surgery. This is a claim that the television personality denies. Khloe, along with the rest of her family, became famous for their reality television series Keeping Up with the Kardashians and its spin-offs Kourtney and Khloe Take Miami and Kourtney and Kim Take New York.
Even though the cost of her surgery remains unknown, it cannot be denied that she has some work done under the knife. Many cosmetic surgeons have observed her most recent photos and seemingly confirmed the rumors. Aside from it, she also focused on losing weight, which partially explains the difference. Nevertheless, she had made investments in maintaining her body, and it evidently paid off.
56. Nicole Kidman – $1,400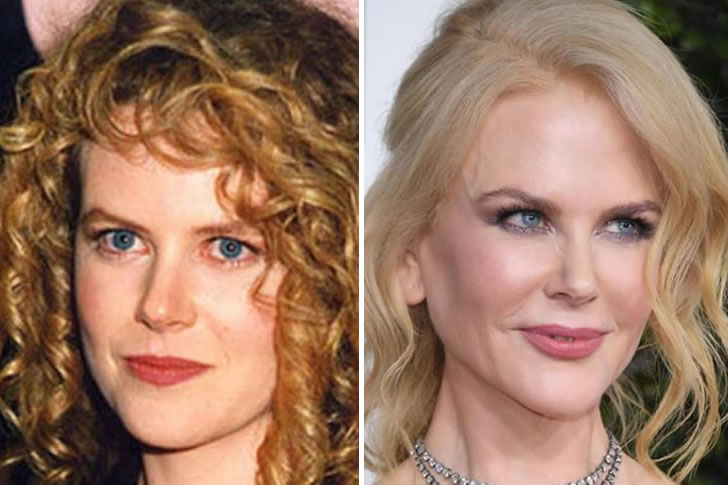 Nicole Kidman is an award-winning actress who became known for her roles in movies such as Far and Away, Eyes Wide Shut, and The Hours. Having an acting career that spans over thirty years, it is not surprising that she had dabbled on to some Botox injections to maintain her good looks. Her beauty procedure has continued with an ever-increasing degree as she is getting older.
Basing on her photos over the years and opinions from cosmetic surgeons, she had multiple Botox injections since her rise to fame in the 1990s. A more recent example was her role in the HBO series The Undoing, which was released in 2020. Many watchers of the show noticed how Kidman's face remained quite stiff and youthful. While she denied going under the knife, some cosmetic surgeons pointed out that she may have had some fat injections and chin adjustments in the past. Regardless, she remains to be a powerful and gorgeous presence in the industry.
57. Tori Spelling – $13,000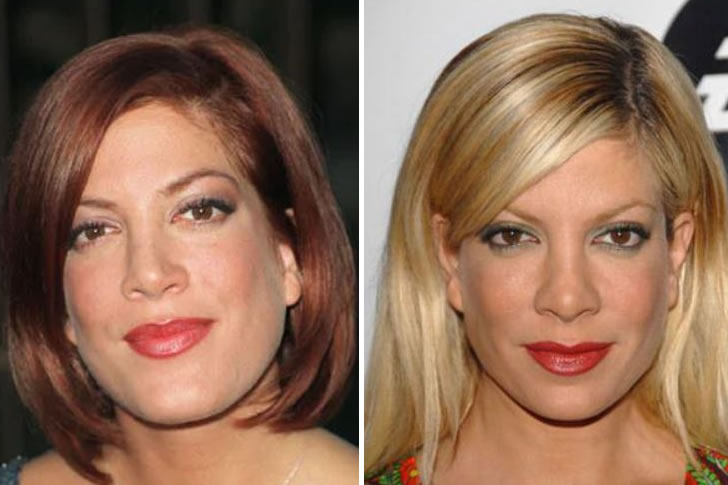 Being the daughter of legendary producer Aaron Spelling was both a blessing and a curse for Beverly Hills 90210 star Tori Spelling. Though she probably had an easier path towards her big break compared to most, proving to the world that she had serious acting chops was what has kept her visible in numerous shows and movies, as well as being a staple in the industry through the years.
Although many have speculated that Tori has had numerous surgeries through the years to look as gorgeous as she still does, she adamantly insists that the only times she went under the knife was for breast augmentation and a nose job which has cost her an estimated $13,000. Despite being in her mid-40's, Spelling gives credit to her dedicated skincare regimen for her youthful glow and the joy that motherhood brings. Tori is a mother to five children and is married to fellow actor Dean McDermott.
58. Vivica Fox – $26,000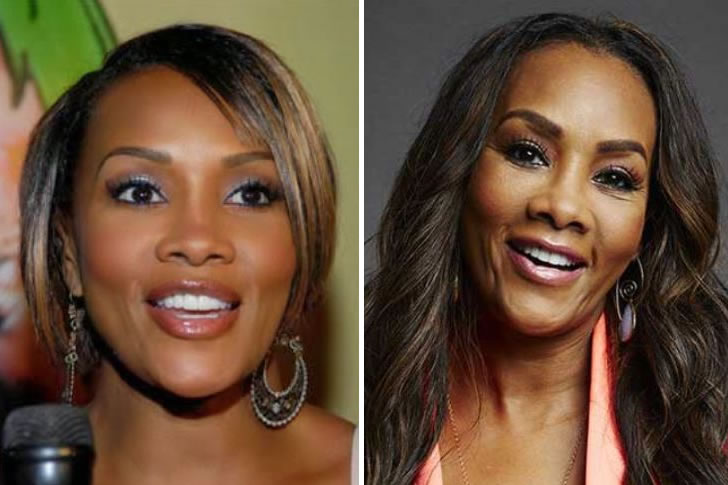 Known for her roles in the disaster flick Independence Day and the Tarantino film Kill Bill, Vivica Fox has been active in Hollywood for a very long time. She made her start in the 1980s after graduating with a degree in social science. However, she found fame when she got a role on Independence Day. Since then, she has been cast into mostly direct-to-video films. For her longevity, it is no surprise that she has changed her appearance multiple times, with her latest photos shocking many fans.
Initially denying any rumors about her plastic surgery, she has slightly addressed these in 2008 after being featured in Upscale magazine. In it, she admitted to having undergone breast surgery and Botox injections. However, many of her fans were not convinced that those were the only procedures that she had gotten, with many saying she got lip surgery at one point, based on her past and present photos. Regardless, she remains happy and glad about her appearance.
59. Ariana Grande – Unknown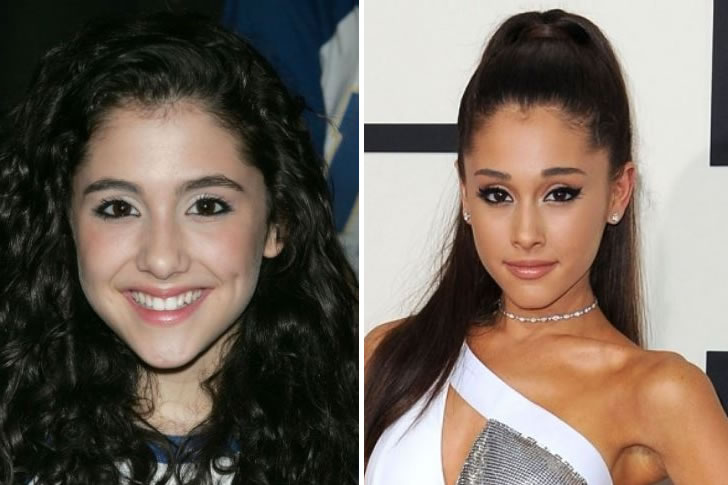 Ariana Grande is, without a doubt, among the biggest pop stars today. A former Nickelodeon teen star, she rose quickly to become the superstar she is today. She radically transformed herself from a quirky, teen-friendly star to a pop culture icon. This made many people question whether or not she had surgery throughout her rise to fame.
Many fans and cosmetic experts made comparisons between her past and present photos to find any difference in her appearance. Many looked at the changes in her eyebrows, which was most likely the result of Botox injections. Aside from that, her enhancement procedures might have included a nose job, chin, cheek, and lip adjustments. Due to this, Grande responded with a slew of tweets back in 2019, fervently denying any rumors of getting plastic surgery. Regardless of its validity, it is certain that Grande changed radically over the years, and she continues to make investments towards her image and career.
60. Nicole Richie – $13,000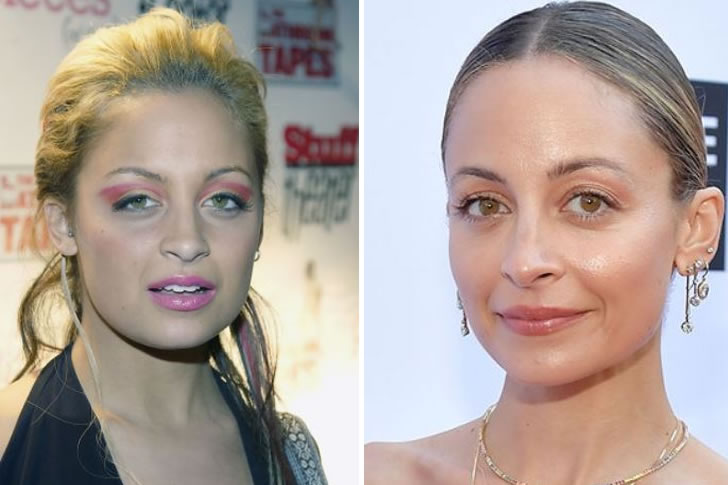 Nicole Richie is a TV personality best known for being a close friend of socialite Paris Hilton. Her relationship with Hilton, in particular, became her springboard to fame when she appeared alongside her in the TV series The Simple Life. Afterward, she became a fashion designer, collaborating with numerous fashion brands and making investments in her new clothing line. Her growing fame attracted fans and paparazzi, which ultimately may have led her to consider body enhancing procedures to maintain her looks.
In 2011, she was photographed with an apparent change in her chest size during a vacation with her family in Mexico. This seemingly indicates that she underwent surgery. It was reported that she had the procedure with plastic surgeon Garth Fisher, who was well-known for his celebrity clientele such as Kate Hudson, Kris Jenner, and Caitlyn (then Bruce) Jenner. Regardless of the circumstances, her surgery looked beautifully done.
61. Jillian Michaels – Undisclosed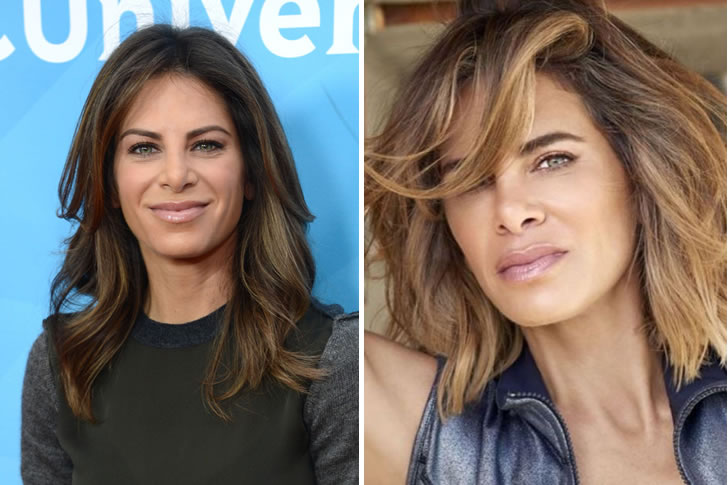 Jillian Michaels rose to popularity when she became the resident physical trainer of
The Biggest Loser in 2004. She is known for her great discipline when it comes to fitness and body image. Jillian also jumped into the wagon as she had her nose done. Jillian was only 16 years old at the time when she decided to get into plastic surgery. The decision to get her nose done was a bit personal for Jillian.
Back then, she weighed about 175 pounds, and her nose got so big. Jillian was bullied for her looks which made her feel insecure about herself. She is thankful for the surgery and credits her parents for being supportive. She did not divulge the amount she spent on it but probably cost less than the $5000 standard amount today. Unlike other stars, Jillian knows that plastic surgery can be compelling. For that reason, she did not have any further alterations to her body. She has indulged in a healthy and active lifestyle instead.
62. Patricia Heaton – Undisclosed
When Patricia Heaton starred in the 2019 TV series Carol's Second Act, she portrayed a woman in her 50s attending a medical school. Surprisingly, Patricia was already 61 at the time but still fits the role perfectly. Not only she did a good job acting like a woman in her 50s, but she also looked the age. Patricia has to credit her series of plastic surgeries and injectables for that.
Patricia Heaton is not shy in telling her fans that she went under the knife to look good. Her body changed a lot after having four kids, and she sought help from her doctor for a tummy tuck and chest augmentation. Patricia also shares she had fillers and Botox done on her face. As she is not ashamed of her beauty secrets as it made her feel good about herself, she is tight-lipped about the amount she spent on all of it.
63. Busy Phillips – Undisclosed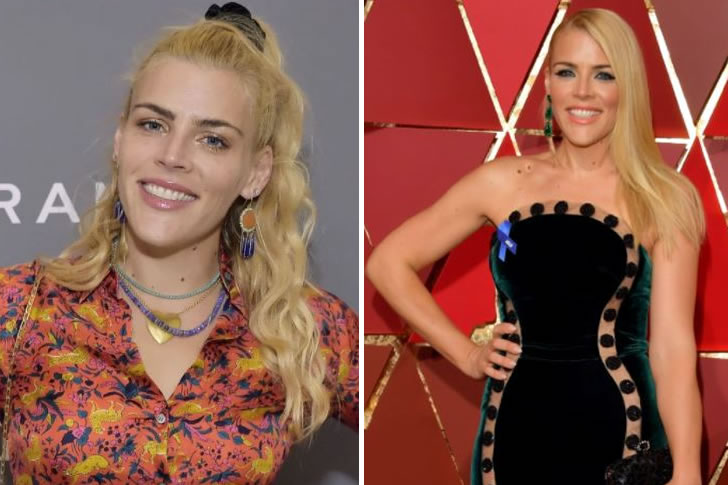 Like any other celebrities, Busy Phillips is under the radar of those who are suspected of having plastic surgery. Busy, again and again, dismissed the rumors saying she has never gone under the knife. Phillips came to the point of showing her naked face to prove that she is all-natural. She came clean having nose surgery for medical reasons.
For years, Busy Phillips has doubted to have botox, fillers, and breast enhancements. It can't be helped since Phillips seems to have achieved a well-sculpted face compared to her earlier years. Pictures of Phillips also show that she has a smaller bosom before, which now has more pronounced. Phillips strongly denies the allegations and says that she has never done anything. The only surgery that she admits to is her nose surgery caused by her sinus concerns. Thankfully, her medical procedure is covered by her insurance, which probably did not cause her to lose much money.
64. John Travolta – Undisclosed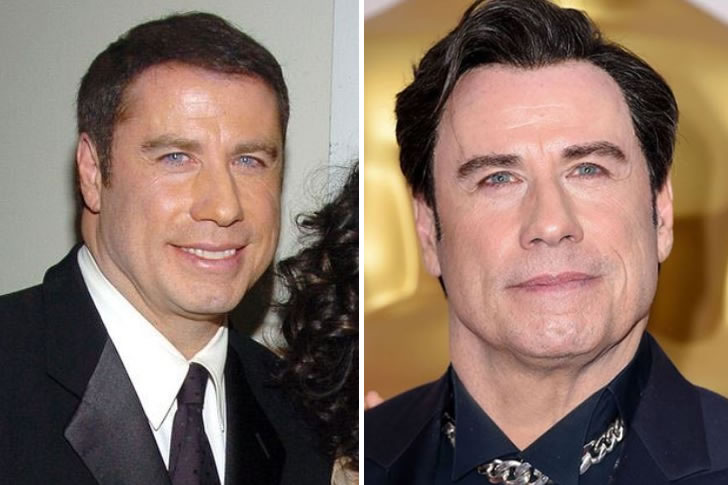 John Travolta is one of the great actors in Hollywood. Throughout his decades in the industry, John has proven his relevance on the big screen and the entertainment world. From Grease in 1978 to Taking of Pelham 123 in 2009, John has never failed to surprise his viewers. Though time changes, his skills as an actor are still recognizable, which lands him a credit score. Another noticeable thing about John is that he seems to have not aged. His skin still looks smooth and soft like it was before. Though words speculate that John had done age rewinding techniques, he dismisses all the rumors.
While John still dissed the issue, pieces of evidence prove his sessions under the knife. As such is his wrinkle-free face. A glorious skin like that can be a product of facelifts and botox. Additionally, John seems to have hair implants. In 2014, he attended a red carpet event with pronounced thick hair despite seeing him before with receding hair, which looks good on him, to be honest.
65. Igor And Grichka Bogdanoff – Unknown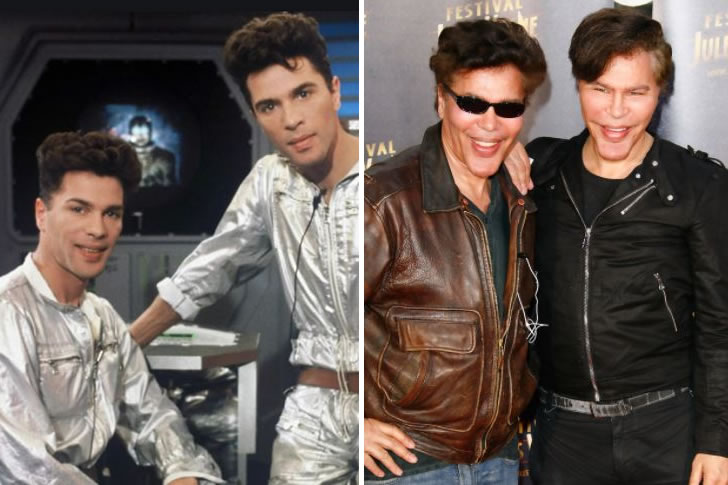 Igor and Grichka Bogdanoff are the French twins who gained popularity with their several science-based TV segments. Their good looks plus their glorious brains are what make them popular among the women in the '70s. At their age of 68, Igor and Grichka are known for their extreme plastic surgery procedures.
By the late '80s, the twins exited the spotlight to pursue their degree in cosmology. As they return in the early '90s, their appearance has noticeable changes. Igor and Grichka had chin and cheeks implants. Their looks continue to evolve that earned a reputation not only in media but also in the medical society. As they seem to have overdone their fillers, the twins refuse to admit that they did so many enhancements. Many speculate that they have some medical condition causing the abrupt change in their body.
66. Madison Lecroy – Undisclosed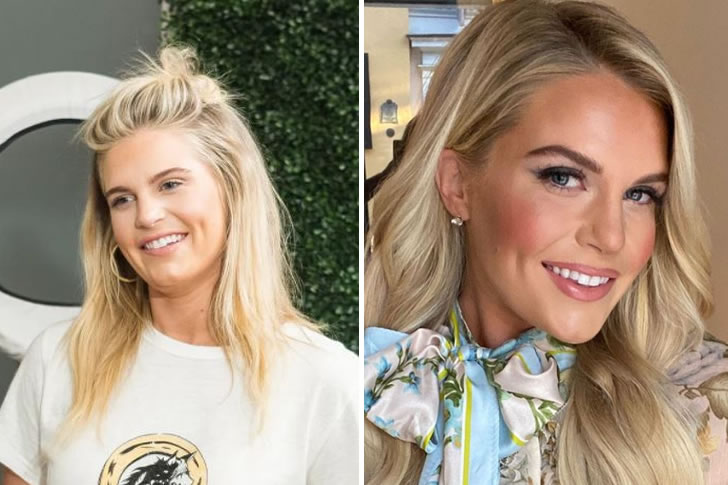 Having plastic surgery is a cliche in the world of the entertainment industry. A large percent of celebrities would deny or duct topic about it. It was quite understandable as many still perceive the procedure to be too much and against nature's law. There are those who embrace the technology and support its purpose, just like Madison Lecroy.
The Southern Charm star proudly debuts the result of her plastic surgery on Instagram. Madison admits to having chest implants and tummy tuck as part of her full-mommy-makeover. In her post, she credits the doctor who worked on her and praised the wonderful job done. For Madison, she felt the need to go under the knife as she lost her self-confidence for the changes that her body went after giving birth. Madison also acknowledges the need for women to feel good about themselves, even if it entails having plastic surgery.
67. Blac Chyna – $100,000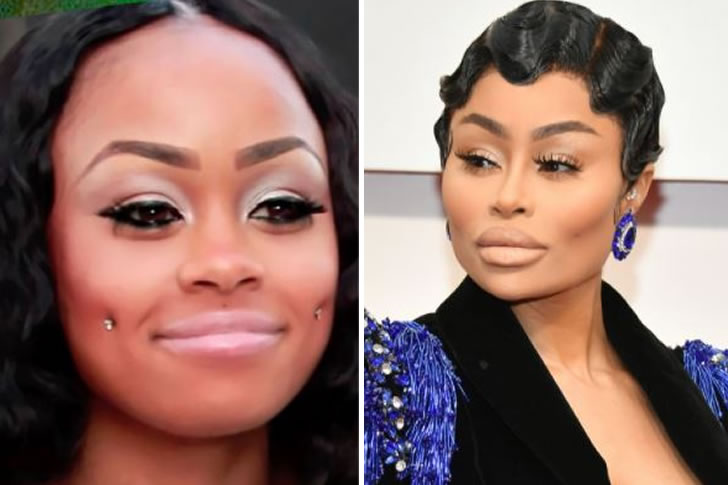 For the American model and TV personality Blac Chyna, her appearance is an investment. It was through her alluring looks and beauty that she went far today. Blac is all for enhancements. She has gone through four plastic surgeries in the past. She had chest augmentation and implants and later on had its size reduced. Blac also did liposuction and buttocks implants to enhance her hourglass figure.
After she gave birth to her second child, Blac went under the knife again to reduce the size of her behind as it got too big. Though Blac has not given a specific amount for all the work she had on herself, her ex-boyfriend, Rob Kardashian, pronounced the cost that amounts to $100,000. Additionally, Blac is spotted to have a slimmer and sleeker jawline. People predict that she had it enhanced, awaiting Blac's comment about the topic.
68. Wayne Newton – Undisclosed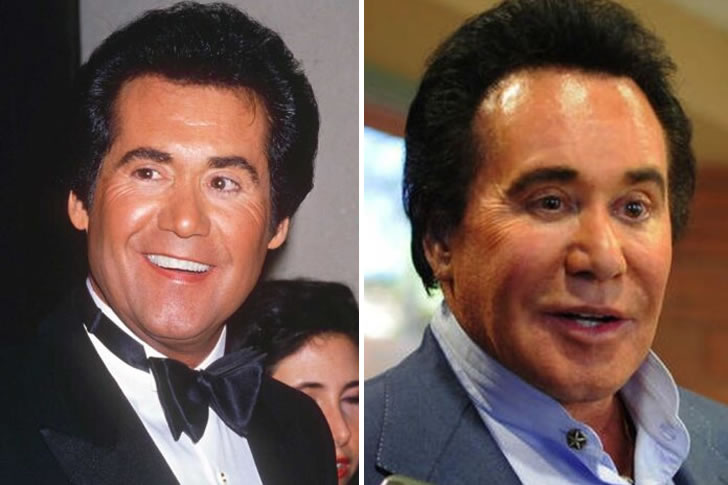 For those who are not familiar with Wayne Newton, here is a quick introduction. Newton is known for his hit singles Red Roses for Blue Lady, Danke Shoen, and Years. The hitmaker is a regular performer in Las Vegas that gives him the title of Mr. Entertainment, Mr. Las Vegas, and Midnight Idol. As such, it is not the only thing Wayne is famous for. His regular trips to his plastic surgeon gave him a definitive look.
Wayne Newton's bankable voice and performance is an asset that keeps his credit score afloat. Additionally, it is understandable that his appearance also matters, but Newton was said to have overdone it. Newton had rhinoplasty and eye lift. He also availed his doctor's services for Botox, neck lift, several injectables, and facelifts. It results in having a wax-like appearance. As it seems to cost more than a thousand dollars, Newton has not said a word about his surgeries.
69. Janet Jackson – Undisclosed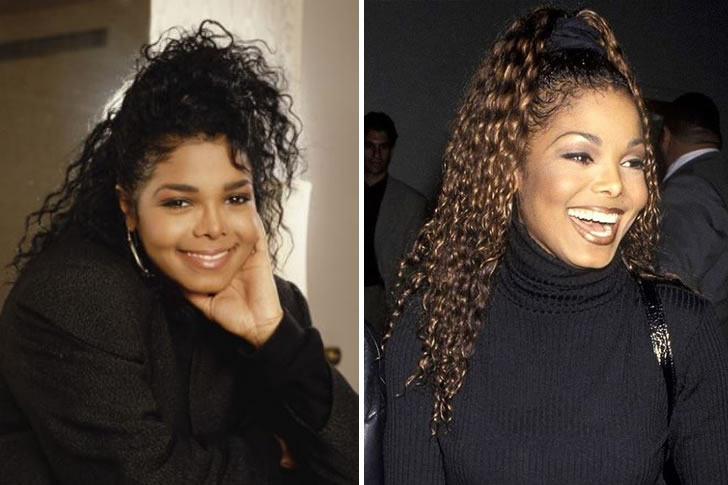 Janet Jackson needs no further introduction as she is as famous as her late brother,
Michael Jackson. Likewise, Janet has striking features and resembles a lot to her brother. They both seem to have a compelling urge to undergo plastic surgery to enhance their features. Considerably, their work pushed them to look their best. As such, it leads to Janet making plenty of investments in her face.
Janet Jackson has been speculated to have done several face enhancements but refused to admit to such but her nose job. According to surgical experts and doctors, based on her pictures before and now, they certify that Janet has been through different works. The very first thing noticeable on her is her nose which seems to have a rhinoplasty. Her eyes looked lifted and suggested that she must have eyes and brow lift. Her cheekbones are very much pronounced, which suggests having fillers. Lastly, her wrinkle-free face is the result of fillers, facelift, and Botox.
70. Farrah Abraham – $26,000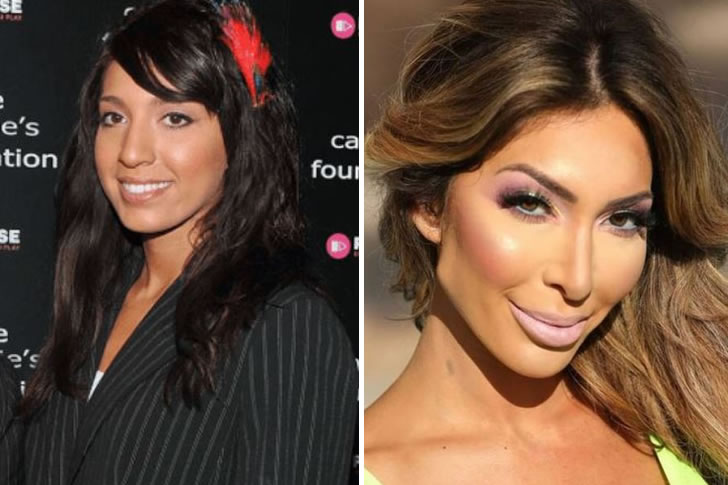 Farah Abraham is said to have spent about more or less $26,000 for her cosmetic surgeries. Though the amount seems to be indefinite as Farrah had several works done untabbed, she certainly had made a hefty investment on her appearance in the past years. The Teen Mom star seems to be satisfied now with her looks. Farrah said that she would not be coming back to the surgery table in the coming years.
Additionally, Farrah had reversed some of her surgeries as she feels that it is too much already. Farrah admits to having breast implants for $5000 and a chin implant and a nose job that cost her about $21,000. She also had several fillers and Botox in the past. Additionally, Farrah is also said to have surgery on her private parts that probably cost her much of her savings.
71. Phyllis Diller – $50,000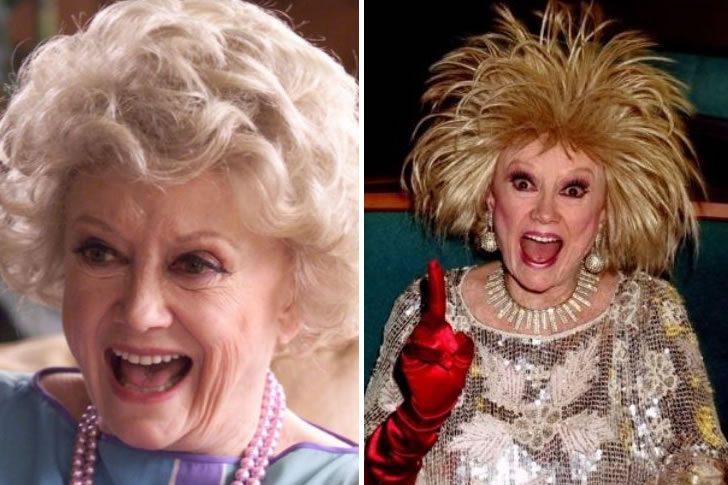 If one person was credited for making cosmetic surgery publicly acceptable, that was Phyllis Diller. The multi-talented comedian freely admitted that she had done almost all of the surgeries there is to offer during her time. Phyllis, who was known for her insult comedy, often made fun of herself and her surgeries, making the topic welcomed to the public.
As for the record, Phyllis had spent about $50,000 for her countless cosmetic surgery procedures. At the age of 55, Phyliss had her first procedure, which was a complete facelift. Since then, she had had a chest reduction, tummy tuck, rhinoplasty, brow lift, and many more. Phyllis credited her adventure under the knife to her thriving career. Understandably, being a performer required her to be presentable, especially when she was doing comedy shows that needed her to look lively and snappy.
72. Cardi B – Undisclosed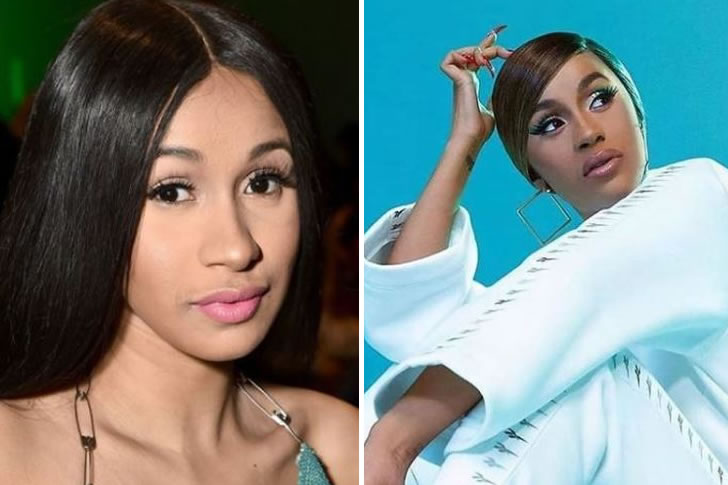 The singer-rapper Cardi B is very transparent about the ins and outs of her life to her fans. As such, she did not hold back when she admited to having several plastic surgeries on her body in 2019. The I Like It singer also shares the horrific experience of having surgeries that cost her million-dollar worth concert canceled. Even before Cardi B rose to fame as a hitmaker, she admitted to having buttocks injection. She decided to get enhancements as she felt a degree of insecurity over her skinny figure. It costs her only $800 compared to the Brazillian Buttlift worth $9000.
The catch is, it is done illegally. In 2018, Cardi went under the knife for breast augmentation and liposuction. As she exclaimed, her reason for doing such was that she wanted to see an immediate result as she is an entertainer who does not have much time to work out. In 2019, Cardi laid on the table again for another round of liposuction. Cardi failed to follow her doctor's advice to rest and heal after surgery. As a result, she had complications that made her cancel several performances.
73. Al Pacino – Undisclosed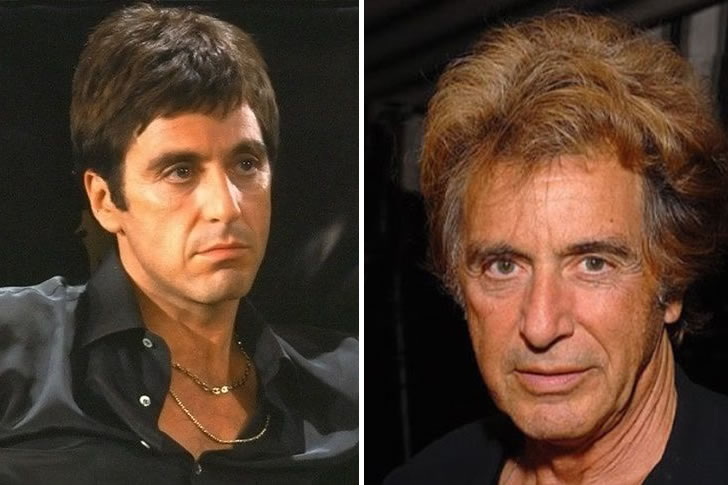 Having cosmetic surgery is not a big issue anymore, especially for celebrities whose investment is in their appearance. Although commonly, it is women who often avail the procedure, men also do need upkeep. Another male actor who seems to have a flair for plastic surgery is Al Pacino. The legendary actor who got famous for his work in Scarface and The GodFather is alleged to have done multiple cosmetic surgeries over the years.
Plastic surgeons suggest that he did a facelift, eye lift, and botox. Additionally, he is also suspected of having a rhinoplasty. Al Pacino has never admitted to having face surgery, likewise the amount spent on them. As per the experts' observation, he most likely has done it at least once, especially his eyes. An apparent reason is his lack of extra skin and folds that strongly suggest having done over a knife.
74. Leah Mcsweeney – Undisclosed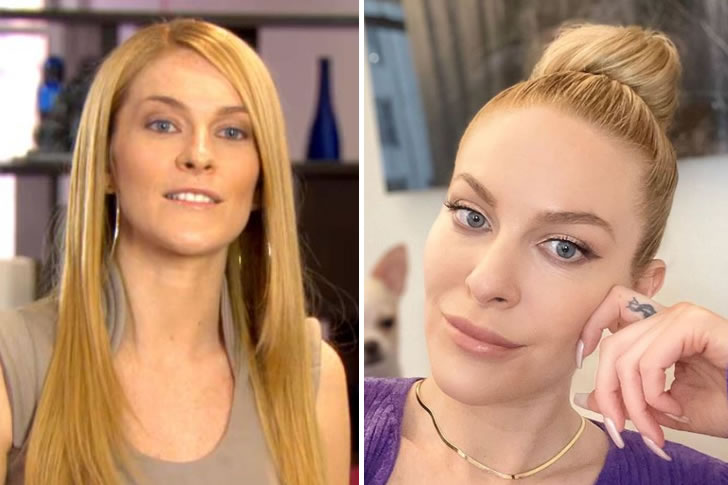 The Real Housewives of New York City star Leah Mcsweeney is one of the celebrities who does not hide their cosmetic surgery journey. Leah is not ashamed of it as it improves her confidence. The TV personality even credits her doctor on her Instagram posts for the job well done. Although Leah seems to be very outspoken about her surgeries, she does not divulge the amount she paid for them.
Leah Mcsweeney looks really great and happy with her new chest. In December 2020, the star shared that she had chest augmentations and chest lift as a gift to herself. She also had a rhinoplasty and septoplasty in the past. Many of her followers appreciate and share the same sentiment of her with regards to her surgery. She even mentioned that she would support her daughter if she wants to in the future if it improves her life.
75. Jennifer Aniston – $200,000 A Year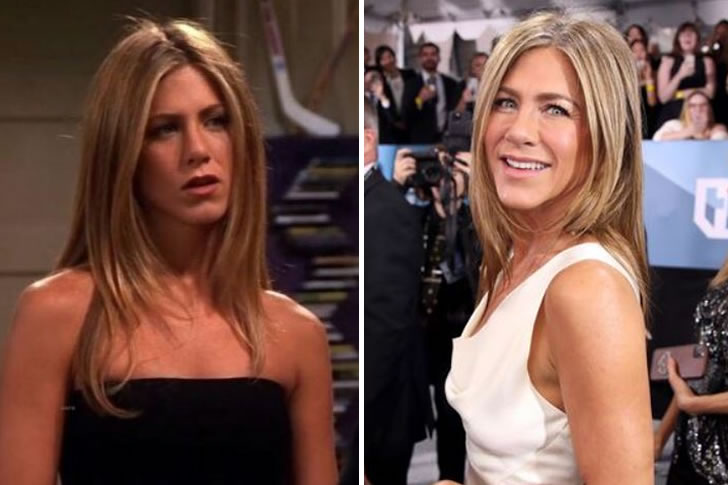 Jennifer Anniston is one of the most beautiful women in Hollywood. She is known for her glorious mane, stunning figure, and a million-dollar smile. All of this, of course, comes with a price. Anniston was said to spend about $200,000 a year for her beauty maintenance which was just a small portion of her big credit score. Rumors about Anniston's cosmetic surgery were swirling around Hollywood. It is the fact that Anniston still looks stunning despite her age.
As per Anniston, her only beauty routine revolves around her regular trips to the salon and her good relationship with beauty products. As such, Anniston only admitted to having her nose done, and it was for medical reasons. Some say that Anniston got her chin done as well as her chest, but apparently, the FRIENDS star insists that they were all-natural. For that, Anniston is probably just blessed with good genes and facial features that need no altering.
76. Larissa Dos Santos Lima – $72,000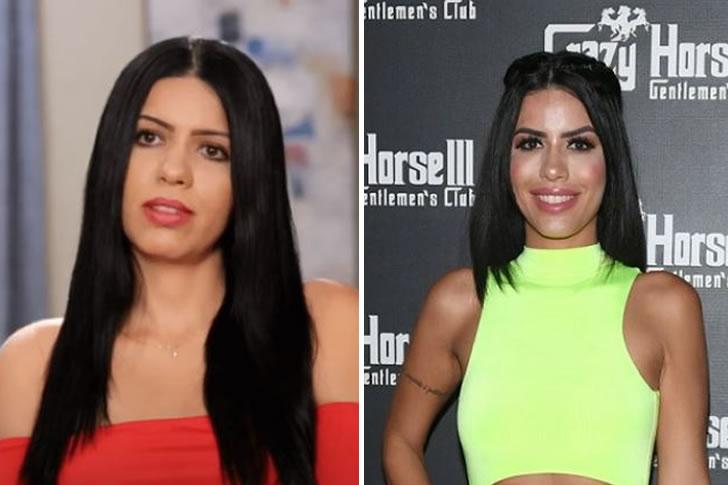 Larissa Dos Santos Lima is honest about her passion for plastic surgery. Her enhancement isn't over yet. The TLC celebrity tends to experiment with new investments to improve her appearance after spending $72,000 on cosmetic surgery. Larissa has always been stunning, but she enhanced her appearance with the aid of a cosmetic surgeon.
She had a "Kimmy K makeover" in July 2019, intending to get a more curvaceous behind, and they used ten vials of Sculptra filler to achieve her dream body. During the season 5 premiere, the mother of two talked candidly about her other jobs and how positively they made her feel. Larissa even got some new Bellami hair extensions to go with her unique appearance. Larissa admitted that she decided to get cosmetic surgery to improve her image to boost her self-esteem and provide for her family.
77. Ashley Tisdale – Undisclosed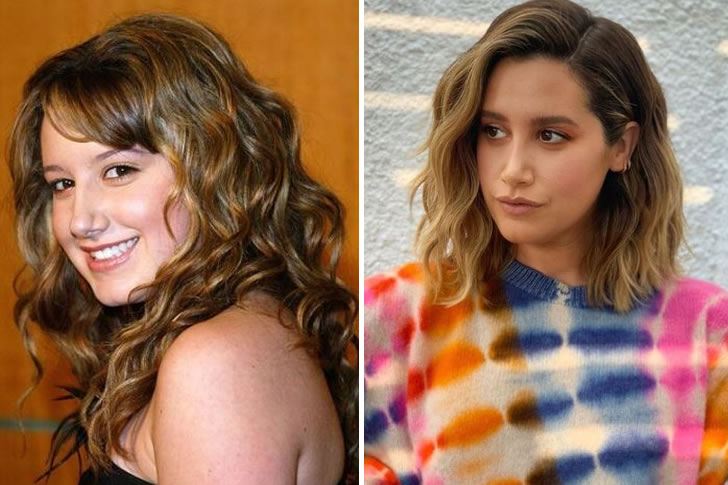 The Mayo Clinic reports that 70 to 80 percent of people have a deviated septum, which means one nasal passage is narrower than the other. It's seldom severe, but numerous celebrities had their noses re-sculpted to fix this common problem. One of them is the High School Musical actress Ashley Tisdale. The star savored her rising degree of popularity, but she soon discovered that it came with many drawbacks. Tisdale, who was 22 at the time, underwent a nose job to correct a deviated septum.
Ashley asserted that she has always loved herself and her beauty, even though she has been made to feel inadequate by others. While health issues inspired the singer's decision to get facial surgery, she clarified that there's nothing wrong with anyone having a facial operation for other reasons. Ashley wishes that her life experiences will help her guide her daughter through life's struggles and aspirations.
78. Sonja Morgan – $75,000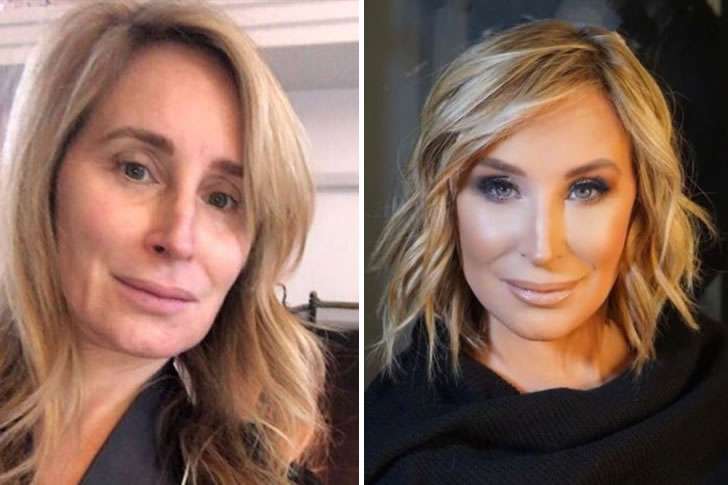 Sonja Morgan wowed her fans with her fresh, new look. The Real Housewives of New York City's celebrity looked better than ever, thanks to her cosmetic surgeon who performed ThermiTight and Silhouette InstaLift on the reality star. After finishing season 12 of the The Real Housewives of New York City, the reality star announced that she had cosmetic surgery on her Instagram account, posting a side-by-side picture of herself before and after her lower and neck lift surgeries.
Morgan, 56, said she underwent surgery to get rid of the wrinkling and jowls around the chin and jawline that had begun to appear. Morgan revealed that mild surgeries like Botox and fillers are part of her self-care and investments, but she doesn't do liposuction. Morgan's fresh new look was a hit with fans, who also praised her for being transparent about her plastic surgery.
79. Gia Giudice – Undisclosed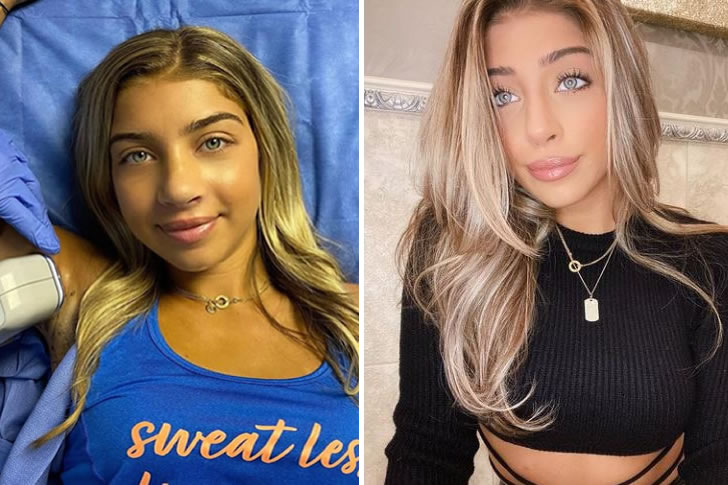 It's hard to imagine that The Real Housewives of New Jersey first aired on Bravo 11 years ago, presenting us to Teresa, Joe, and their four daughters. Ever since we've seen Gia Giudice and her sisters mature right in front of our eyes, and it's been interesting to witness how they've evolved. She marked her 20th birthday on January 8 with a gigantic cake, capping off her adolescent years.
Gia has been the subject of RHONJ rumors after she announced that she got her nose changed to her preference on an Instagram post. While Gia's mother was seen with her, it's unknown if Teresa completely supported the decision. She has previously expressed her opposition to cosmetic investments for teenagers to Life & Style. Not only do the outcomes look great, but Gia appears to be delighted with the transformation, which is all that matters.
80. Chrissy Teigen – Undisclosed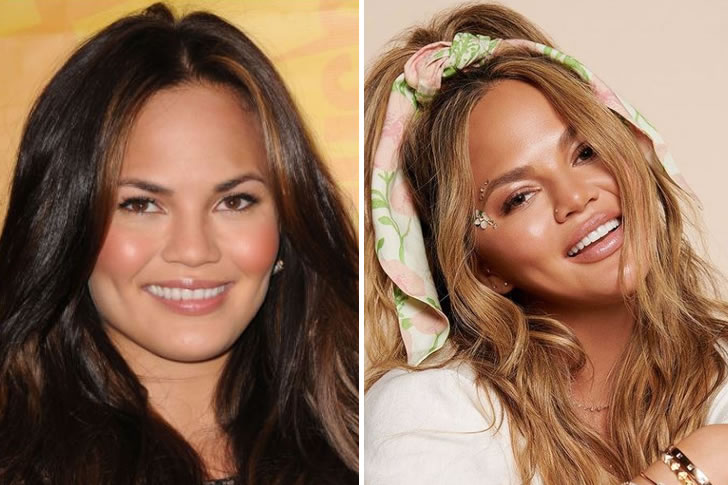 Chrissy Teigen isn't the one to sugarcoat anything. She isn't afraid to keep it honest; the former supermodel and Lip Sync Battle co-host has amassed a sizable fan base. Teigen is still true to herself, whether expressing her political views or being truthful about raising children. So much so that when she speaks frankly about her experiences with body confidence and surgical procedures, she goes into great depth and barely leaves any information out.
Teigen's admission that she'd undergone breast augmentation in the past isn't the first time she's been open about cosmetic surgery. In 2017, the mother of two revealed that she'd gotten pretty investments with Botox. Teigen went on to say that she's not afraid of the treatments she's had performed, including going into depth about the strangest surgery she's ever got. Whether or not Teigen still feels the need for another beauty operation, she appears to be more at ease with her skin now than she has ever been.
81. Angelina Pivarnick – Over $20,000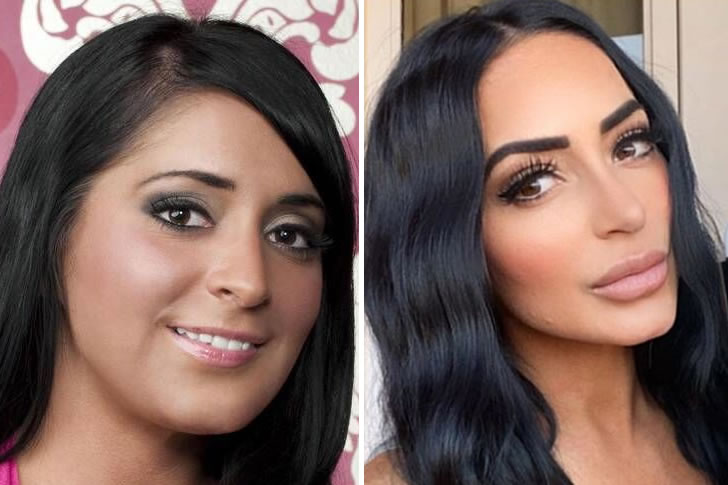 If you're a fan of Thursday night's top cable tv smash, Jersey Shore, you probably felt all the emotions when Angelina Pivarnick returned to the show. It was a huge thing, and we're sure this story made its way all over New Jersey. The actress revealed that she lacks the courage to keep her medical upgrades a secret. Angelina knows she might transform her body naturally if she wanted to, but the star claims she doesn't have time to go to the gym.
When taken at face value, Angelina's condition seems to be very favorable. Fans are now wondering how much her face is worth. She used surgical procedures to modify her appearance as one of the most prominent ways to boast her investments. Angelina has had butt and breast implants and numerous surgeries to change the shape of her face as part of her gradual transition into Kim Kardashian. After all, it is Angelina's body, and she is free to do whatever she wants with it. What matters is that she seems to be content and optimistic.
82. Teresa Giudice – Undisclosed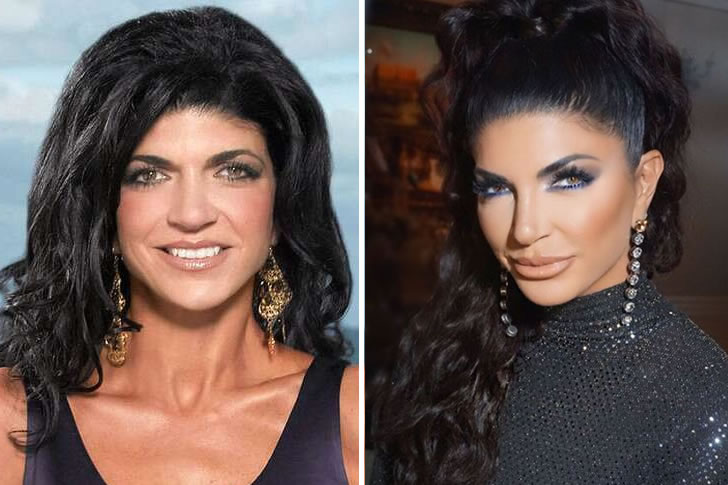 Before going into detail about Teresa Giudice's transformations, it's important to note that she is a true Jersey girl. She elevated to a degree of fame solely due to the reality show The Real Housewives of New Jersey and is the show's second-highest-paid actress. Aside from this film, the woman has written many cookbooks, demonstrating that she is a genuine housewife.
Teresa makes no apologies for her commitment to keeping fit. Thanks to her intense exercise regimen, she retains her sculpted physique over the years. On the other hand, she consults professionals when it comes to preserving her radiance. She invests tens of thousands of dollars in surgical procedures and other treatments to keep her body slender and attractive. The actress gets Botox and Restylane shots every three months to keep her skin looking fresh and wrinkle-free. She looks fantastic at her age even after four pregnancies.
83. Dina Manzo – Undisclosed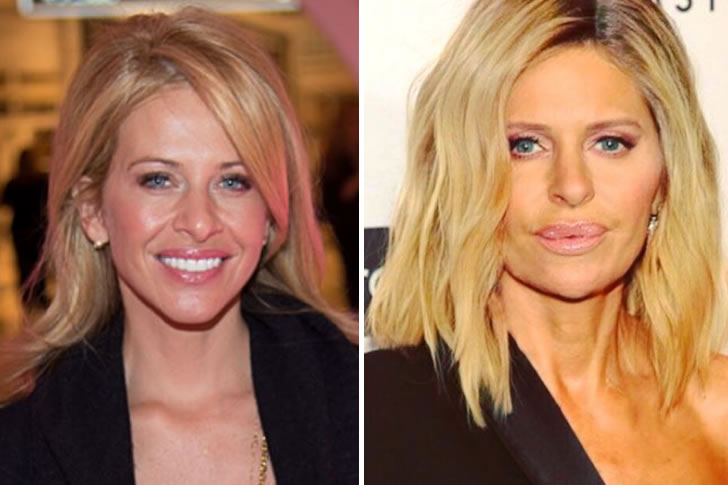 The Real Housewives of New Jersey star Dina Manzo is candid about many things that a television personality would rather keep private. It's also probably why she's regarded as a beauty by her legions of admirers. For a long time, people have been flocking to her to praise her new look. Fans were puzzled as to why she had changed so much in the last few years. They did have some reservations, but it's not like they didn't enjoy the change. That's why she went public with her decision to undergo plastic surgery.
It's preferable to get it out in the open than to have people whisper about it. It's what she was wondering before she announced she had a nose job in April 2018. She used Twitter to express her gratitude for the fans' help and share important details about her cosmetic procedure. The reality star said she changed her nose and faced a bit more so she wouldn't have to turn to fillers. Among others, It seems to be one of the few celebrity cosmetic surgery investments that have received positive feedback.
84. Ronnie Ortiz-Magro – $20,000 to $30,000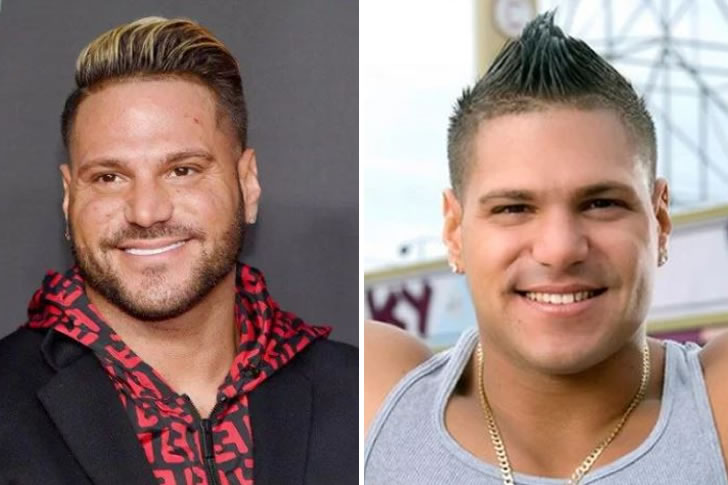 Anyone who has watched Jersey Shore knows how passionate Ronnie Ortiz-Magro is about the aspect of the gym, tan, laundry, or GTL. We had no idea, however, that staying shredded was so crucial to him. Ronnie recently had surgery to protect his abs. Ronnie underwent liposuction to his search for the ideal 6-pack abs, but it was a painful tag to pay for the great body. It'll set you back between $20,000 and $30,000.
After the surgery, the recovery part is no joke. Ron had just completed treatment, and he was only able to take Advil for pain. Due to a lack of time, he decided to take a different path toward his fitness goals. Although this type of lipo won't prevent him from gaining weight, Ronnie won't be able to amass weight in those places, so they'll remain pretty toned for the rest of his life. Also, he needs to eat a balanced diet. Having lipo to keep your abs is intense, but it's an investment in his professional line.
85. Vicki Gunvalson – Undisclosed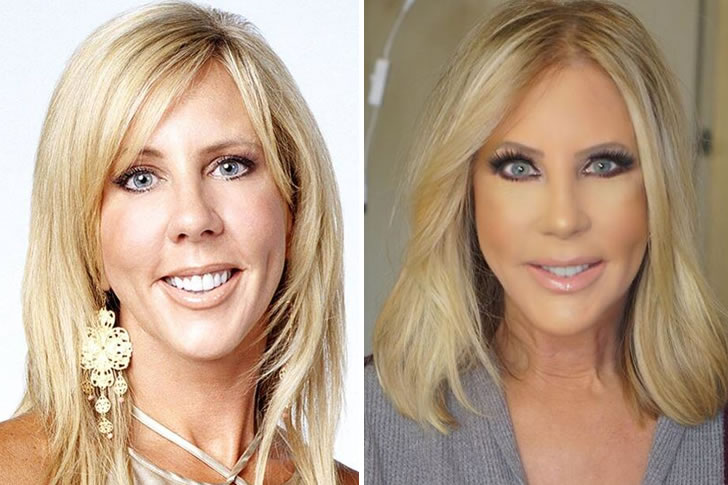 Vicki Gunvalson—of the Real Housewives of Orange County—is no stranger to plastic surgery. The blonde beauty has previously spoken frankly about her cosmetic surgery, which involves a nose job, chin enhancement, and wrinkle-reducing fat shots. Even though she acknowledges that several people are critical of her change, the outspoken reality star isn't deterred. She isn't afraid to say things as it is, and she stands by all of her medical procedures.
She defends her decisions and claims that her look hasn't changed all that much. As she looks in the mirror, the celebrity reveals that she feels the same way. She makes no apologies for the procedures, but she does express remorse. She specifically regrets having surgery too close to the filming of Housewives. Nevertheless, with the fame that she has, it is relevant to treat her appearance as an investment.
86. Courteney Cox – Undisclosed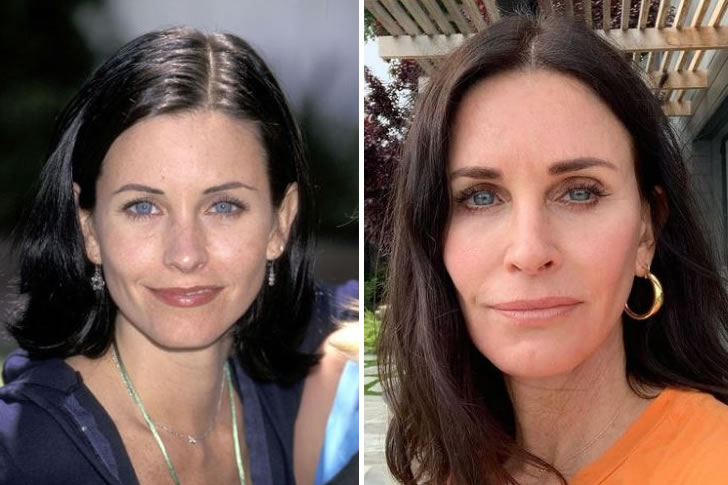 Courteney Cox is an actress, producer, and director. She first got her big break after starring in the hit television series Friends. Her role as Monica Geller in the said show paved the way for more opportunities, such as when she starred in the movie Scream. From then on, Cox gained a higher degree of prominence for her work. The actress' growth in the industry is simply incredible, and what's more impressive is that she has maintained her stunning appearance even after three decades in the spotlight.
Though she kept her hair color and makeup natural, Cox considered making other adjustments to her appearance. By the time she was 45, the actress seemed to have begun dabbling in Botox and fillers. She also went back to having jet-black hair, which just added to the drama of her transforming looks. However, in recent years, Cox has reconsidered her cosmetic surgeries after some people have pointed out that she might be getting too hooked on the procedures. Now that all of her fillers have been removed, the star is enjoying her natural beauty. Instead of attempting to halt the aging process, she has embraced a different, more hopeful attitude.
87. Ariel Winter – Undisclosed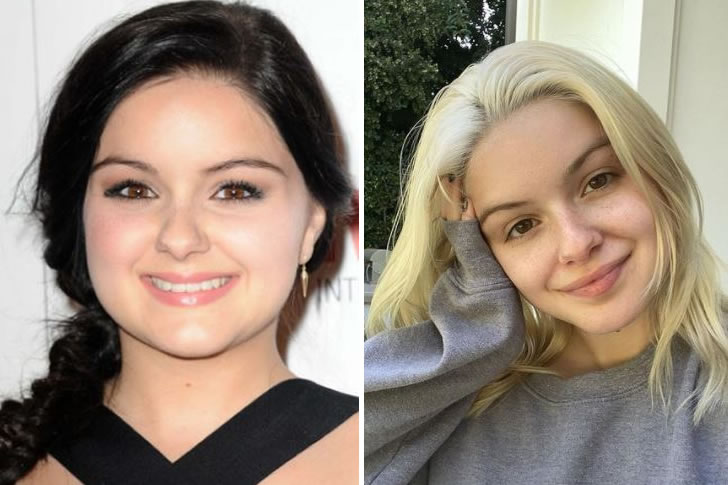 Ariel Winter has spent her whole childhood in the limelight. She started portraying the middle child Alex Dunphy on Modern Family when she was just in her pre-teens. The series recently wrapped up after 11 seasons, with several accolades— including 21 Emmys— under its belt. Given how production for the said TV show took up more than a decade of the actors' lives, Winter has done a lot of growing up in front of the camera. The poor young adult was often crowded by paparazzi, and most of her old photos online fixate on the size of her chest.
Finding clothing that fit was a struggle emotionally, but it was nothing compared to the physical pain that the actress experienced regularly. Winter noted that standing up straight for long periods was difficult for her, and she often found herself crouched over on set. Eventually, the star underwent chest reduction surgery, which she described as a "very optimistic" procedure. She also credits herself as a body-positive symbol and a role model for young girls who face similar challenges.
88. Jane Seymour – Undisclosed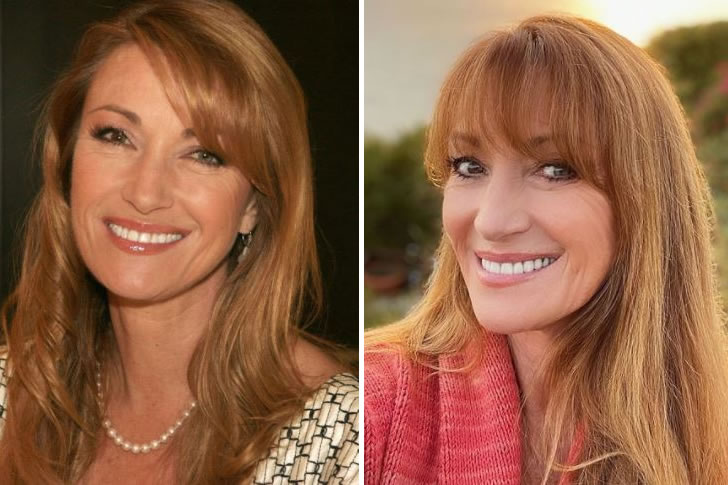 Jane Seymour has always embraced her life, from her breakout role as James Bond girl in Live and Let Die to her most recent Netflix Original The Kominsky Method. It's been quite a ride! For decades, the British icon has graced our television screens, big screens, and Broadway stage. Because of her commitment to the craft, she has won several Golden Globes and Emmys accolades. In 2000, Queen Elizabeth II bestowed one of the most coveted titles upon her when she was appointed an Officer of the British Empire.
Jane confessed to having had cosmetic procedures in the past, just like any other star. Though some celebrities are hesitant, she is one of those who are not afraid to speak about it. Jane could easily be mistaken for a sister to her daughters, who seem to have inherited her beauty genes. The actress had surgery to improve the appearance of her eyelids. Her upper and lower eyelids had both been fixed. For the movie Wedding Crashers, Jane also got her breast implants. With the star's multi-million net worth, we're sure that these multi-degree procedures won't burn a hole in her pocket.
89. Julie Chen – Undisclosed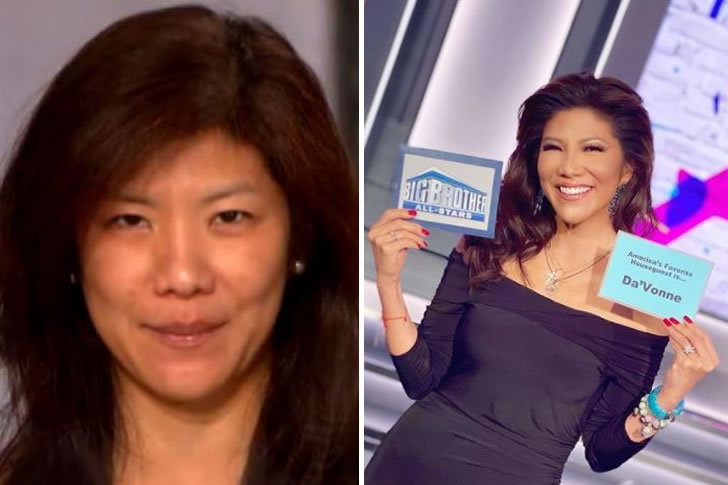 Julie Chen has a thriving career that is bolstered not just by her talent but also by her attractive appearance. Over the years, she has been able to sustain her star's luster by appearing on television daily. However, her day-to-day presence necessitates her maintaining a perfect image by altering her look to a certain degree. This is why the rumor of Chen's use of plastic surgery has surfaced.
She developed a profound sense of vulnerability and began recording her segments on a VCR and reviewing them to assess her lids' weight at the end of the day. Chen was afraid that her looks would soon be affecting her job. An agent then declined to represent her unless she had plastic surgery to make [her] eyes look bigger and told her that a few jabs of the knife would get her "right to the top." Chen agreed to take the plunge. She must have made a good decision from the looks, as she now looks happier and more youthful than ever. If that's not enough proof, then just take a look at her massive net worth, raked in by project after project being offered to the star.
90. Rita Ora – $30,000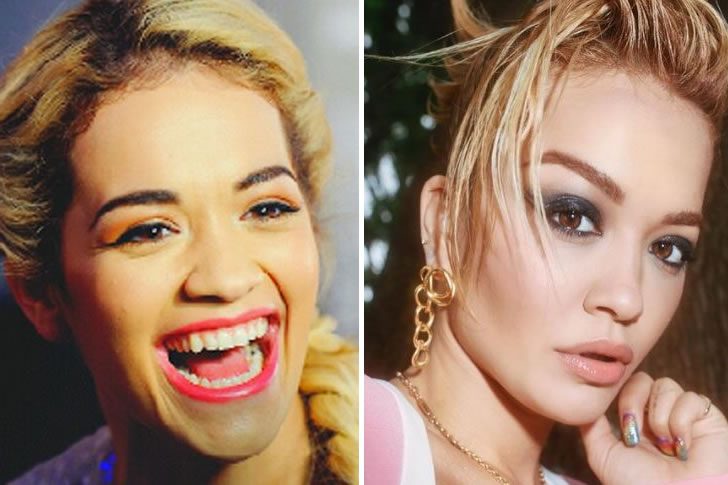 Rita Ora is known for her ability to change her look and play with her appearance regularly. Now, it's not just her clothing choices that have changed dramatically in the years following her rapid rise to fame. It seems that the singer has used cosmetic modifications to boost her looks and maintain her Hollywood glamor— and we're not complaining! Rita's beauty is coveted by men and women worldwide.
The Black Widows singer has certainly outdone herself this time. She has removed all of her fine wrinkles and lines through botox, has undergone breast implants, and opted for a nose job. Rita also wanted to enhance her smile, which now looks utterly flawless after her wisdom teeth were extracted. The rest of her pearly whites were fixed and whitened to achieve a stunning grin. With her fortune and investments, we are sure that spending this much won't hurt. After all, beauty comes with a price!
91. Rihanna – Undisclosed Amount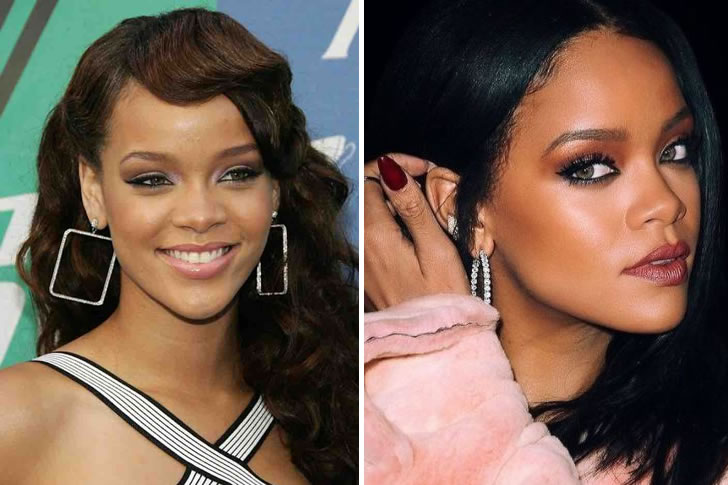 Rihanna has always been beautiful, but that doesn't save her from plastic surgery rumors. Much hearsay has been running the mill and claiming the Barbadian singer had her nose altered to make it more refined. Several medical professionals even confirmed the 33-year-old star had a nose job. However, the celebrity herself had remained mum about the issue.
The doctors assumed she had undergone nasal reshaping or rhinoplasty to make her nose's bridge narrower and the tip thinner. Another surgeon stressed that the musician's nose now looked more slimmed-down, and the bridge was built-up a little compared to how it initially looked. A total of ten surgeons claimed Rihanna indeed went under the knife and even gave whoever did it the credit for looking natural and doing a good job. The most important thing is Rihanna is confident and happy with her body.
92. Yolanda Hadid – $27,000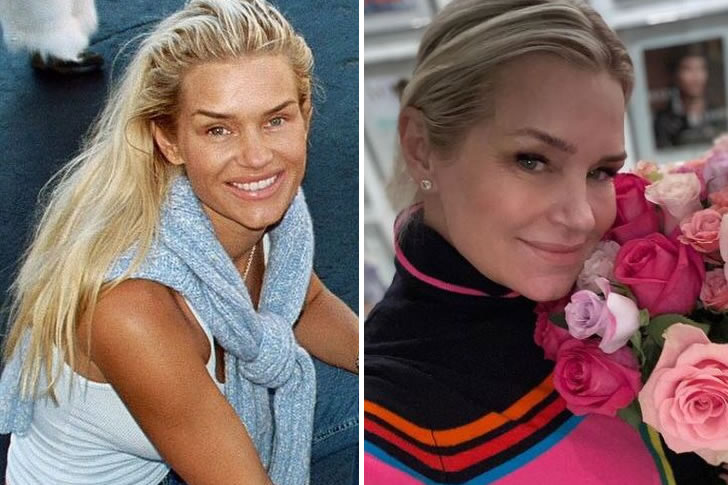 Yolanda Hadid is an American Dutch former supermodel and TV personality. She is the mother of supermodels Anwar, Bella, and Gigi Hadid. Over the course of her stint in the limelight, the stunning model also appeared in several TV shows and even had her own. Credits to their mom's naturally perfect genes, Bella and Gigi grew up to be two of the most beautiful and in-demand models today. Even though mommy Yolanda is naturally gorgeous, she still goes to beauty experts and salons from time to time to make sure she maintains her glow and enhances it more.
Yolanda is such a massive fan of Christian Dior products which costs at least $3,000 per product. The celebrity has about 9 of them, which costs around $27,000. The former model said that it is better to have a stockpile of makeup rather than have surgeries. Just by looking at her, we know for sure that all of her nighttime beauty products didn't go to waste after all these years.
93. Cindy Crawford – $3,000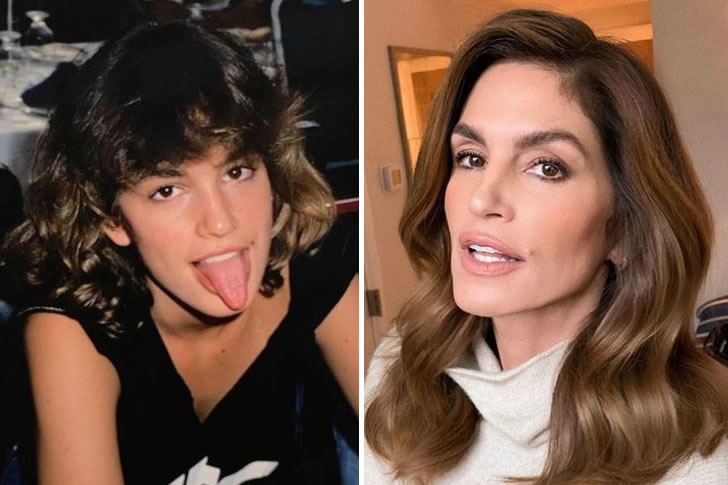 Cindy Crawford is one of the most sought-after supermodels of her time. She has been the muse of so many designer brands, fashion houses, and beauty products. As a result, the celebrity stunner has graced the cover of almost every beauty and fashion magazine. Cindy is also an actress and a businesswoman. She has a lot of investment when it comes to her physical appearance, and her personal brand represents beauty of all ages. Cindy is the definition of someone who surely knows how to take care of herself from head to toe.
Once, it was rumored that she had one mole removed, but ever since she started modeling in high school, the brunette beauty would always say that she would never remove her beauty mark. She's constantly told to do so, though. She personally uses French rejuvenating beauty products, which cost about $89 per tube. Technically, Cindy spends almost $3,000 a month worth of anti-aging cream!
94. Tyra Banks – $2,000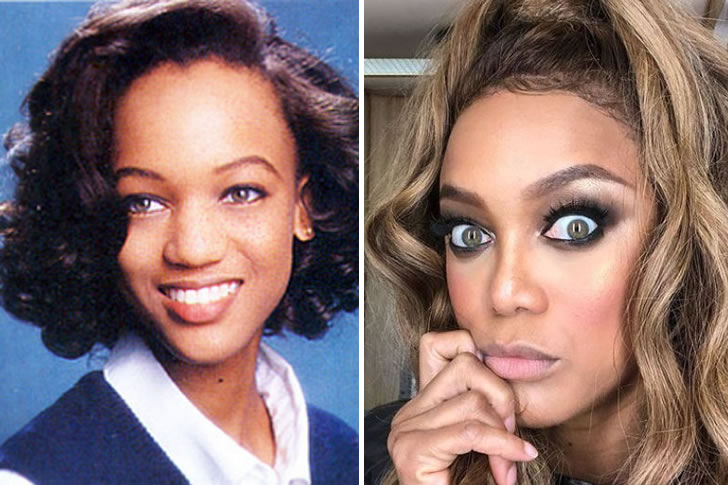 Tyra Banks knows how to worship all of her body assets, from hair, body, and skin. People should give her more credit for being so beautiful and, at the same time, loving the skin she's in no matter what size she is at the moment. Tyra has gone through almost all shapes at this point, and the supermodel still looks stunning every time. Of course, we all know her as a producer, writer, actress, businesswoman, TV personality, and one of the world's most famous supermodels. However, Tyra deserves to be praised more for being a body positive icon.
Despite the fame and fortune that Tyra has raked in over the years, her hustle never stops. She is the creator of the Top Model franchise worldwide, the most original and most famous one being America's Next Top Model. The former model also has her beauty line, but people wonder what her personal beauty secret really is. To sum up all of her beauty obsessions – she is obsessed with thick eyebrows, moisturizers, red lipstick, and some DIY treatments. Behind the aura of elegance, she is a simple girl. Most of her products are from Amazon and Vaseline, which costs only around $12. Tyra's body care totals the amount of almost $2,000 per month!
95. Kaley Cuoco – $4,000
Kaley Cuoco is a 35-year-old actress and producer. After landing many supporting roles in film and TV in the '90s, she finally had a breakthrough in the hit sitcom The Big Bang Theory. Ever since starring in the said 12-season show, the beautiful blonde has since found more projects and is currently active in showbiz. Kaley can't just look extraordinarily pretty without a bit of help from products and beauty experts. To credit her generosity in sharing with us her beauty tips, we also want to introduce you to her list of beauty secrets.
She doesn't share much else aside from her skincare routine, but one thing for sure is that she swears by her signature eye cream, which is the Kiehl's Creamy Eye Treatment with Avocado. It has been around since 1851, and it costs around $37. She loves taking care of her skin, especially when under the sun, and Lancer Skincare which costs $80, is where her heart belongs. To wrap it all up, her makeup artists also insist on making her use face masks from time to time. In one month, she spends around $4,000 for her skincare routine.
96. Christie Brinkley – $500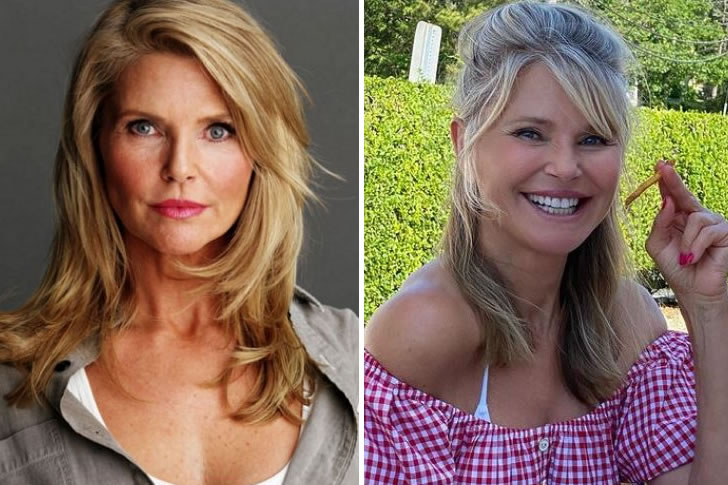 Christie Brinkley gained popularity back in the late '70s when she modeled for the Swimsuit Issues of Sports Illustrated. Her success as an actress and as an entrepreneur brought her an enormous amount of fortune. Brinkley's net worth is already a whopping $100 million. This supermodel really knows how to handle her finances, but apart from from that, she also makes sure that her investments are not limited to properties and business ventures. Brinkley also invests a great deal in her appearance and her figure.
Christie keeps her youthful glow and stunning shape even at the age of 66. Working out is essential for her. Brinkley switches her exercise routine ever-so-often to keep her excited about breaking a sweat, she could be attending dance and spin classes today and go kayaking the next, or if her children feel like going for a ski, she is down for that too. She is truly an athletic mom. She also spends an enormous amount of money on anti-aging treatments. She would spend $300 to $500 per treatment that could last up to four months.
97.Jamie Lee Curtis – $6,100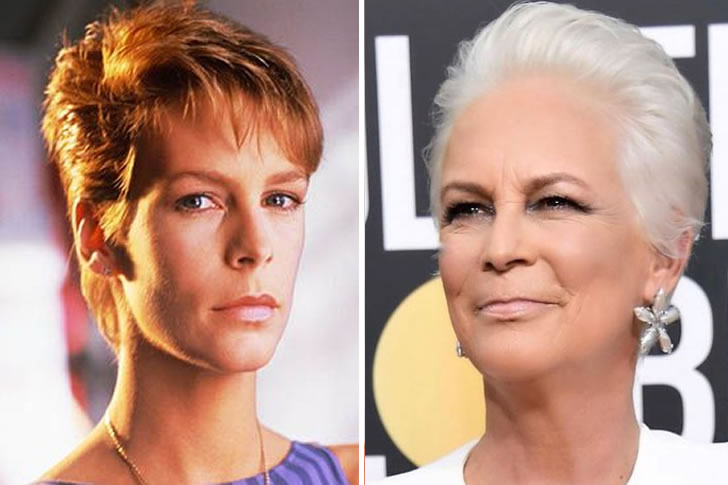 Jamie Lee Curtis comes from a family of renowned actors, and she is no stranger to the entertainment industry. This amazing actress does take care of her image and her figure to make sure her looks are at her best for her age. This 62-year-old still appears youthful as ever, and her charming personality plays a huge role in keeping herself younger than she really is. The 62-year-old Hollywood A-lister admits that she has gone through liposuction, Botox, and other cosmetic procedures, just like any other celebrities, to keep their youth.
Growing old is an undeniable part of life, and Jamie has made her peace with that despite the underlying pressures that women in the industry feel just because they had to look a certain way to be more desirable on screen. While Jamie looks beautiful as ever in our eyes, she doesn't feel entirely impressed by all the anti-aging procedures she had gone through. Her staggering net worth of $60 million can do wonders for her appearance, but she wants to make sure her youthful glow comes naturally, not forced. Women in Hollywood should only do anti-aging treatments to a certain degree.
98.Angelina Jolie – $48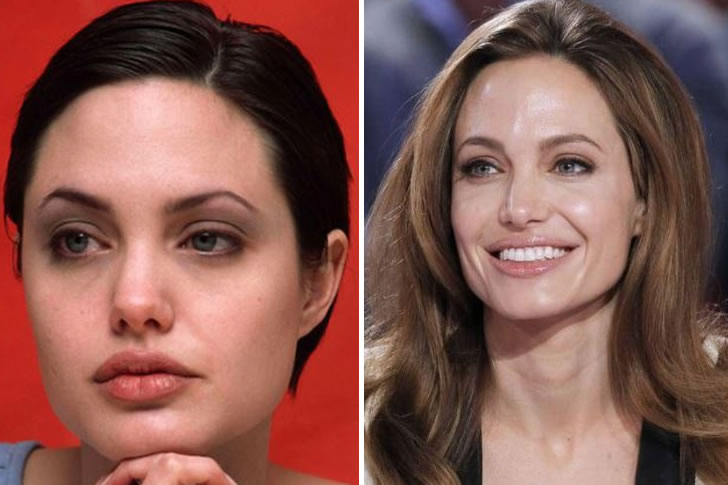 One of Hollywood's elite superstars, Angelina Jolie, still looks extremely beautiful, even at 45. This three-time receiver of the Golden Globe Award is a huge asset in the entertainment industry. She is now one of the highest-paid actresses in the world. It may come as a surprise to many people, but she uses a 48-dollar "perfection" cream daily. She uses Dermbasics RR Perfection Cream, giving credit to Rand's for introducing it to her. It is an SPF50+ sunscreen that is rich in antioxidants and is chemical-free.
She attempts to keep herself looking young, but at the same time, looking like her age. Angelina has a set of pretty simple skincare products. She was only 11 years old when she started paying attention to her image. Angelina's trusted dermatologist has always been Rhonda Rand. Her mother first took her there when she got her first scar as a little girl.
99.Robin Wright – $300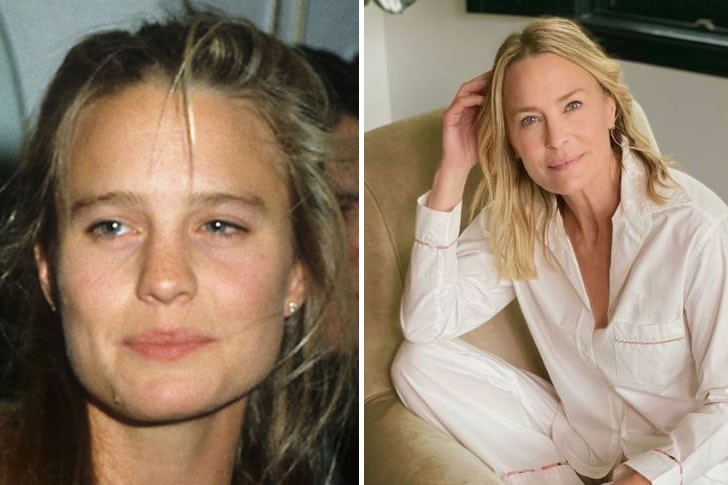 Robin Gayle Wright is one of the richest actresses in the entertainment industry, giving credit to her undeniable talent in acting. She has appeared in blockbuster hit films Forrest Gump, The Princess Bride, and Land. Celebrities are no strangers to the pressures of looking as youthful as they once were. With that being said, Robin doesn't think accepting plastic surgeries are a big deal. For the actress, it is undeniable that appearance is part of her work. However, it does put unhealthy expectations on celebrities.
Robin is very open about her going through plastic surgeries over the years. In fact, she accepts cosmetic surgeries with open arms. She gets a few Botox injections a few times a year. Even if Robin has gone through a couple of plastic surgeries, she still looks naturally gorgeous. After all, paired with a healthy diet and a series of workout routines, she maintained her youthful appearance.
100.Linda Evangelista– $160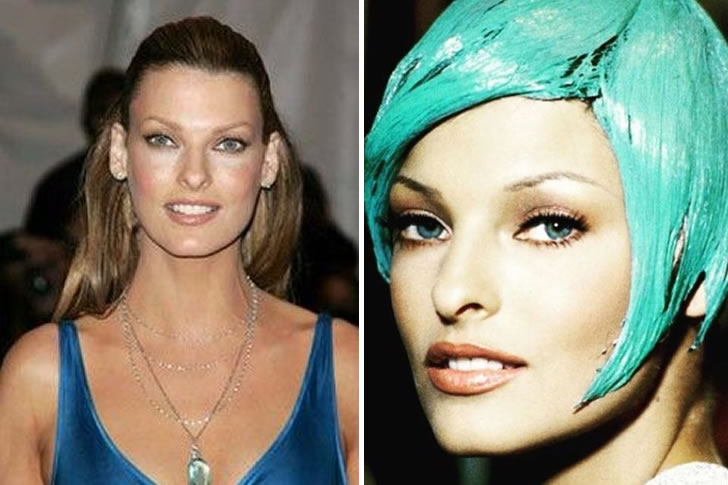 The '90s top supermodel Linda Evangelista is one of the most influential models in the world. This Canadian fashion model was featured on over 700 magazine covers in her youth. However, age creeps around the corner, and the next thing you know is you're not as young as you used to be, but Linda has done nothing but handles it exceptionally well. She has been aging gracefully through the years, and she was kind enough to share her anti-aging secret with the world.
The 55-year-old is looking as youthful as ever. It was all because of a product called Erasa XEP-30. This product is very pricy, $160 for a bottle of this rejuvenation serum. It is a clinically tested formula used to reduce wrinkles. Giving credit to her hero product which is already available for purchase worldwide, turning her into an entrepreneur of Erasa, she is not only the vice president of the company, but she is also the creative director of the brand.
101.Kelly Ripa – $600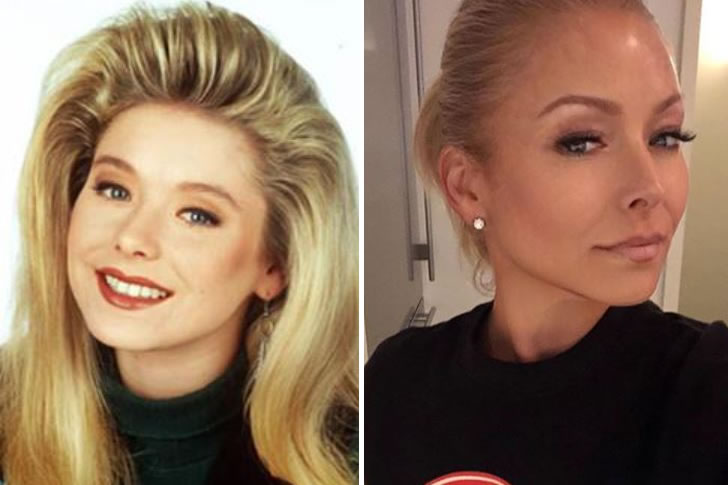 American actress Kelly Maria Ripa is one of the most popular television personalities in Hollywood. She is famously known for her role as Hayley Vaughan on one of the best daytime soap operas called All My Children. This 50-old actress is still as beautiful as ever. Kelly enjoys taking good care of herself. Her appearance and her body figure are on the top of her priority list.
Her self-care routine consists of a healthy diet and a great workout. However, in 2013, Kelly didn't deny her frequent Botox treatment over the years. This actress couldn't go more than a couple of months without having her body parts enhanced. She has gotten used to it because it has made her television preparations a whole lot faster. After all, investments should not only be limited to properties but the self too.
102. Brooke Shields– $15,000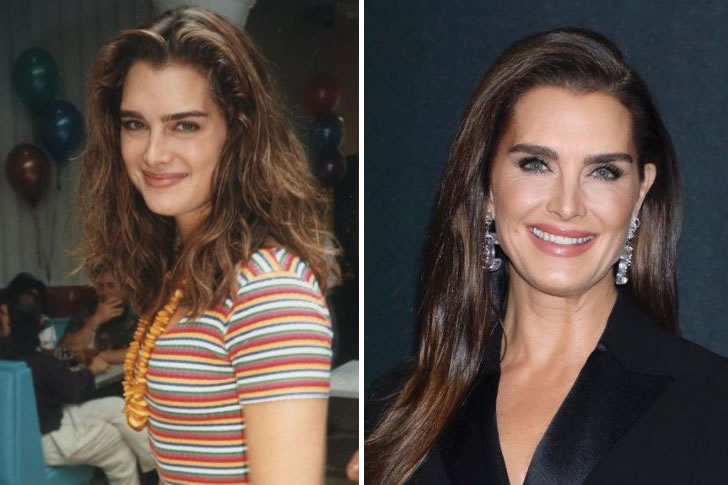 Brooke Christa Shields has one of the most beautiful faces in Hollywood. She started as a 12-year-old model who was just absolutely gorgeous, and you know she was going to rise to stardom quickly, not only because of her charming good looks but because of her outstanding skills in acting. She was one of the most sought-after actresses in famous films such as The Blue Lagoon and Pretty Baby.
Over the years, aging has become undeniable. After all, the actress is already 55 years old. However, she still looks very well for her age. Admittedly, Brooke is afraid of having plastic surgeries done on her. The model-actress has an aging process that is quite different. Brooke undergoes body contouring treatments. She is fearful of going through other anti-aging surgeries. Still, she doesn't completely shy away from it because she is keen on looking and feeling the best, but keeping the anti-aging surgeries to a natural degree.
103. Wendy Williams – Undisclosed Amount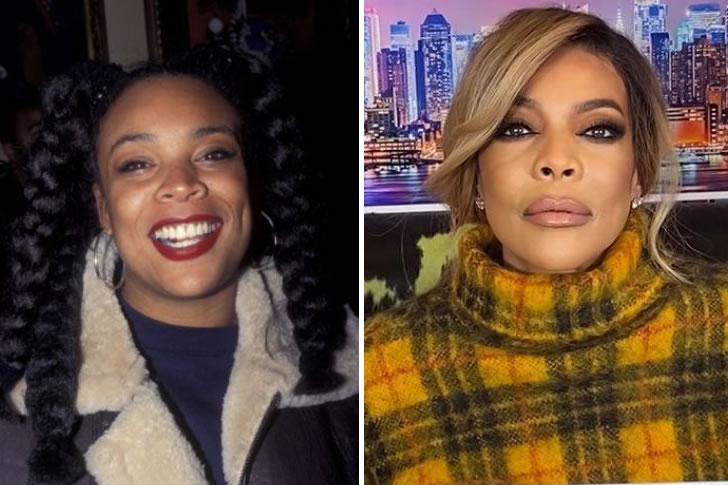 Wendy Williams admitted that she had breast implants in one of her eponymous show's episodes. The famed host revealed his son didn't know she went under the knife, so she talked about plastic surgery with him. The 56-year-old star proudly said she was all-natural when she met his former husband, Kevin Hunter Jr., even likened herself to a frog that transformed herself into a swan.
Wendy explained she had her body enhanced because she wanted to have a physique that would match her personality. She also had her Botox injections in her jawline and a "little cheekbone from the back," showing off the procedure that made her feel like she was only 35 years old to her viewers. Wendy is not afraid to reveal the changes that she has done with her body, making it her little investment with a high price.
104. Selita Ebanks – Undisclosed Price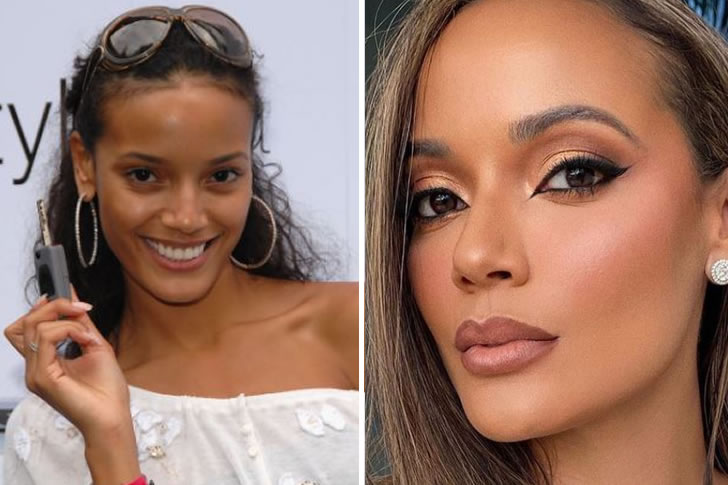 Selita Ebanks might have been Nick Cannon's former fiancé, but she only gained traction when she had implants. The 39-year-old personality is just one of the few Victoria's Secret models who admitted to having implant surgery, along with Gisele Bündchen and Heidi Klum. Selita's implants are said to be quite obvious. They are round, high, and don't freely move as naturally. It also has some indication of the procedure on small-framed women.
The actress turned to be a C-cup from an A-cup. However, this move helps Selita boost her career, donning Victoria's Secret's Very Sexy Holiday Fantasy Bra Set, covered with diamonds and rubies. Her investment had paid off and started yielding returns. Selita also reportedly had a nose job as her nose seemed to be more refined and firmed today than its slight rounder appearance when she's only starting.
105. Nicole Trunfio – Undisclosed Price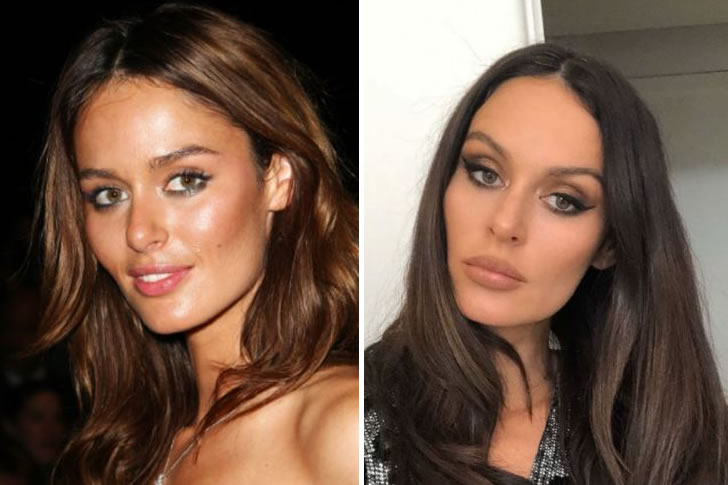 Rumors started swirling about Nicole Trunfio's enhancement surgery when she went out and about looking bustier. Her looks even gave birth to the news that the Australian model was heavy with a child due to the degree of cleavage she had. Nicole had yet to confirm going under the knife, though she already denied the news about her alleged pregnancy.
She explained she and her boyfriend would love to have a kid someday, but it wasn't the right time for them. They both had busy schedules and still wanted to enjoy each other's company before they took their romance to another level, so it wasn't in the cards yet. Nicole then defied the rumors by wearing skimpy two-piece attire, which ignited talks about thin her body this time. It looks like gossipers will never run out of stories to throw against Nicole and her body.
106. Anna Faris – Undisclosed Price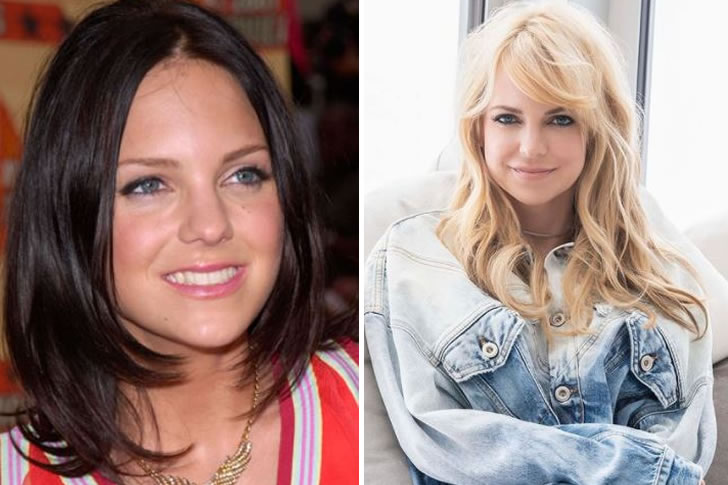 Anna Faris bravely admitted she underwent several plastic surgeries to enhance her look. She had chest augmentation in 2008 and revealed it wasn't a career move but a separation thing. The now-44-year-old star did the thing to feel "more womanly" after her split from her then-husband Ben Indra. The actress loved how the push-up bras made her feel, so she decided to make them permanent.
Anna then went from a brunette to a beautiful blonde woman, made her eyebrows looked fuller, and her lips injected to get the perfect pout. She, however, regretted having fillers to a certain degree because she couldn't return the original appearance of her mouth any longer. If you think that's all, there's more! Anna also had her nose altered, making it more refined today than the early days when it looked wider and flattened out. With these changes, she has undoubtedly spent a considerable amount of money here.
107. Miranda Kerr – Undisclosed Price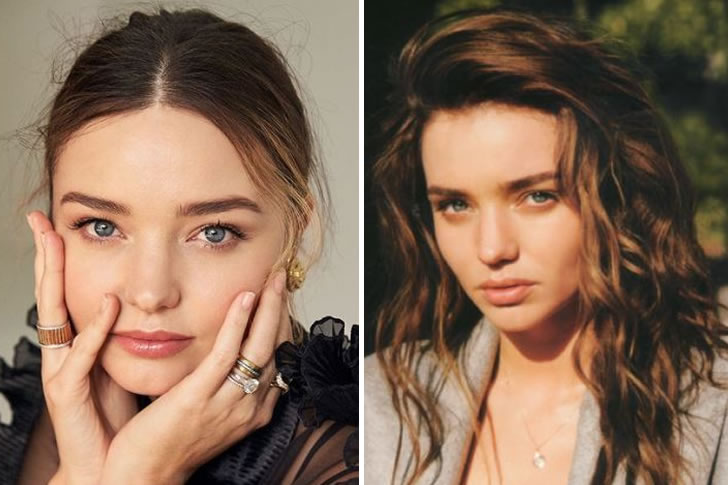 Miranda Kerr might have looked all-natural, but many believe she had undergone a medical procedure. Fans noticed a slight difference between her old and new photos, showing much enhanced and improved chests. A doctor himself assumed she had gone from an A-cup to a small C-cup, and it now had a curvy figure.
Fans couldn't help but talk about the changes in Miranda's body after her split from former husband, Orlando Bloom. Miranda's friend, however, denied the issue, saying it was utterly untrue. Some credit the change to her son's birth, Flynn, in 2011—giving her a much fuller body and making her look a little bigger. Whatever the case may be, it couldn't be denied that Miranda looks incredibly beautiful, sexy, and hot with or without plastic surgery. You could even ask her husband of four years, Evan Spiegel, about that.
108. Priscilla Presley – Undisclosed Amount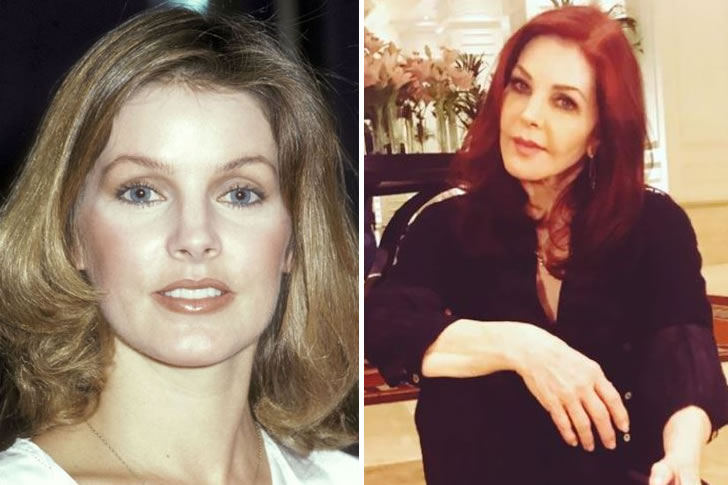 If there's an epitome of ageless beauty, that must be Priscilla Presley. Elvis Presley's former wife is now 75 years old, but she still possesses the stunning look she had when she was young. Many believe science has something to do with it, especially on her wrinkle-free face. Instead of praises, however, Priscilla receives insults, as some ask what happened to "aging gracefully" with her altered look.
Some said she seems wearing a scary mask with her overly-stretched skin. Priscilla, anyhow, didn't deny that she had messed up cosmetic procedures in the past. Her spokesperson even said she didn't know she had low-grade industrial silicone used on her face. It resulted in hiring a lawyer to get things fixed, starting an investigation about the matter. Everything's well now today, and despite what happened, it couldn't be denied that Priscilla has managed to maintain her gorgeous look despite the advancing age.
109. Chloë Sevigny – Undisclosed Price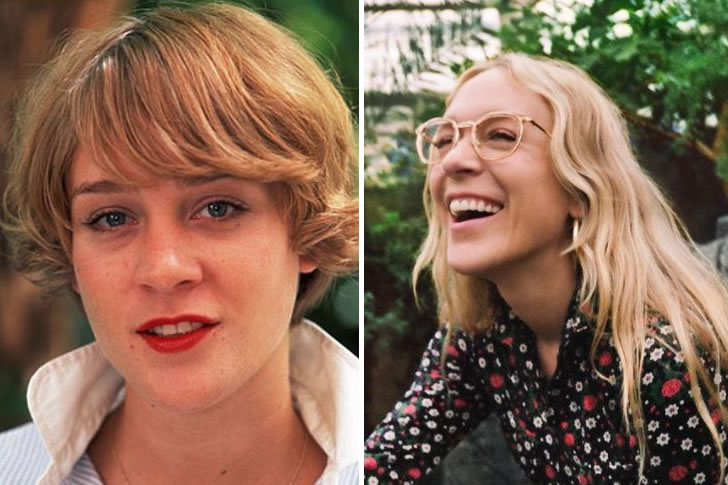 Chloë Sevigny is never shy to admit that she opted for Botox to prevent her 11 lines from showing on her face. She also coupled this procedure with a massage, which made her feel embarrassed whenever she caught herself doing it. Chloë is now 46 years old, but she has managed to defy her age. She credits her good looks to her genes, the proper beauty regimen she follows, and religiously uses moisturizer.
Chloë admits she's afraid of the aging process, seeing the under-the-eye thing as a nightmare. She believes her body will start to change now that she is in her 40s, calling it "not very exciting." The Kids star has no idea if she'll just let it happen or start doing preventive measures. Chloë, however, tries her best to be confident of her skin and body no matter what age she is. Being in her 40s is a big mental thing for her.
110. Gisele Bündchen – Undisclosed Price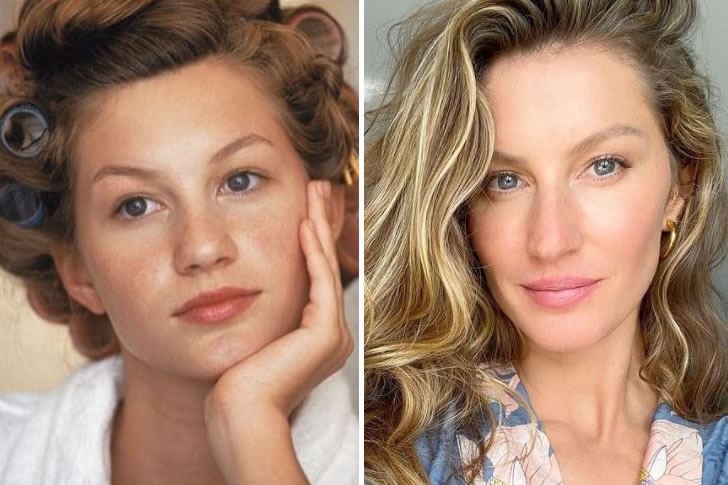 Another victim of the perfect-body image is Gisele Bündchen. The supermodel admitted she felt people had expectations that she couldn't deliver, often getting praises for her body. The Brazilian model knew she could work out and eat healthily, but there's nothing she could do with the fact that her kids enjoyed her left chest more than the right, making it uneven.
Gisele only wanted it to be even and for people to stop saying things about it, so she might have used a little from her investment money to have it corrected but regretted it after. She instantly questioned herself the moment she woke up after the surgery. Tom Brady's wife felt uncomfortable, wearing baggy clothes for a year and making her think living in a body she didn't recognize. Gisele was thankful for her husband, though, for comforting her and assuring that he loved her no matter what.
111. Heidi Klum – Undisclosed Amount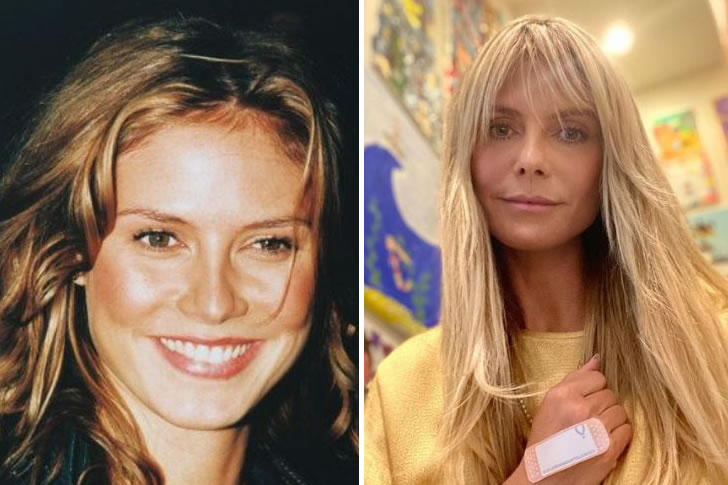 You can give Heidi Klum credits for a lot of things, especially for her non-aging look. This ageless beauty, however, is not shy from several rumors about her alleged several plastic surgeries. The 47-year-old star reportedly opted for a nose job, a facelift, breast augmentation, liposuction, tummy tuck and nip, and a lot more to look as beautiful and sexy as she is today. Heidi had outranked everyone on this list if the rumors about her beauty and body enhancements were true.
It also came with a tremendous amount of money so that she might have done the proper investment planning for it. Heidi, however, denied these hearsays, saying she had never done anything in her body. She was too scared to go under the knife—though she's more afraid of the consequences that came with it instead of the procedure.
112. Lisa Kudrow – Undisclosed Price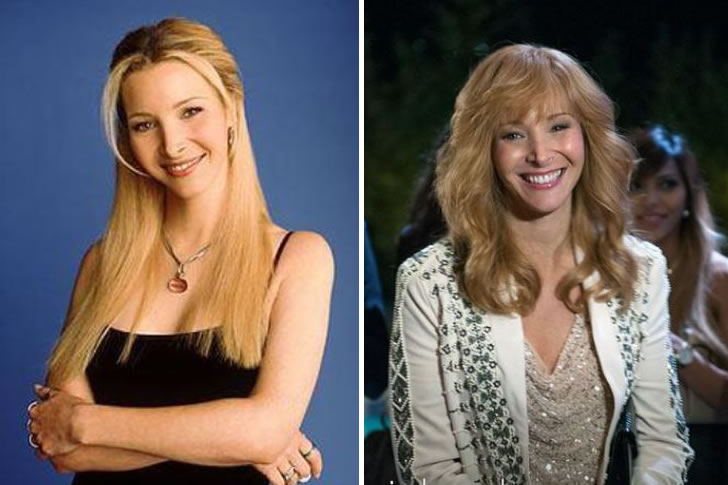 Lisa Kudrow already had a nose job when she joined the hit sitcom Friends back in 1994. The now-57-year-old star did the procedure when she was only 16 years old and called it life-altering. Lisa revealed the degree of changes that made her went from "hideous to not hideous." She went through the process before she went to a new high school, so only a few people knew how she looked back then, and it was a good change for her.
Today, however, Lisa has been avoiding plastic surgeries and now going all-natural. She's too afraid to get Botox or fillers, though it doesn't mean she won't do it someday—the actress is just scared to do it for now. Lisa firmly believes everyone is beautiful when they smile, so she tries to be happy and drink in the good stuff.
113. Alessandra Ambrosio – Undisclosed Price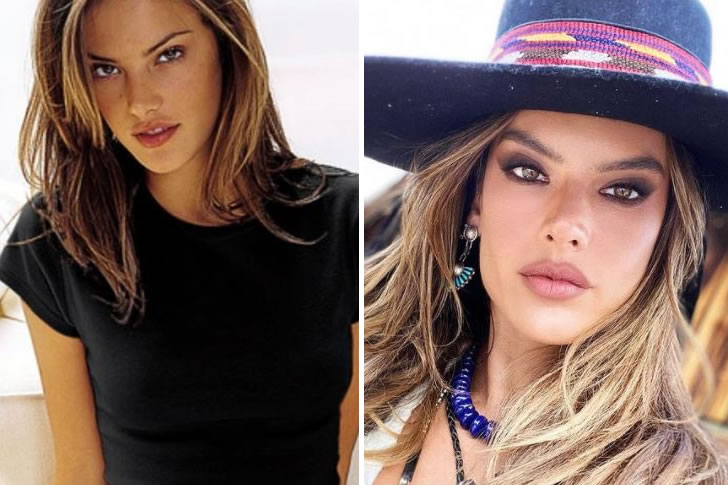 Alessandra Ambrosio is one of today's most beautiful models, but she has some insecurities, too. What is it? It's her ears! The Brazilian model had her ears pinned at the tender age of 11, eagerly wanting to fix its protruding look. Alessandra might be too young at the time, but she knew she wanted to be a model when she grew up, so she started doing something about it.
She found a doctor, who only had the job done once, and she was willing to be a guinea pig. The procedure was carried out poorly, making her feel like she had cut her ears off. We didn't know if Alessandra already had insurance back then, but she went on to have minor surgeries for a year that made her freak out about cosmetic surgery now.
114. Adriana Lima – Undisclosed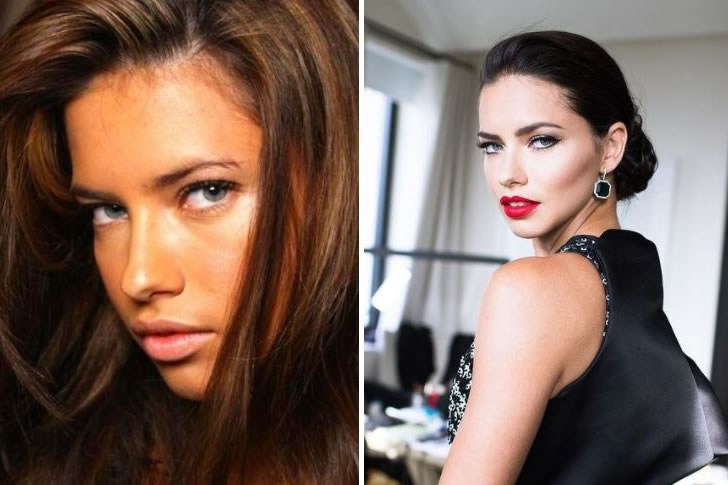 Another Victoria's Secret model who has been surrounded by chest augmented rumors is
Adriana Lima. Fans of the Brazilian model can attest to the huge difference between her chest size when she was only starting and today. She was quite flat-chested back then, but it dramatically grew today as her fame increased and she became in demand. The now-39-year-old star became bustier, suggesting that she did have a medical operation.
If it's true, it couldn't be denied that Adiana's implants looked pretty natural. It perfectly fitted her body size, which made her look sexier. There were also rumors that she had rhinoplasty, as her nose bridge now looked thinner while the tip appeared more pinched. If Adriana is making an investment in herself as a career move, she may be doing the right thing as long as she's not overdoing it. These alterations even make Adriana more beautiful today.
115. Jennifer Grey – Undisclosed Price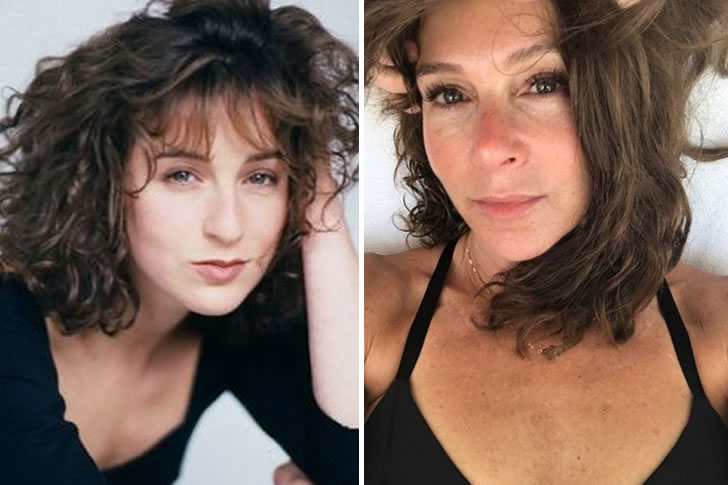 Jennifer Grey didn't deny that she went under the knife and had a nose job. The now-60-year-old star wanted to return to the spotlight with a vengeance, so she underwent surgery before her appearance on the hit sitcom Friends in 1995. The comeback, however, turned into a disaster after a fail nose operation. Jennifer didn't mind it, though. No need to even hire lawyers for the mess. She managed to make a series of jokes about it, saying she went to the operating room a celebrity and came out anonymous.
The actress even felt invisible or under a witness protection program, for nobody could recognize her face because of the dramatic change. Jennifer called the procedure a "nose job from hell," making a once-famous star nobody. Years after the operation, the Dirty Dancing star is all fine today and has become a social media star in her own right, sharing videos of her rigorous workouts.
116. ELON MUSK – $30, 000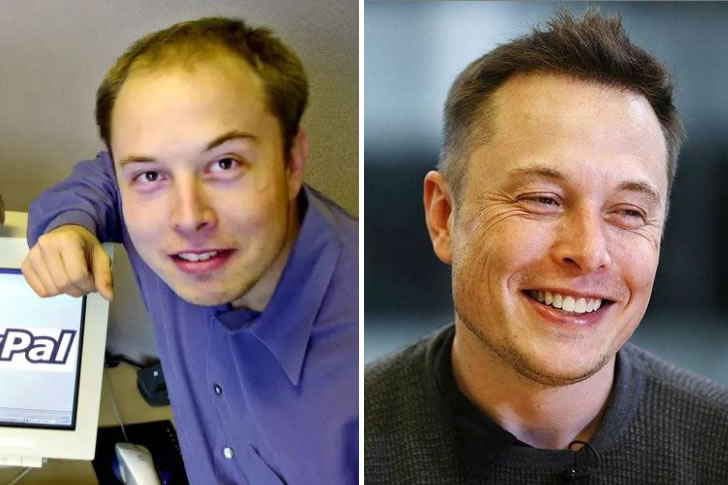 Being one of the world's richest men in the world, Elon Musk can spend on anything that he wants. Be it new business investment, luxury cars and properties, and even surgeries to enhance his looks. According to reports, the SpaceX and Tesla founder's appearance during his early years in the business industry was a tad different from his look now. There was a seemingly change in his face, most especially his hair.
Back when he was starting, Musk's hair is not that thick compared to his recent looks, which seemed to have a thicker and fuller head, which was reportedly a result of a hair transplant surgery. If the business magnate underwent hair transplant surgery, the cost of this procedure is not much of a problem for the man. A single procedure costs a maximum fee of $15,000 per session. The procedure may be done in two sessions depending on the gravity of hair transplantation, which boosts the charge of up to $30,000. With his billionaire status, the surgery price surely does not make a dent in his wealth.
117. SARAH FERGUSON, DUCHESS OF YORK – $5,000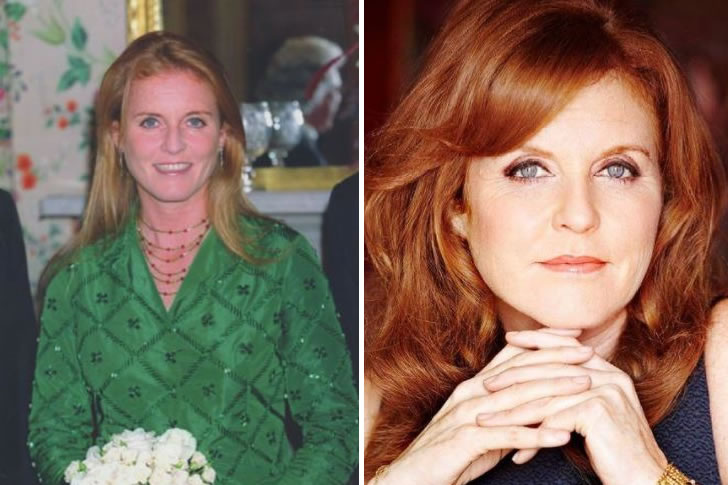 Unlike other famous personalities who may seem to hide the secrets of their glowing appearance, this royal beauty can't get any prouder. Sarah Ferguson, Duchess of York, has long been open on her cosmetic surgeries to maintain her youthful glow as she embraces her 60s. She revealed that before her daughter Princess Eugenie's marriage ceremony with Jack Brooksbank, she went under the knife of Polish doctor Gabriela Mercik and had a thread lift, laser facelift, vitamin injections, and organic fillers in her face.
Aside from being a close friend since 1992, she trusted well Dr. Mercik's reputation as a trained doctor who has the first 6-Dimension Ultimate Laser Treatment facelift in the world. The treatment costs around £3 750 or $ 5000. As seen in her current outings, the Duchess of York is enjoying the success of her treatment which claimed to promote the natural production of collagen. The royal has been taking care of her skin since she lost her father, Major Ronald Ferguson, who passed away in 2003 due to skin cancer. With the royal member's wealth, she will likely not think of her credit cards getting piled up with charges for her treatments.
118. MELANIE GRIFFITH – $15, 000 PER SIX MONTHS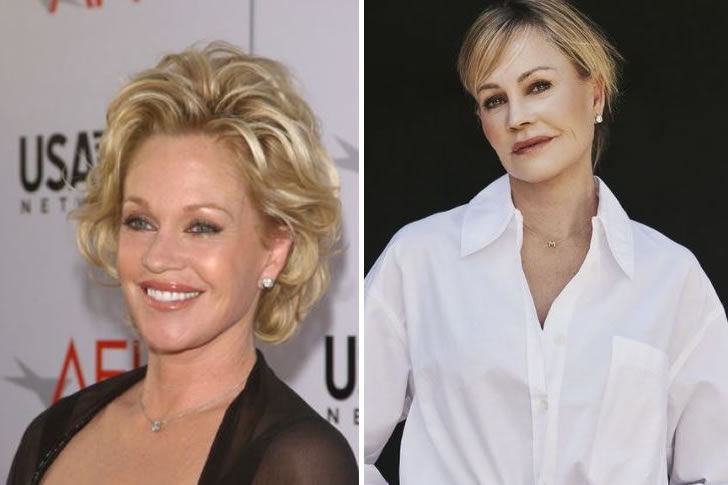 Melanie Griffith has already faced the consequences of her previous plastic surgery, claiming she has "gone too far" on wanting to relive a younger-looking skin. When people started noticing how different she looked pre-surgery, the actress sought a second opinion and tried to make things right for her appearance. As she ages, Griffith has come to terms with her facial appearance and is now more focused on gaining an active and healthy lifestyle. She dedicates her time training with celebrity coach Gunnar Peterson for the past several years.
The Working Girl actress aimed at getting back her slim figure with a variety of strength training and cardio exercises. A six-week workout program with Peterson costs $15,000, which can be a hefty price for ordinary people. Griffith is determined to keep her body in shape and allot enough money for this program without having to seek cash loans. Griffith is definitely in good hands as Peterson has a good reputation in the fitness industry. Aside from Griffith, Peterson is known to be the trainer of other actresses such as Angelina Jolie, Sofia Vergara, and Jennifer Lopez.
119. KANYE WEST – $12,000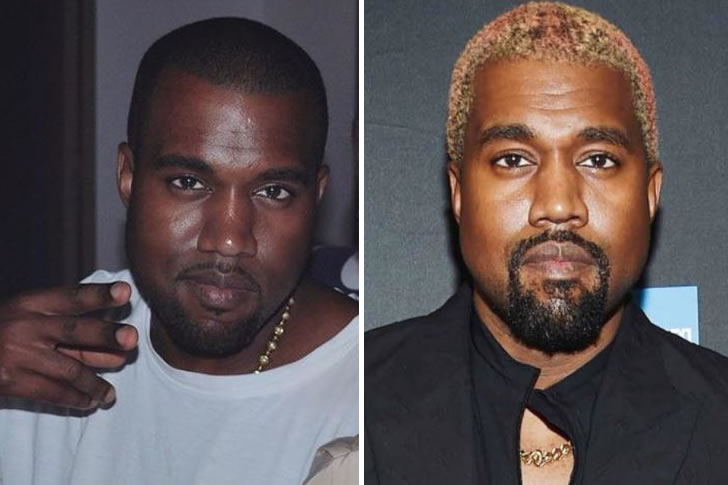 Rapper Kanye West has been vocal about his constant seeking of validation from the public, which including his body. The rapper once opened up about his weight and revealed that he had liposuction surgery. He said that he wanted to go under the knife to lose weight, following the public's criticisms of brother-in-law Rob Kardashian's weight, adding that he did not want to receive the same backlash. However, while West did lose weight in the process, he suffered other health conditions after the surgery. He said that he became dependent on substances even while on tour, which resulted in his concert's cancellation in 2016.
The Life of Pablo hitmaker was hospitalized, which was initially announced as a result of exhaustion. Despite the Yeezy sneaker brand owner's ordeal with liposuction treatment and hospitalization, West did not mind any of his expenses. It was not clear how many surgeries West underwent, but it was estimated that a single treatment could shoot up to $12,000, with additional fees for insurance. The businessman can undergo as many treatments as he wants as this does not decrease the billionaire's wealth.
120. SIMON COWELL – $2000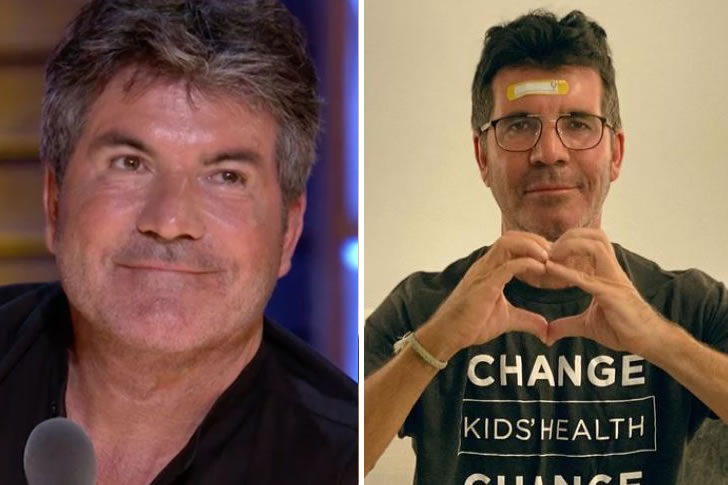 Britain's Got Talent judge and renowned producer, Simon Cowell, is a force to reckon with in the record label industry. As a prominent personality in entertainment, Cowell is always seen on reality talent show television shows such as The X Factor. This may have been why Cowell chose to undergo surgery to enhance his facial features and gave much more attention to his skin. Cowell revealed in an interview in 2018 that he had a non-surgical facelift.
This treatment involved sewing bioplastic-infused thread onto the face that removes sun damages from the skin. Cowell gives credit to Dr. Jean-Louis Sebagh or the Picasso of Dermatology, who performed the procedure and charged him with a whopping $2000. The music producer also added that having clean skin makes one look ten years younger, which someone inside the entertainment industry like him should also focus on. Aside from treatments, Cowell has put health and wellness as a priority. He notably lost 60 pounds of weight when he transitioned into a plant-based diet in 2017.
121. CHOW YUN-FAT – $10, 000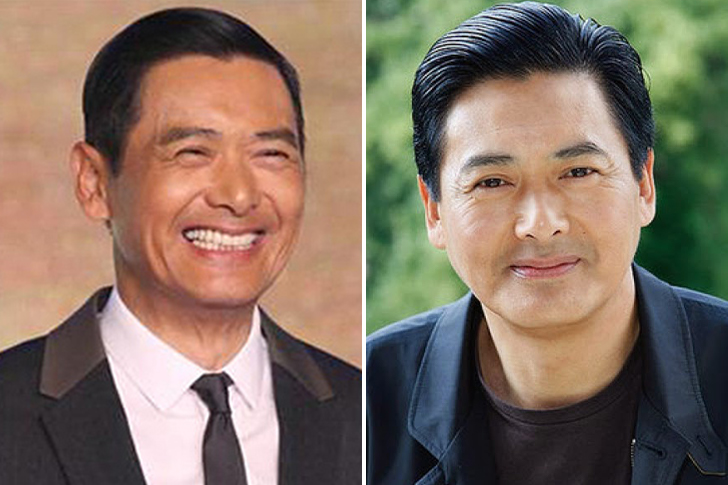 Adding to the list of celebrities choosing to undergo plastic surgeries is Chow Yun-Fat. The actor, who was raised in Hong Kong, admitted that he agreed to cosmetic surgery during the peak of his career. In 1989, Yun-Fat was filming The God of Chambers. It was also the time when his lids began to droop, making him look older. The actor admitted to having the procedure in his homeland, where he even joked that the surgery was only cheap.
Today's plastic surgery cost in Hong Kong is already pegged at $10,000, something that the Crouching Tiger, Hidden Dragon actor may find affordable with his net worth of $700 million. As he can make so much investment money instantly, Yun-Fat can shell out this amount at any time. In his 60s, Yun-Fat has not been reported to go back in availing surgeries for his face. His cosmetic procedure may seem to have contributed to his young-looking face.
122. JOAN VAN ARK – MORE THAN $12, 000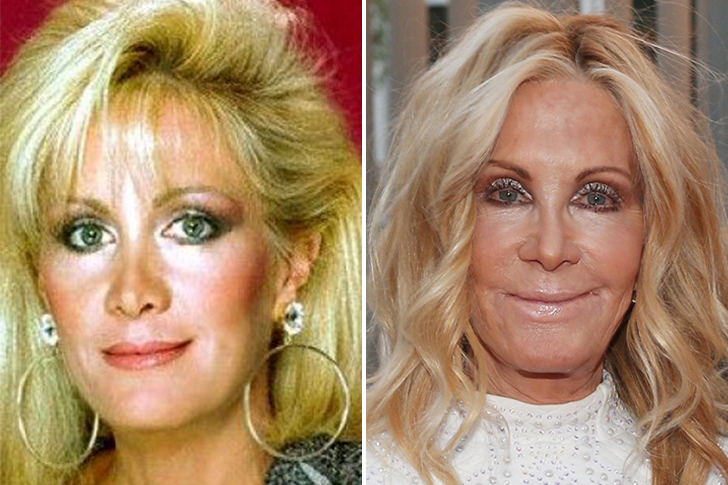 Joan Van Ark rose to fame in the '70s up to the '90s. She is widely known for her roles in Dallas and Knots Landing. Ark's beauty also made her famous during her time. With the fame she has been associated with, Ark decided to go with the trend of plastic surgery as her colleagues in the industry also did. It also helped that Ark set aside money for her procedures from her salary as an actress that she can spend thousands of bucks instead of going to the back for some money loans.
The estimated worth of a facelift is $12,000. It was in 2002 when Ark frequented the red carpet with noticeably changed appearance. This means Ark might have spent more than the estimated amount as she has been undergoing surgeries for several years already. However, her constant plastic surgeries throughout the years did not sit well with many. Despite this, Ark certainly did not lose her shine as an actress. She continues to be an active actress. Ark appeared in The Young and the Restless and is a lifetime member of The Actor's Studio.
123. DOLORES CATANIA – $10, 000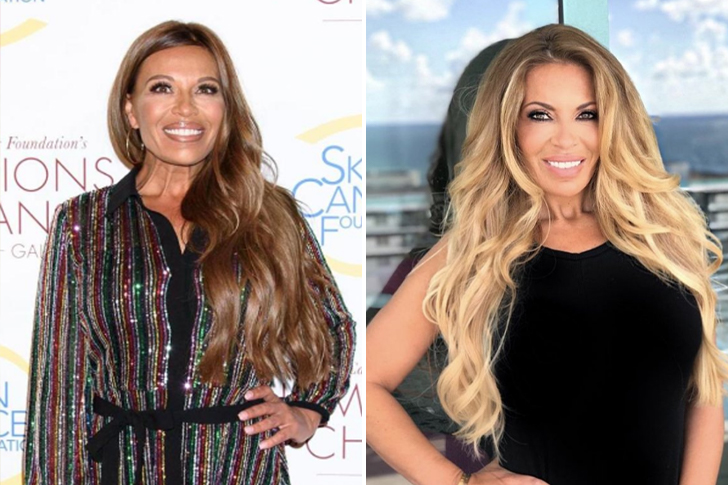 The Real Housewives of New Jersey reality star Dolores Catania has had a love-hate relationship with weight loss. Catania has been dealing with a health condition, resulting in her weight increase throughout the past several years. It is even when she has been working out with ex-husband Frank Catania who was a former bodybuilder. She has also tried cutting back on her food intake but to no avail, thanks to her health condition's side effects.
It was only in 2020 that Catania could find time to go for a tummy tuck procedure—when the pandemic hit. It is a procedure that removes excess fats in the abdomen area while firming up the muscles around it. Catania has long wanted to have this procedure, and since her show came to a halt, she finally was able to proceed with her fitness plan. The tummy tuck surgery cost Catania about $8,000 and $10,000. There are also added insurance fees. In an interview, Catania said that she might be doing a couple more in the future. The reality star is not a first-timer in surgeries. She already had a facelift in 2015.
124. ADRIANNE CURRY – $2,000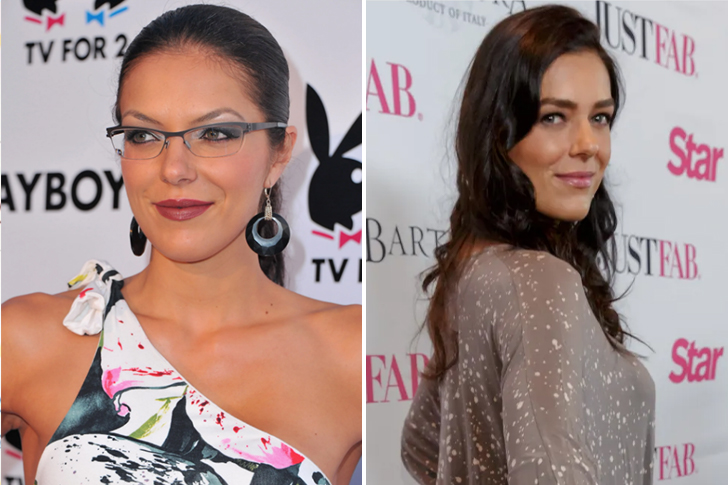 Adrianne Curry is best known as the first winner of America's Next Top Model in 2003. From there, she earned a certain degree of fame and began having big projects, including a starring role in the reality show My Fair Brady. She also gained brand endorsements such as Avon. The top model has worn a breast implant over the years of her career. She admitted that she decided to please people and remain good-looking while she was at the peak of her stardom.
However, in 2019, Curry opened up about her decision to have her implants removed due to years of pain and deformity. She said that she has been in several surgeries to make it even. However, it only resulted in further complications. It was not an easy journey for the star. For a day, Curry had to undergo two explant surgeries. Despite this, Curry admitted that she had never felt more confident in her life, even when her body appearance drastically changed. Curry paid more than $2,000 for a chest surgery and other procedures. It might be a little hefty, but it paid off for Curry's healthier life.
125. AUBREY O'DAY – $2,000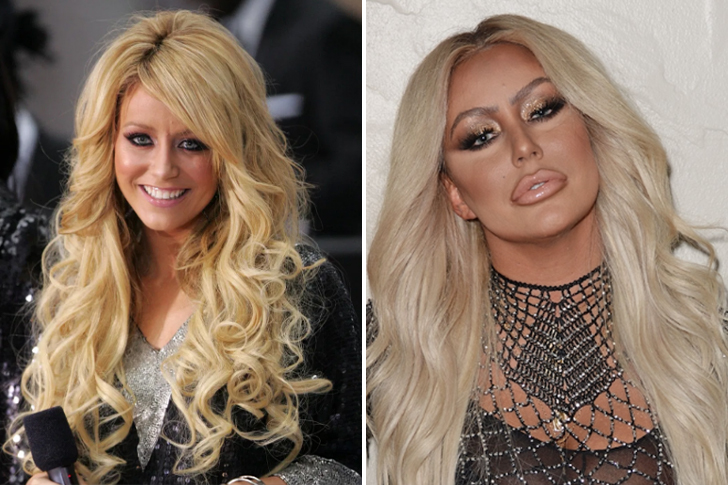 Aubrey O'Day has changed throughout the years since she started in the industry at age 17. She is widely known as part of the 2005 girl group Danity Kane and has landed reality show projects in the past couple of years. The singer and reality star has denied allegations of going under the knife in the past but has come clean in 2019 about the changes she made for her facial appearance.
O'Day said that she invested in her looks by having non-invasive treatments such as fillers and Botox. She admitted that she has put on a lot of fillers, shunning hate comments on her body. O'Day said that haters do not get into her nerves anymore, not unlike when she was 17 and was starting in her career. She has reached a degree where she no longer cares about what others think of her.
126. KIM ZOLCIAK-BIERMANN – UNKNOWN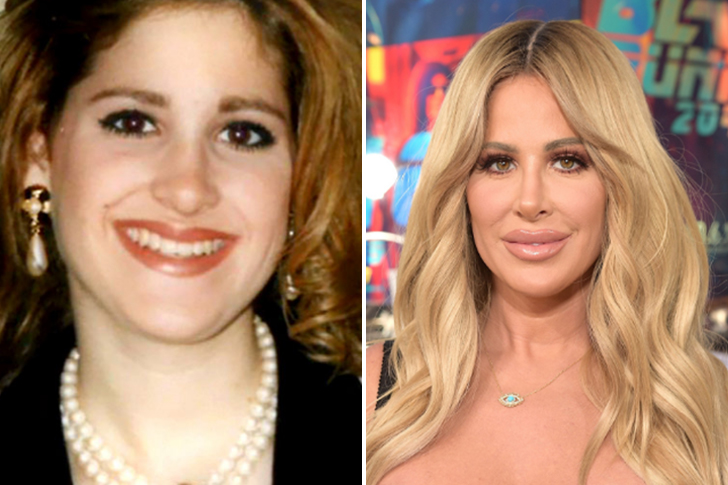 Reality star Kim Zolciak-Biermann's life has changed since she joined the Real Housewives of Atlanta at age 29. Besides being a single mother to a married woman with six children, Zolciak-Biermann has amassed a fortune for her fashion brand and own skincare line. Her wealth has allowed her to make wise money management decisions. As she works hard as a wife, mother, and reality star, Zolciak-Biermann also gives time for herself.
The Don't Be Tardy star is not one to deny having an enhancement to maintain her stunning looks. She revealed that she had undergone hernia surgery, tummy tuck, and chest augmentation. Kim disclosed she also had Botox, which enhances her features and helps in dealing with her migraine. For her, life is short to refrain from doing things that improve and boost your confidence.
127. BRIELLE BIERMANN – UNKNOWN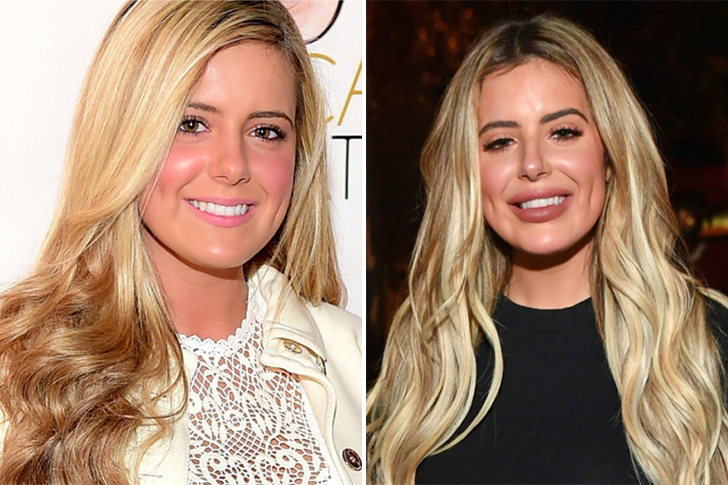 From a pre-teen to a dazzling young lady, Brielle Biermann has transformed a lot. She was first seen on Bravo's Real Housewives of Atlanta with her equally stunning mom Kim Zolciak-Biermann. She then appeared on another reality show in Don't Be Tardy, this time as a 24-year-old reality star and socialite. The influencer is already earning cash for herself and no longer has to borrow cash loans from her mother to do whatever she wants.
Even when she was blessed with good looks she inherited from her parents, Brielle made headlines when she decided to have fillers to enhance her beauty. She is very open in mentioning her lip fillers to her fans. In 2020, she had her fillers dissolved after going to too many doctors. She wanted to start anew and opted to dissolve her fillers which she has been getting since she was 19. Currently, Brielle is into health and fitness, constantly working out in the gym to maintain her fitted body. Her mother, Kim, has always supported her daughter's decisions, which pushes Brielle to make good choices for her body.
128. MEL B – $$5, 000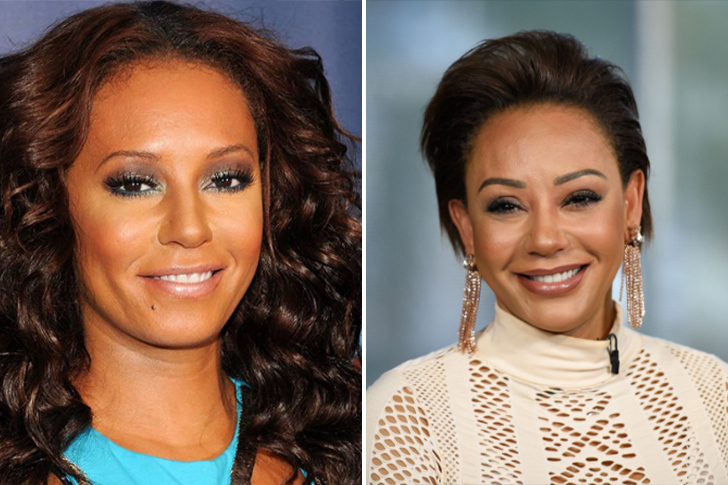 Mel B is known as one of the popular Spice Girls group members. She continued to be an active singer and celebrity even after the hit girl group disbanded in 2000. In 2017, Mel B faced a challenging year following her failed marriage with Stephen Belafonte. Amidst the constant talking with lawyers for settlement and allegations surrounding their marriage, Mel B realized how it had affected her health and beauty.
It was when the singer decided to keep the stresses away from her and go for radiofrequency and ultrasound treatments. These procedures tightened her skin and boosted collagen's natural production in the body, which helps in having young-looking skin. Mel B trusted Dr. Nyla Raja, owner of Medispa Wilmslow Clinic, for her facial enhancements, which cost her over $5,000. In 2019, Mel B also admitted to Piers Morgan that she had breast augmentation, nip, and tuck, as well as tattoo removal.
129. DR. PAUL NASSIF – UNKNOWN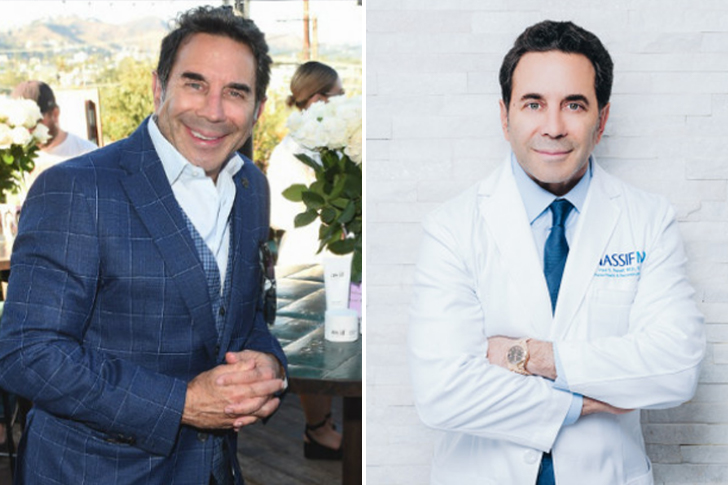 Dr. Paul Nassif is one of the most renowned facial plastic surgeons in the United States and a celebrity doctor for the reality show Botched. Aside from getting a degree as a medical doctor at the University of Southern California and earning a fellowship in surgery, Dr. Nassif's credential has made him one of the wealthiest celebrity plastic surgeons.
In his clinic, he offers invasive and non-invasive surgeries. He also specializes in surgeries on the face, body, and chest. The medical doctor charges $20,000 for basic rhinoplasty surgeries to a whopping $100,000 for botched procedures. It may be a small amount to celebrities who opted to seek his expertise. Dr. Nassif also branched out to other business ventures and opened his skincare line entitled Nassif MD Dermaceutical. The Lebanese doctor is a proud member of the American Society for Aesthetic Plastic Surgery.
130. PAUL "DJ PAULY D" DELVECCHIO – $3,000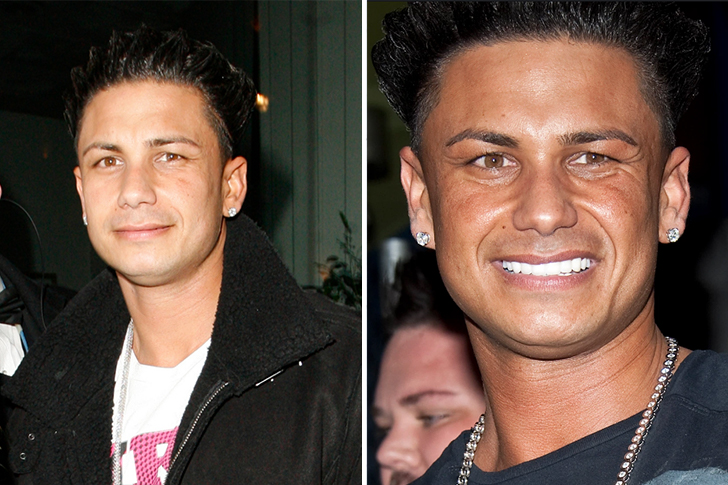 Pauly D might have needed cosmetic surgeries in his work as a television personality and a DJ. In a world where looks serve as a big factor in maintaining an active career, the Jersey Shore actor might have chosen to go with the trend. He reportedly availed laser treatments to reduce fine lines of his face due to aging. His sculpted body has also been a result of abdominal etching treatment in 2019. This was made to maintain his six-pack abs in top shape.
According to a report, the treatment might have cost him a whopping $3,000 to $10,000. It may seem to be a small amount for the MTV reality star as he already made huge investment money from his works. After all, he has earned a huge amount from his three-album deal with 50 Cent's record labels and his salary as a DJ.
131. Rupert Everett – Undisclosed Amount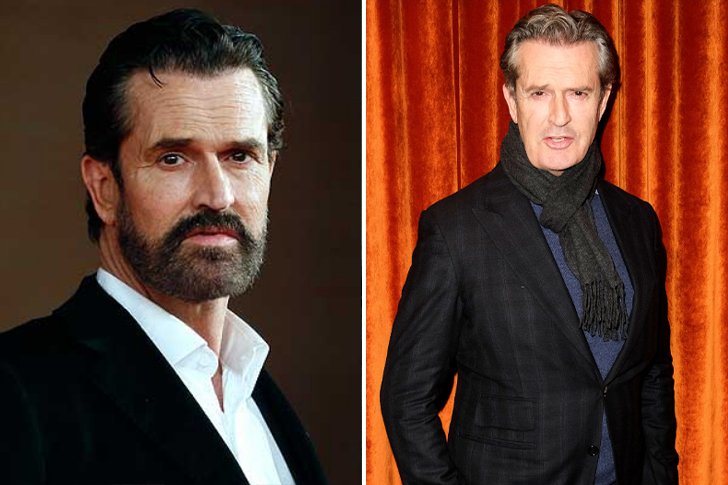 Rupert Everett surprised many when he appeared on a TV show in 2009, sporting an unrecognizable look. Gone was the much-loved actor's rugged, handsome appearance after delicately combed dark brown locks replaced his signature salt-and-pepper hair. Rupert's mustache and beard were gone, too, and his skin seemed to have dramatically changed.
What gathered the most reaction of all was the disappearance of his fine lines. It could be a result of heavy makeup, sure, but fans started to doubt if it was because of a cosmetic procedure. Some credit the change to healthy living, though his fresh face was a far cry from his look back when he's still young. The star had those wrinkles on his forehead since 1987, so it was a surprise that it was gone after 22 years. Did his face manage to go back in time? To this day, Rupert remained mum about the issue and didn't reveal if he had surgery or not.
132. Teddi Mellencamp – Undisclosed Amount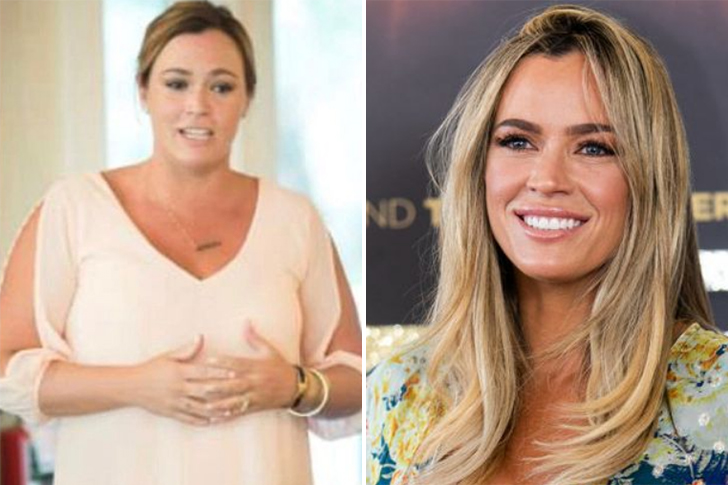 As a fitness and accountability coach, Teddi Mellencamp's beauty and body may have all been natural, but some question if everything about her is real. The 39-year-old star finally told the truth in a Q&A session on Instagram, admitting she had her chest done before joining The Real Housewives of Beverly Hills in 2010. The TV personality didn't regret her decision, though, let alone spending a chunk of her investment money on the procedure.
Teddi is, in fact, proud that it's the only altered thing in her body. Her sexy and fit physique is all-natural, and she's even generous to share some tips on how to maintain a healthy body. The former reality TV star reveals she only eats fruits and vegetables for snacks, and if she ever gets bored, she adds up some seasoning to change the taste. Who will ever refuse avocado with bagel seasoning? Not Teddi, for sure.
133. Lottie Moss – Undisclosed Price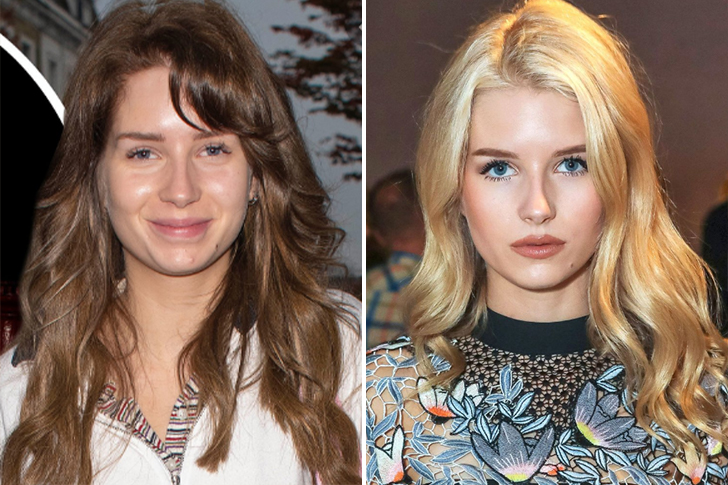 Lottie Moss's surname may have rung a bell. She's the half-sister of the supermodel Kate Moss, and just like the latter, the younger Moss is on her way to the pinnacle of the fashion world. She has been establishing herself in the modeling business, campaigning for Calvin Klein in 2014, gracing the catwalk for Chanel, and appearing on Vogue Paris's pages. Lottie indeed looks perfect, credits to a chest augmentation procedure.
She admitted to enhancing her chest's size, and she's delighted with it. In her defense, the stunning model felt the need to do something nice for herself and decided to opt for the said procedure. The 23-year-old star knew that women should spend money to treat themselves every so often. Lottie also had some lip fillers to make her lip look fuller, though she regretted that later, saying she didn't need to do that.
134. Melissa Gorga – Undisclosed Price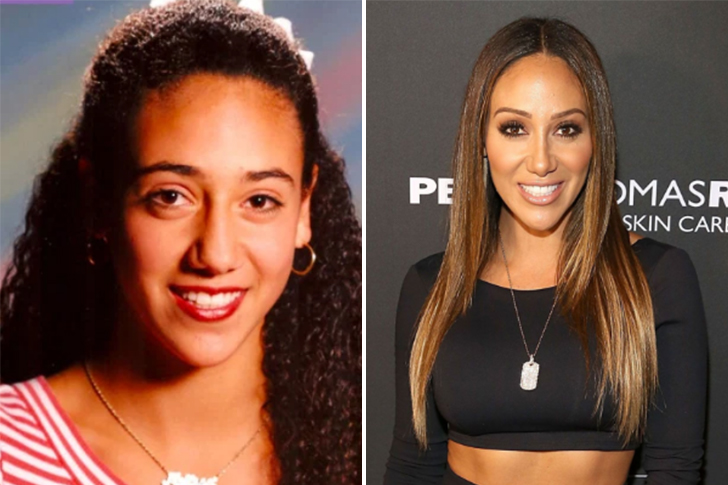 Melissa Gorga has often been the subject of plastic surgery rumors time and over again. She allegedly had four nose jobs, though she admitted having only one and said it was the "worst-kept secret" that she ever had. The Real Housewives of New Jersey star considered her decision personal. Melissa didn't feel the need to say all over the world what she had done, wanting to keep it to herself.
The degree of rumors might have pressured her to reveal the truth, thanks to her so-called "crappy friend." It couldn't be denied that the 41-year-old television personality looks gorgeous, whether she had a rhinoplasty or not. Fans, however, are convinced that it wasn't the only procedure she secretly did. They said she might have had Botox on her forehead and fillers under her eyes to keep her face smooth and line-free.
135. Ayesha Curry – Undisclosed Amount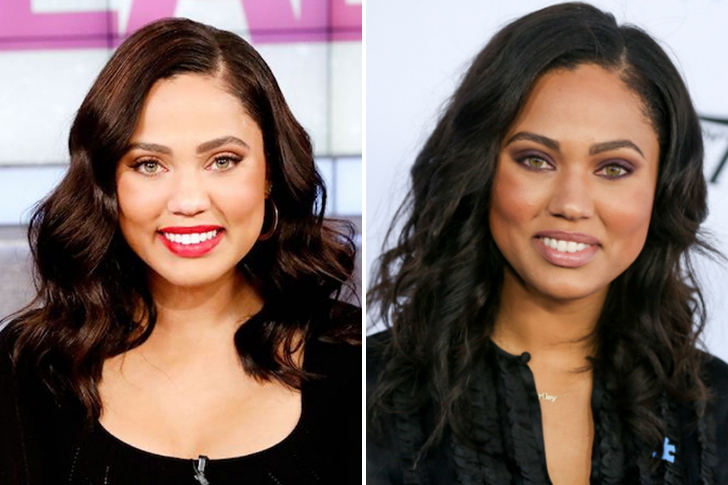 Ayesha Curry admitted to opting for breast implants in 2019 but cleared she only had her appearance altered once. The 31-year-old star reasoned she needed the lift to make her feel confident after being at the lowest point of her life. The procedure, sadly, went wrong, and Ayesha called it the "most botched chest job" on the planet. It even got worse as time went by compared to what it was before.
Ayesha swore she would never have another cosmetic procedure again, though she's a keen supporter of women doing anything that would make them happy in their bodies. She didn't care about the degree of judgment she would suffer, as long as she wanted what she's doing. Ayesha has remained positive regardless of what happened. She instead started a weight loss journey and be confident of her skin. Ayesha even advised other girls to understand and love themselves.
136. Bristol Palin — Unknown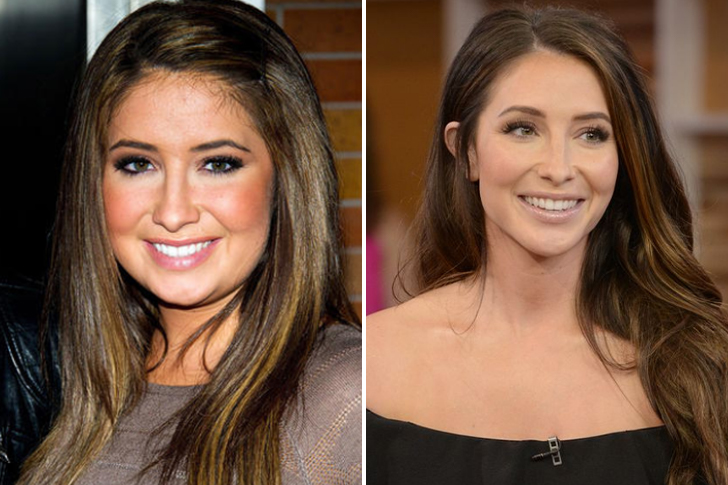 Bristol Palin, Todd and Sarah Palin's daughter, is a reality television personality turned real estate agent. She used to have her own show that aired on Lifetime channel in 2012. Around this time, she also joined season 15 of Dancing with the Stars. Palin is not shy in sharing she underwent a corrective jaw surgery in late 2010. She said it improved the way she looks and clarified that surgery was necessary for medical purposes to realign her teeth and jaw properly.
She then admitted she was "absolutely thrilled with the results" as the procedure trimmed down her chubby face. In 2018, she underwent a gum lift and got veneers to enhance her smile. She revealed she was conscious of her smaller teeth, so she decided to get the procedure. We're not sure how much these procedures cost, but we can only assume she used her credit cards.
137. Stassi Schroeder — $20,000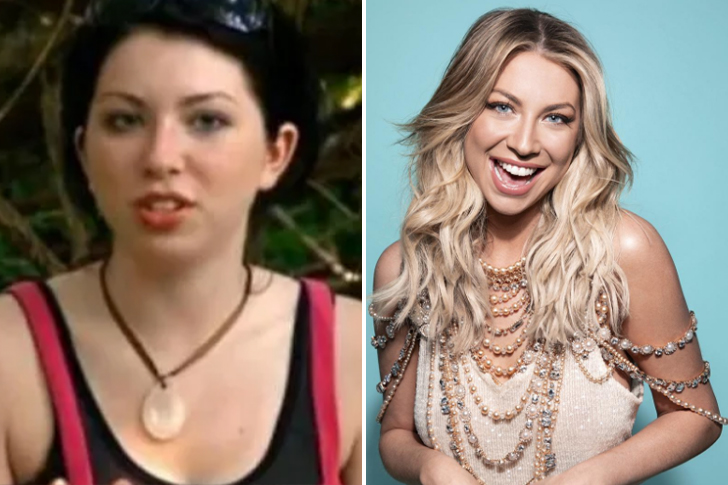 Nastassia Bianca Schroeder Clark, best known to us as Stassi Schroeder, rose to fame for her appearance in Vanderpump Rules. Long before earning a bachelor's degree in English writing, she found an interest in acting and took theater classes. By the mid-2000s, she joined The Amazing Race with her family. From there, she slowly became known in Hollywood.
We could probably remember how she looked back then in the reality game show, but while glancing at her photos today, we almost couldn't recognize her. Schroeder has been loud and proud when it comes to going under the knife. She admitted that she had a chin implant, a chest lift, and a chest reduction. A New York-based plastic surgeon named Dr. James Marotta noted that Schroeder also probably had an upper eye lift and a nose job. Overall, he estimated that the starlet spent around $20,000.
138. Jeana Keough — Undisclosed Amount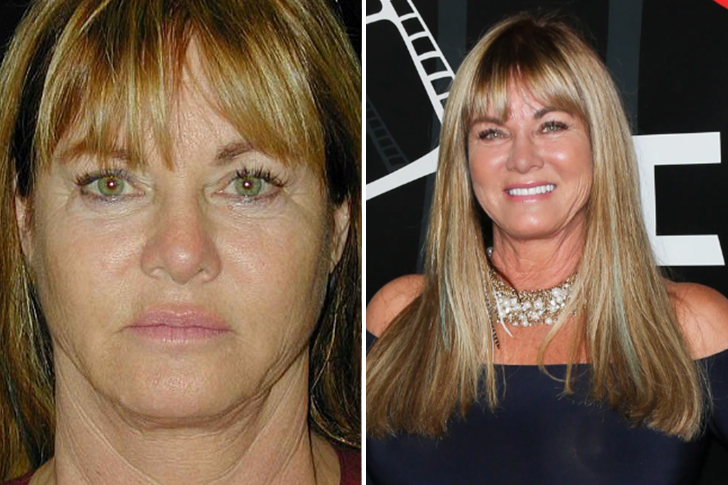 Jeana Keough starred in The Real Housewives of Orange County. When she was younger, she dabbled in modeling and acting and appeared in a few of ZZ Top's music videos. After her gig in the show, she works as a real estate agent with investments in Aliso Viejo, California.
The reality TV star was open that she had plastic surgery. According to her, during the time she went through menopause, she felt that she looked terrible. She decided to tap plastic surgeon Dr. T.Y. Steven Ip and undergo facelift surgery. "I want to look 15 years younger," Keough revealed. She even filmed the entire procedure for a TV special. The TV star admitted that she was worried about the downtime but still went on with the surgery. After a six-week recovery, she was satisfied with the results. Looking at her now, we are impressed too!
139. Nicole "Snooki" Polizzi — Est. $1,300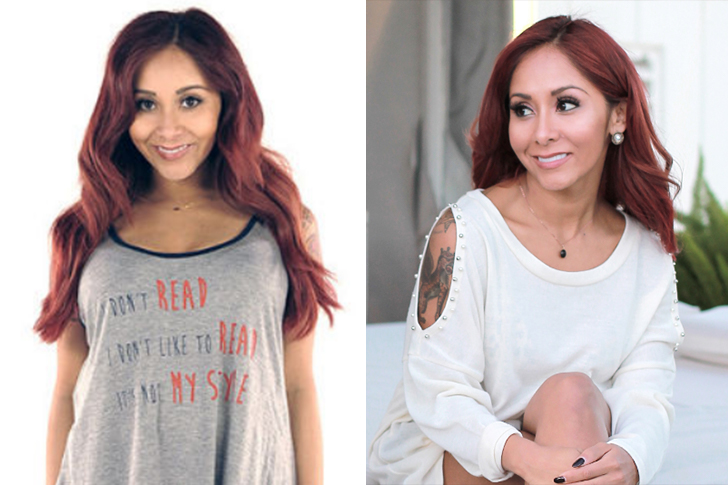 Nicole "Snooki" Polizzi received TV credits in the reality show Jersey Shore. She also starred in its spin-off series and gained popularity for her numerous talk show appearances. She even competed at WrestleMania XXVII and starred as the guest hostess for the 2011 WWE Raw.
As someone who's frequently on the TV screen, Snooki wanted to preserve her beauty by undergoing Botox and lip fillers procedures. She had her beauty boost with the help of her plastic surgeon, Dr. Ramtin Kassir. The TV star gets her Botox injections yearly to maintain her youthful looks. She even documented the plastic surgery procedure on her Snapchat. "The first botox is not bad at all," she wrote. According to her doctor, Botox procedures start at $400 per area, and lip fillers begin at $900. In addition, Dr. Kassir also fixed the pesky wrinkles near her nose.
140. Hayden Panettiere — Undisclosed Amount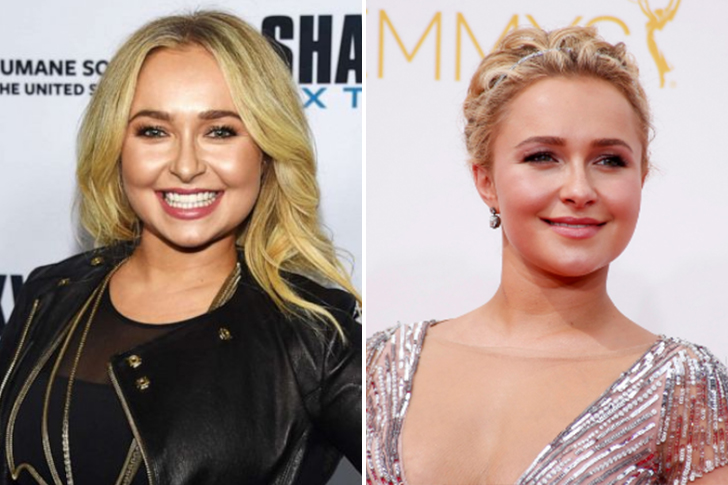 Hayden Panettiere spent most of her life in Hollywood. She captivated the audience with her starring roles as Claire Bennet in Heroes and as Juliette Barnes in Nashville. Since she was a child, Panettiere appeared on the silver screen, which is why we've seen her transform from youth to adulthood.
The female star had several photos spreading on the internet that proved she underwent chest implants. While she's very mum about it, experts in the plastic surgery industry confirmed she went under the knife for two apparent reasons—significant degree of chest size increased and noticeable wrinkle above her chest. Dr. Anthony Youn added her cup size increased from an A cup into a C cup. The actress's face has also changed quite a lot over the years, and some suggest that she might have done a nose job.
You've Reached The End